Do you have a car on the recall list – and what happens if you suffer injury due to a Takata airbag defect?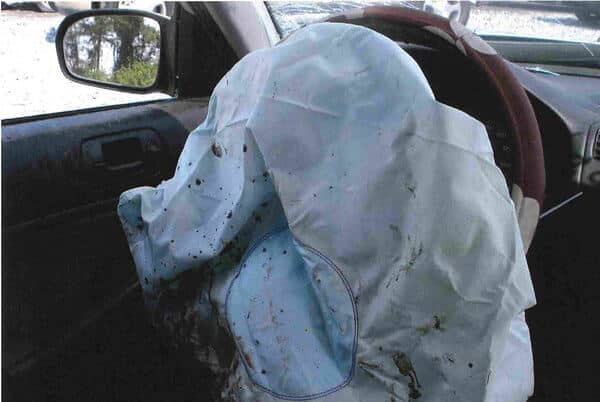 Today we have an unfortunate update to our previous Takata airbag posts. The cars on the Takata airbag recall list have just jumped from 14 million to an estimated 34 million. The death toll has jumped from two to six. The injuries stemming from this product defect are now estimated in the hundreds.
Obviously, we are following this issue closely at Michigan Auto Law. Even with the product liability restrictions and caps on pain and suffering that currently exist in many states, including Michigan, there are still legally viable Takata airbag claims that can be successfully filed on behalf of victims.
The biggest question mark at this point is that safety regulars have not publicly identified all of the car models included – so many people injured by defective Takata airbags might not even be aware they have a legitimate legal case.
So far, Takata has agreed to a national recall of certain types of frontal driver and passenger side air bags used in vehicles manufactured by BMW, Chrysler, Daimler Trucks, Ford, General Motors, Honda, Mazda, Mitsubishi, Nissan, Subaru and Toyota, according to the National Highway Traffic Safety Administration (NHTSA).
You can see the working recall list below. In addition, the National Highway Traffic Safety Administration has a website dedicated to the Takata recall. You can enter your vehicle identification number (VIN) here, to see if your car is included in the Takata recall or any other recall.
How are the airbags malfunctioning?
The Takata airbags have malfunctioned during deployment, sending shrapnel flying through the passenger cabin. The NHTSA says "these inflators were made with a propellant that can degrade over time and has led to ruptures."
Do you have a car on the list?
The list below is courtesy of CNN Money, as of May 20, 2015.
It's important to keep checking back on the NHTSA website for updates, as the NHTSA is waiting for the automakers to supply a complete list of affected vehicles, so more will be added. In addition, your VIN might not be entered into a manufacturer's system for several weeks after a recall is first announced.
A
Acura CL, 2003
Acura MDX, 2003-2005
Acura TL, 2002-2003
B
BMW 325Ci, 2004-2006
BMW 325i, 2004-2006
BMW 325Xi, 2004-2005
BMW 330Ci, 2004-2006
BMW 330i, 2004-2006
BMW 330Xi, 2004-2005
BMW 3-Series, 2000-2006
BMW M3, 2001-2006
C
Chrysler 300, 2005-2008
Chrysler 300C, 2005-2007
Chrysler Aspen, 2007-2008
Chrysler SRT8, 2005-2007
D
Dodge Charger, 2005-2007
Dodge Dakota, 2005-2007
Dodge Durango, 2004-2008
Dodge Magnum, 2005-2007
Dodge Ram 1500, 2003-2008
Dodge Ram 2500, 2003-2008
Dodge Ram 3500, 2003-2008
F
Ford GT, 2005-2006
Ford Mustang, 2005-2008
Ford Ranger, 2004-2005
H
Honda Accord, 2001-2007
Honda Civic, 2001-2005
Honda Civic Hybrid, 2003
Honda CR-V, 2002-2006
Honda Element, 2003-2011
Honda Odyssey, 2002-2004
Honda Pilot, 2003-2008
Honda Ridgeline, 2006
I
Infiniti FX35, 2003-2005
Infiniti FX45, 2003-2005
Infiniti I30, 2001
Infiniti I35, 2002-2004
Infiniti M35, 2006
Infiniti M45, 2006
Infiniti QX4, 2002-2003
L
Lexus SC, 2002-2007
M
Mazda6, 2004-2008
MazdaSpeed Mazda6, 2006-2007
Mazda RX, 2004-2008
Mitsubishi Lancer, 2004-2005
Mitsubishi Raider, 2006-2007
N
Nissan Maxima, 2001-2003
Nissan Pathfinder, 2001-2004
Nissan Sentra, 2002-2006
P
Pontiac Vibe, 2003-2007
S
Saab 9-2X, 2005
Subaru Baja, 2003-2005
Subaru Impreza, 2004-2005
Subaru Legacy, 2003-2005
Subaru Outback, 2003-2005
T
Toyota Corolla, 2003-2007
Toyota Corolla Matrix, 2003-2007
Toyota Rav4, 2004-2005
Toyota Sequoia, 2002-2007
Toyota Tundra, 2003-2006
What you should do if you have a car with a Takata airbag
The National Highway Traffic Safety Administration urges owners of cars on the list to act immediately on recall notices to replace defective Takata airbags. To do so, follow-up with the manufacturer to get interim guidance and get your vehicle fixed as soon as parts are available.
Unfortunately, restrictions on product liability lawsuits that have been passed in many states around the country now include strict statutes of limitations and in some cases, notice provisions of injury.
If you believe you have a potential case, consider contacting an experienced auto and airbag product liability attorney as soon as possible. To learn more about Michigan Auto Law's auto and airbag product liability attorneys, click here.
If you have questions about this recall, or you have been hurt by a defective airbag and want to know about your legal rights, feel free to call one of our attorneys.  We are always here to help.