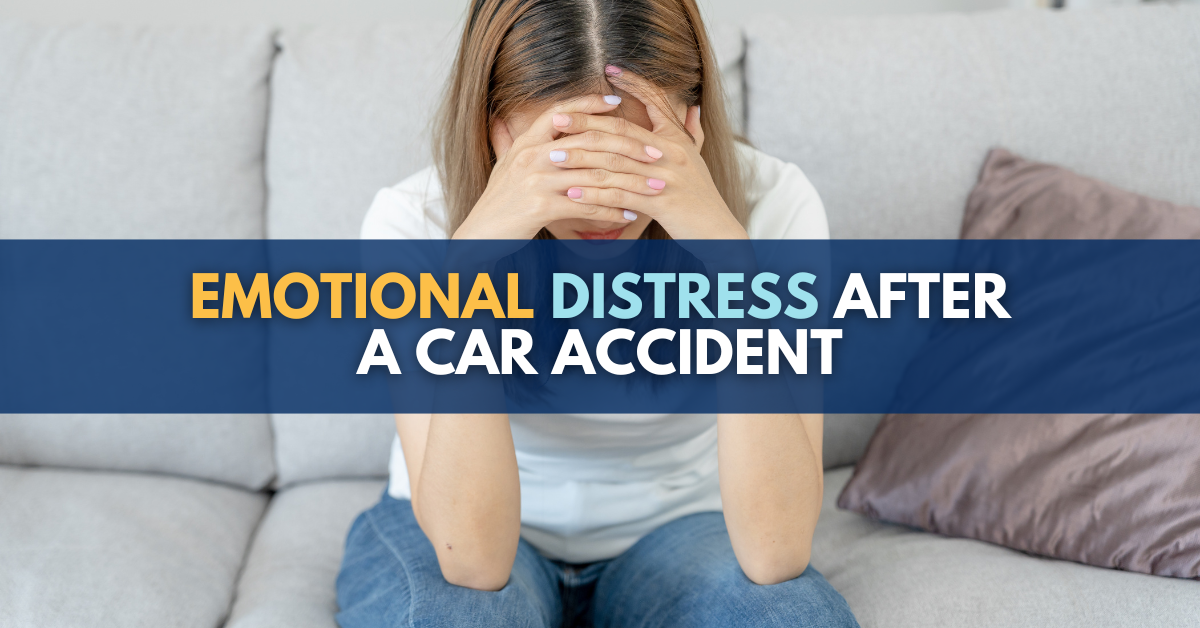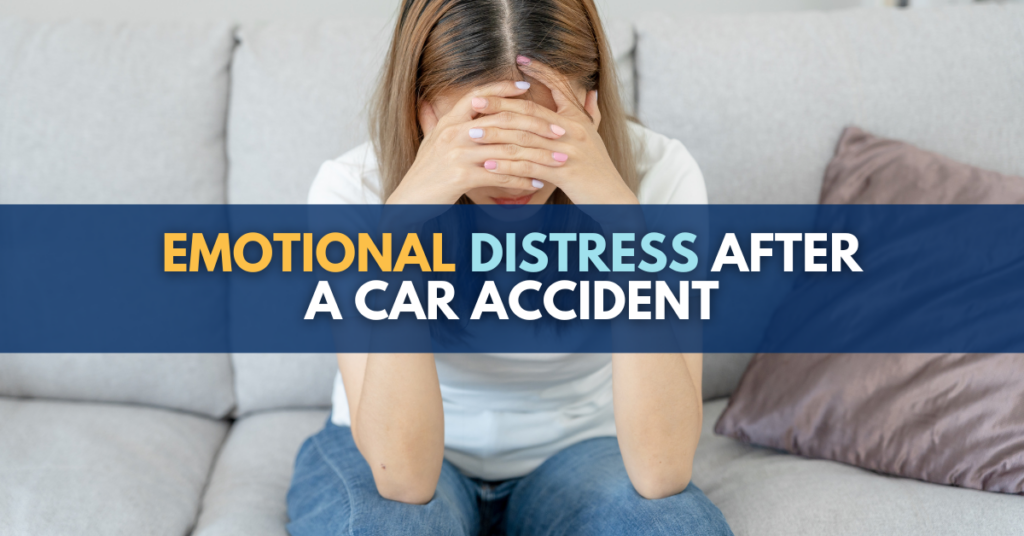 Emotional distress after a car accident in Michigan is a very real and serious injury due to the mental trauma of a crash. Unfortunately, this condition can be just as debilitating and life-altering as physical injuries. Prompt diagnosis and treatment for these types of injuries are crucial to recovery.
Emotional distress after a car accident in Michigan can also be frequently ignored or downplayed. This is because many people still attach a stigma to psychological injuries. Rather than seeking necessary medical attention, many victims may wrongly conclude that there's no reason for them feeling depressed.
What is emotional distress after a car accident?
Emotional distress after a car accident describes the reactions and mental trauma (including psychological and/or psychiatric injury) that a person may suffer due to the traumatic event of being in a crash.
Examples of emotional distress after a car accident in Michigan
The the type of reactions that qualify as this type of behavioral condition include fear, withdrawal, sadness, unhappiness, frustration, hopelessness, anger and irritability.
In many cases, those reactions will appear as symptoms of other serious physical and mental health injuries such as a traumatic brain injury, a concussion, major depression, post-traumatic stress disorder and mental trauma.
What to do for emotional distress after a car accident in Michigan
If you suffer from these type of reactions after a crash, follow these steps:
Get examined immediately: Time may be of the essence. When it comes to properly diagnosing the cause of a psychological injury after a car crash, the sooner a person gets the proper medical treatment for these symptoms, the sooner they can begin the recovery process. As an injury lawyer, I always advise people that the sooner they can get the necessary medical care, the sooner they can get better.
Diagnostic testing – even for emotional distress and mental trauma after a car accident – may be appropriate because there are certain injuries, such as mental trauma and PTSD, that cause objective changes in the brain. A PET scan can show changes in the size of the hippocampus, for example, and this helps doctors know if your injury is part of a larger constellation of injuries, such as a brain injury and chronic pain, or if it is something that can be isolated and treated using psychological treatment or psychiatric modalities. The advice is to obtain medical treatment and get a referral for the appropriate diagnostic imaging even for a psychological injury after a car crash. A doctor can't treat you appropriately until he or she knows what is causing these symptoms, and the appropriate diagnostic testing will enable your doctor to prescribe the best course of treatment for you and make the appropriate referrals for you to specialists who can help with these types of injuries.
Early documentation always makes it easier to avoid future problems with your own insurance company. Early medical documentation, such as with your family doctor, will prove to a health insurance company or a Michigan No-Fault insurance company that the emotional distress and mental trauma suffered after the car accident was the cause of your condition . If it does turn out to be a more serious injury, you've documented the early symptoms that can help you to avoid many of the problems that arise when an insurance company later might try to deny a causal relationship and refuse to pay for medical treatment if there is a large gap of time before the symptoms for these types of injuries are noted and documented. Early treatment and medical documentation create the temporal relationship that insurance companies will be looking for when they are being asked to pay for necessary medical care.
Showing a clear temporal relationship between a motor vehicle crash and the documentation of treatment for a condition or injury also makes it easier to get a full and fair legal settlement for your injury when it is caused by another driver's carelessness or negligence behind the wheel. Delays in seeking treatment hurt your ability to get better faster and make a good recovery, but it also often makes it harder for your injury attorney to get a reluctant and cynical insurance company adjuster to pay for your treatment and makes it harder to get a fair and full legal settlement after your collision for these types of injuries.
Don't try to "tough it out": the trauma and distress you're experiencing may be symptoms of a far more serious injury. As an attorney, I've had clients who have committed suicide because they could no longer exist with the agony and distress and pain they have been enduring. It's a horrific thing that we all need to be aware of so a person in this severe of condition is not ignored and isolated.
Talk to an attorney who is experienced at helping people injured in car accidents. Most experienced personal injury lawyers have helped people suffering from emotional distress after a car accident. The initial call is always free so at the very least you will be informed as to what your insurance company is responsible to pay and what medical help and wage loss you are entitled to. An attorney can also help you review your medical records as well as the treatment and care you're receiving to make sure bills are getting paid and to help you assess what your case might be worth if your pain and disability was caused by another driver's negligence or carelessness.
Tell your auto insurance company about your mental trauma and emotional distress after a car accident and make sure to include this in your application for Michigan No-Fault benefits, which is also referred to as your "written notice of injury" – which must be given to your No-Fault auto insurance company "within 1 year after the accident." (MCL 500.3145(1) and (4))
Do not sign any settlements, releases, or waivers related to your crash: Until you have talked with an experienced attorney who is looking out for your interests, do not sign any settlements, releases, or waivers that are presented to you by your auto insurance company, the at-fault driver's auto insurer or any other insurance companies or persons.
Can you claim for emotional distress after a car accident in Michigan?
In Michigan, you can make a claim for mental trauma and emotional distress after a car accident by filing an application for No-Fault benefits with the responsible auto insurance company, according to the No-Fault law's "priority" rules. The No-Fault insurer will pay for your medical bills and your lost wages if you cannot return to work.
Can you sue for emotional distress after a car accident in Michigan?
In Michigan, if you suffer from emotional distress after a car accident due to the trauma of a crash, you can sue for No-fault benefits if the insurance company refuses to pay them or cuts them off; pain and suffering compensation and other economic damages such excess and future medical bills and lost wages.
Michigan No-Fault benefits
If your auto insurance company refuses to pay for – or cuts-off – No-Fault benefits related to the psychological injury you suffered, then you can sue for unpaid, overdue medical bills, attendant care, medical mileage, replacement services and lost wages because your injuries have prevented you from returning to work.
Pain and suffering compensation
You can also sue the at-fault driver for pain and suffering compensation as a result of your crash-related injuries, but you will first have to show that the other driver was at-fault for causing the collision and that your psychological injury constitutes a "serious impairment of body function" under our auto law.
What is negligent infliction of this health condition?
Negligent infliction of emotional distress after a car accident is a cause of action recognized under Michigan law that allows a person to sue for compensation for the mental trauma and psychological effects they suffer as a result of having witnessed a family member become seriously or catastrophically injured in a crash caused by another person's negligent driving.
In order to sue for negligent infliction of emotional distress after a car accident in Michigan due to the mental trauma of crash, the following conditions must be met:
Serious injury is threatened or inflicted on a person's family member
The nature of injury is capable of causing a person to suffer severe mental distress
The person seeking to sue must have been present for and witnessed the injury or threatened injury to his or her family member
The shocking nature of the event causes the person to suffer actual physical harm
Can children suffer emotional distress after a car accident in Michigan?
Crashes can be even more traumatic for children and young adults. Frequently, they reach the wrong conclusions from a traumatic crash and acquire these symptoms and injuries. A child, especially a very young one, can attempt to read the environment in order to enhance his comfort and further survival. A traumatic event like a Michigan motor vehicle crash is often misunderstood as a statement about life in general, that it is uncertain, painful and precarious.
An crash might be internalized as a statement about the child himself, that he is somehow responsible for the personal injury he has suffered. An entire family can be affected, including the psychic injuries suffered by his parents. These psychic wounds may become significant determinants of the adult personality, so that the Michigan automobile crash can affect some child victims for life.
Symptoms
If a person is experiencing any of the following symptoms, then he or she may have suffered emotional distress after a car accident in Michigan due to the mental trauma of a crash and should seek medical attention:
Emotional instability
Irritability
Mood changes
Difficulty with thinking clearly
Difficulty with concentration
Difficulty with making decisions
Difficulty solving problems
Concentration and attention problems
Memory loss
Symptoms to watch for in children include:
5 years old and younger: Typical these type of injury reactions may include a fear of being separated from the parent, crying, whimpering, screaming, immobility and/or aimless motion, trembling, frightened facial expressions and excessive clinging. Parents may also notice children with these injuries returning to behaviors exhibited at earlier ages (these are called regressive behaviors), such as thumb-sucking, bed-wetting and fear of darkness.
6 to 11 years old: The type of behavior in this age group may show extreme withdrawal, disruptive behavior, and/or inability to pay attention. Regressive behaviors, nightmares, sleep problems, irrational fears, inability or refusal to attend school, outbursts of anger and fighting are also common behavioral reactions to automobile collisions in traumatized children of this age. Also, a child with this type of injury may complain of stomach pain or other bodily symptoms that have no medical basis. School work often suffers. Depression, anxiety, feelings of guilt and numbing of emotions or "flatness" are often present as well.
12 to 17 years old: Adolescents in this age bracket may exhibit behavioral responses similar to those of adults, including flashbacks, nightmares, emotional numbing, avoidance of any reminders of the traumatic crash, depression, substance abuse, problems with peers, and anti-social behavior. Common behavioral responses are withdrawal and isolation, physical complaints, suicidal thoughts, school avoidance, academic decline, sleep disturbances and confusion. The adolescent with a emotinoal distress after a car accident may feel extreme guilt over the failure to prevent injury or loss of life.
Treatment
The treatment options for people suffering with emotional distress after a car accident in Michigan due to the mental trauma of a crash include psychiatric or psychological care, therapy (such as psychotherapy or cognitive behavioral therapy), or medication.
Suffering from emotional distress after a car accident in Michigan due to the mental trauma of a crash? Call the attorneys at Michigan Auto Law
If you have suffered emotional distress after a car accident in Michigan due to the mental trauma of a crash, call now (855) 781-7747 for a free consultation with one of our experienced lawyers. There is no cost or obligation. You can also visit our contact page or use the chat feature on our website.
Michigan Auto Law is Michigan's largest and most successful law firm that specializes exclusively in helping people who have been injured in auto accidents.
Our secret? Our car crash lawyers deliberately handle fewer cases than other personal injury law firms.  This allows us to focus more time and attention on our cases.
Unlike other law firms, our auto accident attorneys are never too busy to promptly return phone calls and answer questions.
We have more than 1,900 5-Star reviews that reflect this care and attention to detail.
More importantly, this client-focused approach leads to better and faster settlements for our clients. Michigan Auto Law has recovered more million-dollar settlements and trial verdicts for motor vehicle accidents than any other lawyer or law firm in Michigan. We've also recovered the highest ever reported truck crash and car crash settlement in the state.
Call now so we can start making a real difference for you.