Michigan Bus Accident Lawyer: Call For A Free Consultation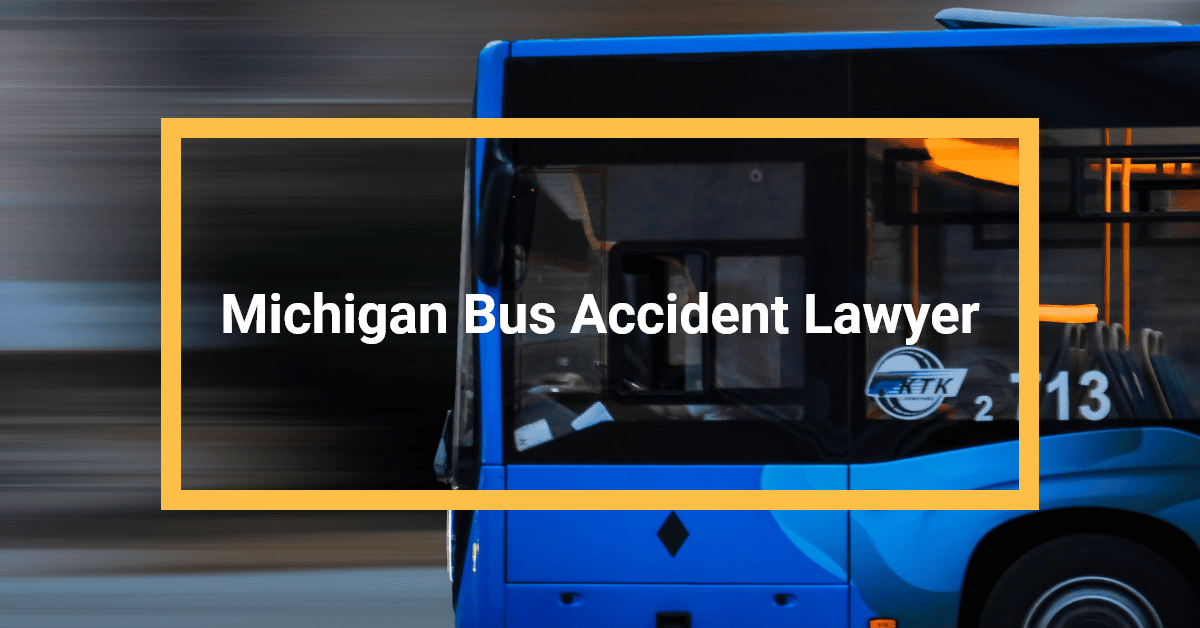 The Best Bus Accident Lawyers Are At Michigan Auto Law
If you or a loved one is injured in a bus accident in Michigan you need the best bus accident lawyer with the specialized experience, skill, resources and proven settlement and trial results to fight for you and to protect you. That is what you get when you hire an attorney from Michigan Auto Law. Our attorneys specialize in personal injury cases and we have more than 50 years of experience getting our clients record-breaking results, including some of the largest crash settlements and trial verdicts in the state.
This success means our attorneys often can settle cases faster and for significantly more money for the people we help because the defendants know who we are. Results are important, but just as important is that this is done with caring and communication and a reputation for the highest integrity within the legal profession.
The Most Awarded Michigan Bus Accident Lawyers
Our attorneys are the most awarded Michigan bus accident lawyers. In fact, our law firm has consistently been named by independent third-party organizations and the media as being among the "Best Lawyers" and "Best Law Firms" in not just the state, but throughout the entire U.S.    
While the recognition, legal honors, and awards are nice, what's more important are the reasons behind them: we work harder to help our clients and their families get through what is likely one of the most difficult, emotional and stressful experiences in their lives, and we do it with caring and communication. The recognition and legal awards, the settlements and the trial verdicts all simply reflect the hard work and caring that we put into helping you.
Our mission is simple: we set out every year to prove to be the best Michigan bus accident lawyers. This means treating every person we help with dignity, respect, compassion and caring. It means working incredibly hard and using all of our experience, skill and dedication and grit to get our clients the best possible legal results. We are here to help.
Over 2,000 5-Star Reviews
John E. Taylor, Brownstown
Michigan Auto Law kept me very informed about my case and answered my questions in a timely manner when I called. I felt very comfortable having Michigan Auto Law as an ally.
Do I Need A Lawyer For A Bus Accident In Michigan? 
If you are injured in a bus accident in Michigan you are not required to hire a lawyer but it is in your best interest. An experienced attorney will know how to successfully navigate the bus companies and insurance companies, the claims of governmental immunity and the intersection of local, state and federal laws.
Experience also matters when it comes to protecting under the law.  As the victim of a crash, you are at risk of losing specific legal rights and even your right to bring a lawsuit if you don't properly notify regional transportation authorities (like DDOT, SMART, CATA, etc.) within 60 days of an injury. 
For more than 50 years, our attorneys have been protecting and helping injured people like you get No-Fault insurance benefits, pain and suffering compensation, and other economic compensation and damages that you're entitled to. Our team of experienced attorneys will treat you with the care, respect and compassion you deserve and our attorneys will handle all aspects of your case so you can focus on healing and rebuilding your life.
How Can Our Michigan Bus Accident Lawyer Help You?
Our attorneys specialize in helping people who have been injured in a crash. Our Michigan bus accident lawyers can help people from all over the state. We are also proud that our settlements and trial results for crash victims are better than any other personal injury attorney or law firm in the state, with more than 80 settlements and awards of one million dollars or more for victims of motor vehicle crashes in the state.
We make sure you understand 100% of your rights after a crash and we handle all aspects of your injury case, including: 
Ensuring that you are receiving all of the No-Fault insurance benefits you are entitled to, even when you are a passenger and do not have No-Fault insurance of your own
Investigating and verifying all of the ownership, governmental entities, insurance and coverage that may be involved in your case
Getting you the best possible settlement as quickly as possible, which includes future economic loss and pain and suffering compensation that you're entitled to under the law if you are injured by a bus or while riding as a passenger in a bus
Top Settlements
Our experience shows.  Our Michigan bus accident lawyers have recovered some of the highest motor vehicle crash settlements in the state. Click to read more about our top settlements. Here are just a few recent examples of our results for clients injured in these types of crash cases:  
$925,000 – Our attorneys settled this Macomb County bus accident case involving serious injuries when a bus negligently made a left turn in front of our client's car
$850,000 – Our attorneys settled a case in Wayne County involving a crash with two buses
$780,000 – Our attorneys settled a pedestrian injury caused by a distracted bus driver
We continue to win these cases for our clients and their families and, just as importantly, we are making a difficult time easier with compassion and kindness. Read more about the settlements our attorneys have obtained for our clients: Settlements and Verdicts
More Bus Accident Lawyer FAQs
What else do you need to know if you're considering hiring a Michigan bus accident lawyer? If you or someone you love has been injured in a crash involving a bus, you may be entitled to important and valuable No-Fault benefits, even if you do not have No-Fault insurance of your own, as well as significant pain and suffering compensation for your injuries and other economic damages.  With the right legal team behind you, you are more likely to recover the full value of your case.  Keep reading for more FAQs below.
How much does a Michigan bus accident lawyer cost?
When you've been injured in a crash,  one of your first questions will most likely be: How much does a Michigan bus accident lawyer cost? Many people imagine that retaining an experienced personal injury attorney will be too expensive. Not so with our law firm. We will never ask you to pay any fees unless and until we win your case. Our nationally recognized injury attorneys work on a contingency fee, so we only get paid if we win your case and you receive a settlement. You don't pay anything up front or out-of-pocket unless and until a legal recovery is made for you. Only when funds are recovered for your case will your attorney then be paid a percentage of the settlement amount. And you always get our 100% client satisfaction guarantee.
What to look for when choosing a Michigan bus accident lawyer?
When choosing a Michigan bus accident lawyer, the most important quality to look for is experience. You want an attorney who understands the law and specializes in helping people injured in these types of crash cases receive full and fair compensation. It's also important that your attorney practices in the geographical area where the crash happened. With 5 law offices throughout the state, our attorneys have had cases with nearly every bus company and transportation entity in the state. Lastly, look for an attorney whose reviews show caring, communication, responsiveness, and results.
What to ask a Michigan bus accident lawyer?
If you have lots of questions, that's natural. Some of the questions that our attorneys most frequently get asked include: (1) Does it matter that I didn't see the crash because I was a passenger and the bus driver says he was not at fault?; (2) What should I tell my employer and how can I collect wage loss if I cannot return to work?; (3) What No-Fault benefits am I entitled to?; (4) How long do I have to file a claim?; (5) How likely is the bus company to settle?; (6) What would a case like mine be worth?; and (7) What do I need to do now? My advice is that, before you meet with your attorney for the first time, write down all of your questions that you want to ask – and all of the details you think your attorney will want to know.
How long does a settlement take?
Each case is unique, so it's a difficult question to answer, but the following factors can help answer how long it may take to get a settlement in your case: your injuries; current and future medical needs; whether you are partially or fully disabled from working; whether your injuries resulted in an impairment that affects your ability to lead your normal life; whether a governmental entity or transportation authority is involved; the experience, track record and reputation of your attorney (attorneys who are known for going to trial can settle cases for money and often much faster because this increases risk and exposure); and the insurance companies insuring the bus company and insurance limits.
Injured In A Bus Accident In Michigan? Call now!
If you were injured in a bus accident in Michigan, call now (855) 781-7747 for a free consultation with one of our experienced bus accident lawyers. There is no cost or obligation. You can also visit our contact page or use the chat feature on our website.
Michigan Auto Law is Michigan's largest and most successful law firm that specializes exclusively in helping people who have been injured in auto accidents.
Our secret? Our attorneys deliberately handle fewer cases than other personal injury law firms.  This allows us to focus more time and attention on our cases.
Unlike other law firms, our attorneys are never too busy to promptly return phone calls and answer questions. 
We have more than 2,000 5-Star Reviews that reflect this care and attention to detail.
More importantly, this client-focused approach leads to better and faster settlements for our clients. Michigan Auto Law has recovered more million-dollar settlements and trial verdicts for motor vehicle accidents than any other lawyer or law firm in Michigan. We've also recovered the highest ever reported truck accident and car accident settlement in the state.
Call now so we can start making a real difference for you.