How can Michigan Auto Law say we are specialized in car accident law and Michigan's auto No-Fault law when other law firms can't?
Specialized. It's one thing that separates Michigan Auto Law from every other law firm in the state. We are Michigan's only law firm that can say we are truly specialized in helping people who have been injured in car accidents.
It starts with our name: Michigan Auto Law. We're auto accident attorneys who focus exclusively on helping people who have been hurt in car, truck and motorcycle accidents.
That's literally all we do. And every year we set out to do it better than any other lawyer and law firm in Michigan.
This specialization is reflected in our results. Michigan Auto Law has recovered more million-dollar auto accident verdicts and settlements than any other personal injury lawyer or law firm in Michigan. We've also recovered the highest ever reported car accident and truck accident of any Michigan lawyer or law firm.
It's also the reason why more lawyers in Michigan refer their own car accident cases to us. We don't advertise on television for cases. Most of our cases are referrals from lawyers all over Michigan, which is the ultimate compliment that we can receive. These lawyers know that focusing only on helping people injured in motor vehicle accidents means that we can spend more time working on these cases. It also translates into results for our clients that no other law firm in Michigan can match, including 9 separate trial verdicts of between $1 million and $14.3 million on insurance company and defense offers between $0 and $30,000. No other law firm even comes close to consistently recovering these trial and settlement results, which is a big reason why Michigan Auto Law attorneys can so often settle cases faster and for significantly more money than these other Michigan law firms that advertise for everything they can get.
And speaking of advertising, unlike all the other Michigan personal injury law firms, our law firm doesn't even try to advertise for cases in dozens of completely unrelated areas of law. Our philosophy is to dig deep, not wide. We don't claim to handle everything from dog bites to class actions and mass torts. We don't advertise for cases in everything from maritime law to medical malpractice, or from nursing home negligence to police misconduct like so many other law firms do. We think it would be absurd if you ever went to a doctor who advertises and claims he or she does everything from bunions to brain surgery, and it's just as silly and absurd when lawyers do it.
We believe in putting people first.
That means spending more time working on our cases, not less. We made the decision long ago not to advertise on television and billboards and buses. Our lawyers don't need to "feed the marketing beast" and saddle lawyers with giant caseloads to pay for giant TV and billboard advertising budgets.
We will never be too busy to promptly return a phone call.
We practice law very differently from the other lawyers and law firms in Michigan. Our lawyers believe this is an honored profession, not a business to maximize profits at the expense of clients like so many big advertisers.
We spend more time and attention working on our cases, because we know these are real people who need real help. This caring and attention is reflected in our over 2,000 real client reviews that you can read. Unlike so many of our competitors, we have never had to buy obviously fake reviews from companies from overseas to attempt to cover up for their own horrible real reviews from their own clients.
Our focus and specialization is also reflected in our legal leadership. This includes :
President of the American Association for Justice's Distracted Driving Litigation Group
President of the American Association for Justice's Traumatic Brain Injury Litigation Group
President of the American Association for Justice's Trucking Litigation Group
President of the Motor Vehicle Trial Lawyers Association
Founding member of the Academy of Truck Accident Attorneys
Serving on the Michigan Association for Justice's Auto Accident No-Fault Committee and Autonomous Vehicles Special Committee, as well as being Past-Presidents of the Michigan Association for Justice (formerly the Michigan Trial Lawyers Association) and the State Bar of Michigan Negligence Section.
Specialization also results in our own lawyers being asked to speak and teach other lawyers throughout the country.
Our attorneys have now spoken at well over 400 legal seminars and legal conferences in 39 states, teaching other lawyers on how to successfully litigate car accidents and truck accidents, how to maximize settlements, brain injuries, and on trial advocacy. In addition, every year Steven Gursten of Michigan Auto Law hosts the nation's largest advanced auto accident seminar in Las Vegas, drawing hundreds of lawyers throughout the country to hear in-depth and advanced level topics involving every aspect of car accident litigation and settlement.
We also believe in making our communities safer and working to save lives. Our lawyers regularly give talks to high school students and parents throughout Michigan on the dangers of distracted driving.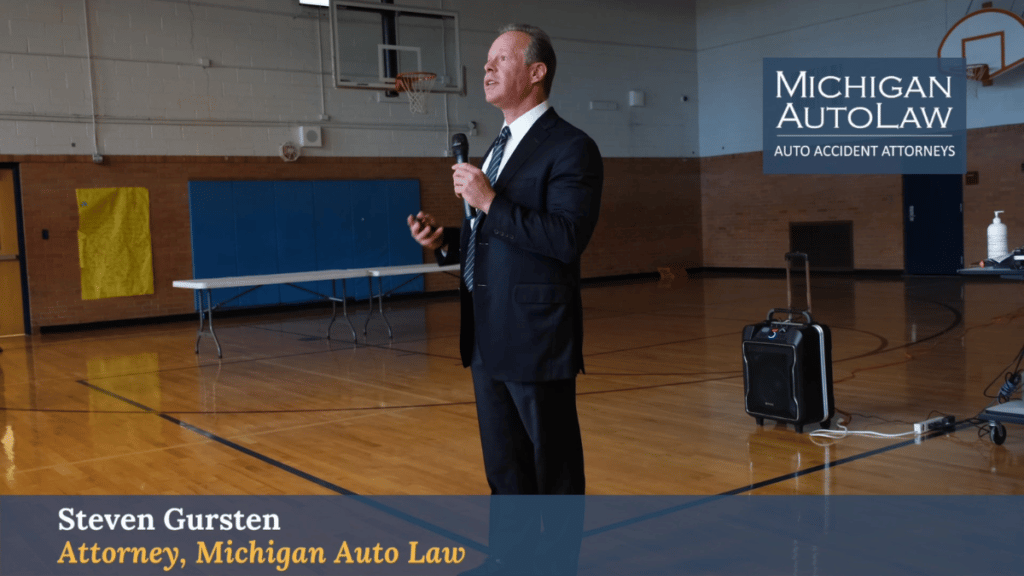 Our annual Kelsey's Law Scholarship provides $5,000 in scholarships to Michigan high school juniors and seniors who create the most compelling videos and social media to educate and warn fellow teen drivers about the dangers of driving while distracted.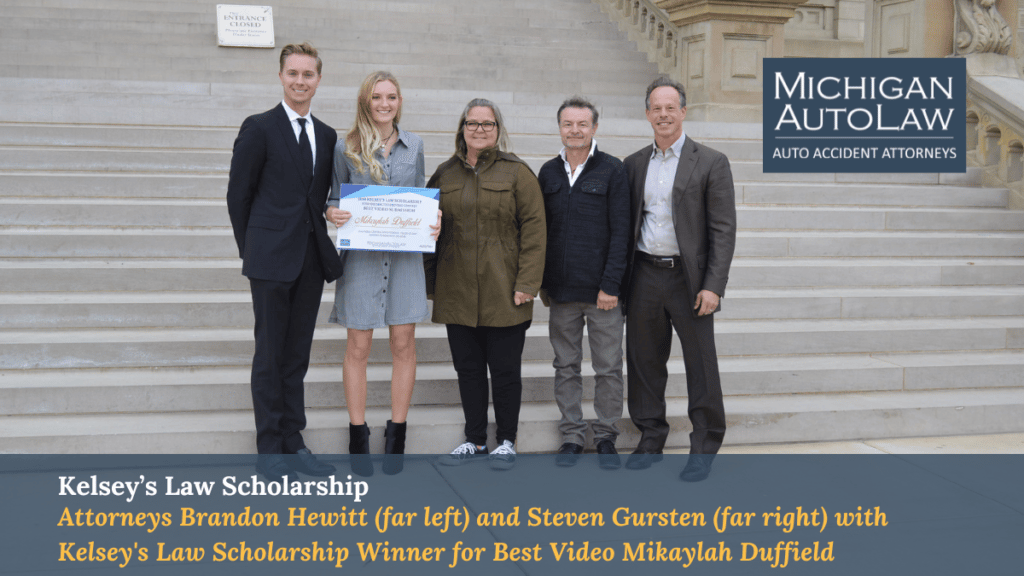 The Michigan Auto Law Car Accident Injury Survivor Scholarship is an annual scholarship that our attorneys offer to college students who were themselves victims of car accidents earlier in their own lives and who have bravely overcome these obstacles while pursuing their own education.
Specialization also means we literally wrote the book on car accidents. To help people better understand their legal rights after they or a loved one has been injured in a car accident, our attorneys have authored several books that we provide free of charge, including:
Guide to Michigan's Auto No-Fault Law
Michigan Car Accident Victim Rights Explained
How to Repair Your Car Damage
Specialization is also what makes our attorneys the source that independent and trusted third-parties and the local and national media turn to when they need expert commentary and analysis. Michigan Auto Law attorneys frequently appear on television stations throughout the state to offer commentary and analysis on issues relating to our auto No-Fault law and other issues relating to our auto law.
In Metro Detroit, our attorneys are frequent guests on WXYZ Channel 7, Fox 2 Detroit, WDIV Local 4, and CW50 Detroit. In Western and Central Michigan, our lawyers have made appearances on WZZM 13 Grand Rapids, WWMT News Channel 3 and WNEM Saginaw TV 5 News. We have even been interviewed on Chicago Fox 2 News (on trucking accidents and the number of truck drivers who are driving under the influence of drugs and alcohol).
Our car accident attorneys have also been sought out by national news for motor vehicle accident-related issues that affect the entire country. The CBS Evening News has twice broadcast national interviews with Michigan Auto Law attorney Steven M. Gursten about the epidemic of unfit and untrained school bus drivers causing preventable crashes and injuring school children and about the public safety risk posed by the increasing number of truck drivers with dangerous medical conditions who are still allowed to get behind the wheel.
Michigan Auto Law attorneys have been interviewed dozens of times on National Public Radio, Michigan Radio, WDET, the Mitch Albom Show (WJR), the Nolan Finley Show (910 AM Superstation), Empowered with Angela T. Moore Radio Show (910 AM Superstation), WWJ Newsradio 950 AM, WJR 760 AM, WOOD News Radio, WPHM 1380 AM (the Paul Miller Show), WILS 1320 – Capital City Recap Talk Radio, Oakland Connection, Daily Detroit Podcast, and Legal Talk Network's "Lawyer 2 Lawyer" Podcast.
Our lawyers are also regularly quoted as auto law experts in Michigan print and online media, including The Detroit News, the Detroit Free Press, Crain's Detroit Business, Bridge Magazine, DBusiness Magazine, MLive, the Oakland Press, the Macomb Daily, the Lansing State Journal, the Grand Rapids Press, Traverse City Record Eagle, the Livingston Daily, and BLAC Detroit Magazine.
In the legal field, news publications such as Michigan Lawyers Weekly, Detroit Legal News, and Oakland County Legal News frequently turn to Michigan Auto Law attorneys for expert analysis on our auto No-Fault laws, as well as cell phones and distracted driving and car and truck accidents making headlines.
Michigan Lawyers Weekly, Michigan's largest legal newspaper, has described our law firm as "Michigan's largest law firm completely specializing in serious automobile accidents" as well as "auto law gurus" who are "blazing the trail for Michigan attorneys."
In the insurance field, Insurance.com, Carinsurance.com, Autoinsurancequotes.com and Online Auto Insurance News have also turned to our lawyers for analysis on auto No-Fault and other car insurance-related issues.
Nationally, our attorneys have been quoted in news stories in The New York Times (liability for car accidents involving ride-sharing vehicles), The Wall Street Journal (in an article about truck accident liability, the Wall Street Journal described Michigan Auto Law as "attorneys specializing in severe trucking accidents"), Bloomberg, the Associated Press (in an article about a Michigan Supreme Court ruling denying No-Fault medical coverage for stem-cell surgery, the AP described our law firm as "a specialist in no-fault auto law") and CNBC (describing Michigan Auto Law as a law firm "whose specialty is auto cases" in a discussion about a landmark auto No-Fault ruling by the Michigan Supreme Court).
Another legal periodical, Attorney at Law Magazine, has recognized our law firm as " one of the elite law firms in the country in helping people seriously injured in motor vehicle accidents."