Michigan Auto Law Car Accident Injury Survivor Scholarship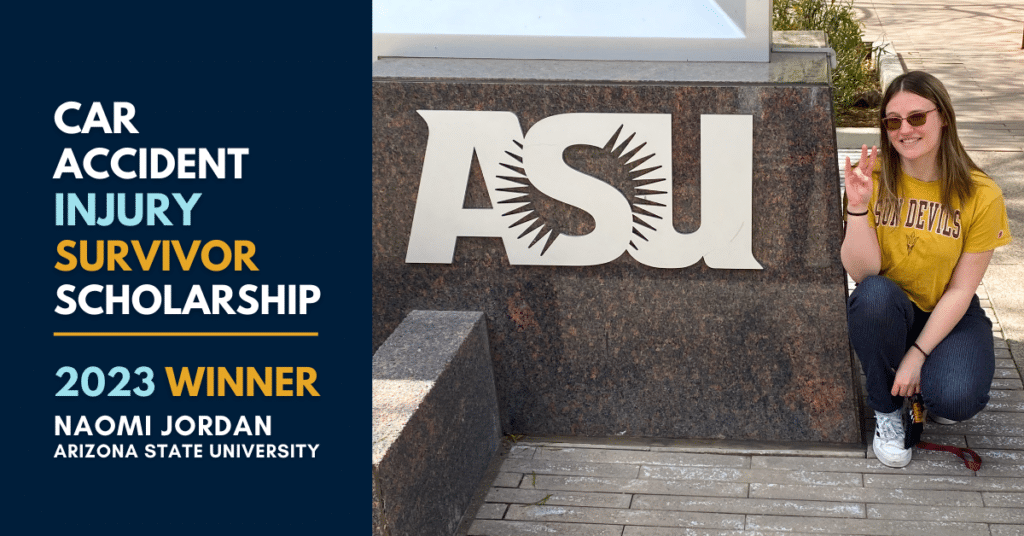 The Michigan Auto Law Car Accident Injury Survivor Scholarship is an annual scholarship that our attorneys offer college students who were innocent victims of car accidents earlier in their lives and who have bravely overcome their injuries while pursuing an education.
Our annual scholarship of $1,000 is awarded to one winner. The deadline is December 31st.
Through our Car Accident Injury Survivor Scholarship, we strive to honor those innocent victims injured in an automobile crash as they continue to courageously persevere through their own medical recoveries and as they push forward to continue their education. We have witnessed some amazing stories of human resilience. These people have already achieved so much and we are excited for what they can achieve in the future.
Our hope is also that by recognizing outstanding young people who have overcome serious challenges, that we can provide inspiration and hope to others who are also going through a difficult recovery after a car accident.
This Car Accident Injury Survivor Scholarship has special significance to us. As auto accident attorneys, we wanted to create a scholarship based on our own experience helping innocent automobile crash victims. An automobile crash can be a life-changing event. Often, an initial injury is compounded by how people are subsequently mistreated, often by their own insurance companies when they are denied benefits or when they are cut-off from necessary No-Fault benefits like wage loss or being able to see a doctor to treat for injuries.
This year we are honored to recognize Naomi Jordan who is a sophomore at Arizona State University as the winner of our 2023 Michigan Auto Law Car Accident Injury Survivor Scholarship.
Congratulations to Naomi. We applaud your perseverance and strength of character. We are grateful to you for sharing your inspiring story with us and with countless others. We applaud you for the hope you bring.
To learn more about the Michigan Auto Law Car Accident Injury Survivor Scholarship and the challenges that our 2023 scholarship winner is facing with courage and determination, please read on.
What is the Michigan Auto Law Car Accident Injury Survivor Scholarship?
As attorneys, we understand how difficult it can be to recover after a serious car accident injury.
This is especially true for young people in the prime of their lives.
In order to recognize their struggles overcoming hardship and acts of heroism and hard work, Michigan Auto Law offers its annual Car Accident Injury Survivor Scholarship to college students who were innocent victims of car accidents at some point in their lives and who have overcome their injuries to pursue an education.
Our attorneys have been helping innocent people injured in auto accidents for more than 50 years, and want to lend a hand to those who have survived serious crashes and who are demonstrating resolve and determination to rebuild their lives.
Our Car Accident Injury Survivor Scholarship serves as an important reminder that each and every person injured in an auto accident is a person, not a number or a claim. Today, most of the insurance industry uses injury claims software that dehumanizes people by putting a dollar value on a case. When personal injuries and pain and suffering are given an average, or median dollar settlement value based on a given geographic area by a computer program, we lose sight of the most important thing of all: what a life-altering car accident means to a person who's life has now been upended.
Eligibility and selection criteria
Applicants for the Michigan Auto Law Car Accident Injury Survivor Scholarship must:
Be a U.S. citizen or permanent resident;
Be currently enrolled as a full- or part-time student in an accredited college or university within the United States;
Have innocently sustained injuries from a car or truck accident at some point in your life (i.e., you were not at-fault in causing and/or contributing to the accident that resulted in your injuries); and
Have a cumulative GPA of 2.75 or higher.
Selection is based on the overall strength of the application and how that applicant has overcome the challenges he or she has faced from being injured in a car accident.
Application requirements
The application deadline for the 2024 Auto Law Car Accident Injury Survivor Scholarship is December 31, 2023.
The Michigan Auto Law Car Accident Injury Survivor Scholarship is a competitive process.
Applicants must submit the following items:
A completed application;
A copy of the police report from the motor vehicle accident that resulted in the applicant's injuries. If a copy cannot be obtained from the police department or from their online system, other forms of acceptable proof can be a report from the applicant's auto insurance company, or a medical or physical therapy document. Any document in lieu of a police report should include the applicant's name and list or otherwise indicate that the applicant's injuries were caused by or were the result of a car or motor vehicle accident;
An essay of not more than three pages describing the car accident, the applicant's injury or injuries, and how the applicant has worked to overcome his or her injury or injuries.
How to apply
If you are interested in applying for this scholarship, please complete the Car Accident Injury Survivor Scholarship Application.
All application materials can be sent by email or faxed on or before the December 31, 2023, deadline. PLEASE NOTE: Files sent via email must be in PDF or Microsoft Word (DOC) format.
Fax to the attention of the Michigan Auto Law Scholarships at (248) 254-8088 or email the completed Car Accident Injury Survivor Scholarship application, and required documents to [email protected]
For questions, please send an email to [email protected].
Apply today.
Meet Naomi Jordan: Winner of the 2023 Michigan Auto Law Car Accident Injury Survivor Scholarship
On December 23, 2021, Naomi Jordan was riding in the car as her sister drove. It was after dark and they were traveling from the mountains in northern Arizona to Phoenix to visit family for the holidays.
Naomi was thinking about the first semester of college she had just finished at Arizona State University and how it was full of "new experiences and growth":
"I was starting to become my own person. . . . I learned the people I gravitated towards, what I liked to do in my free time, how to balance hobbies and schoolwork, and what I wanted to do for a living. I felt established in college and [I was] excited to get back to the life I was building for myself."
This reverie did not last long for Naomi as an enormous obstacle soon got in her way.
Literally. There was a boulder in the middle of the road. Naomi's sister was not able to avoid it. The front tire of their vehicle clipped the boulder, causing the vehicle to flip twice and careen off the road into the ditch.
As a result of the crash, Naomi suffered a fracture of her L2 vertebra, requiring 3 days of hospitalization.
When she was discharged, her doctors gave her a back brace and painkillers and told her it would take months to heal.
But they did not brace Naomi for the emotional trauma that awaited her:
"I was prepared for the pain, the weakness, the helplessness, the looks, the stares and the questions. What I wasn't prepared for was the mental and emotional effects of the accident. No one warned me about the plummeting of my mental and emotional health, and the amount of anxiety and depression that result from a traumatic injury."
The simultaneous struggle of continuing her studies (so as to not forfeit her scholarships), trying to heal physically and combatting her growing anxiety, panic attacks and depression left Naomi feeling like she had "no hope in the world" and that "life had no meaning and enduring every day seemed pointless."
But when Naomi realized she did not have to go on this journey alone, she found her path to healing:
"I reached out to teachers, school therapists, the academic accommodation department at my school, friends, family, and anyone else who was willing to help. Things started getting better as my friends checked in on me every day, family members called me, teachers worked with me to lessen my academic load, and the school helped me drop a class while still keeping my scholarships."
Naomi explained she has "grown immensely" in the wake of the crash and her recovery process:
"[I]t helped me gain a clear understanding of who I am and who I want to be."
We wish Naomi continued success with her studies and pursuing her dreams of becoming a legendary journalist and we thank her for setting such an inspiring example.
Have you been injured in a car accident? Call Michigan Auto Law for a free consultation
If you or a loved one was injured in a car accident and you have questions about your legal rights to pain and suffering compensation, economic damages and auto No-Fault insurance benefits, you can call toll free anytime 24/7 at (248) 353-7575 for a free consultation with one of our experienced car accident attorneys. There is no cost and no obligation. You can also get help by visiting our contact page or you can use the chat feature on our website.