2017 Michigan Auto Law Car Accident Injury Survivor Scholarship
Caitlin Scroggins, University of Michigan, Ann Arbor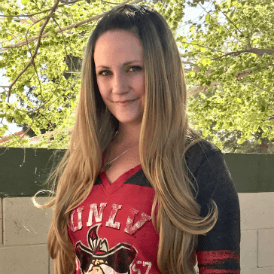 Kristina Lakey, University of Nevada, Las Vegas
To read more about each winner and their stories visit our blog announcing the Scholarship Winners.
Our Michigan auto accident law firm is offering an annual scholarship for college students who were victims of car accidents earlier in their lives and who have overcome their injuries.
We understand how difficult it can be to recover after a serious injury. Our attorneys have been helping people injured in auto accidents for more than 50 years, and want to lend a hand to those who have survived serious crashes and who are demonstrating resolve and determination to rebuild their lives.
We also want to recognize individual acts of heroism and hard work. Our Car Accident Injury Survivor Scholarship serves as an important reminder that each and every person injured in an auto accident is a person, not a number or a claim. Today, most of the insurance industry uses injury claims software that dehumanizes people by putting a dollar value on a case. When personal injuries and pain and suffering are given average dollar settlement values, we lose sight of what it means when someone is hurt in a serious crash and how drastically a life can be changed.
Our hope is that by recognizing outstanding young people who have overcome serious injury, we can remind everyone that car accident injury survivors are people.
Our annual scholarship of $500 will be awarded to two applicants in 2017.
Eligibility and selection criteria
Applicants must:
Be a U.S. citizen or permanent resident,
Be currently enrolled as a full or part time student in an accredited college or university within the United States,
Have sustained injuries from a car or truck accident at some point in your life,
Have a cumulative GPA of 2.75 or higher.
Selection is based on the overall strength of the application and how that applicant has overcome the challenges he or she has faced from being injured in a car accident.
Application requirements
Application deadline: December 31, 2017
The Michigan Auto Law Car Accident Injury Survivor Scholarship Program is a competitive process.
Applicants must submit the following items:
A completed application,
Copy of the police report. If a copy cannot be obtained from the police department or from their online system, other forms of acceptable proof can be a report from your auto insurance company, or a medical or physical therapy document. Any document in lieu of a police report should include your name and list that your injuries were the result of an auto accident,
An essay of not more than three pages describing the car accident, your injury, and how you have worked to overcome your injury.
How to apply
If you are interested in applying for the scholarship, please complete the Car Accident Injury Survivor Scholarship Application.
All application materials can be sent by email or faxed on or before the December 31, 2017 deadline. PLEASE NOTE: Files sent via email must be in PDF or Microsoft Word (DOC) format.
Fax to the attention of Beth at (248) 353-4504 or email the completed application, and required documents to scholarships@michiganautolaw.com
For questions, please send an email to scholarships@michiganautolaw.com.
Auto accident law firm is offering two $500 scholarships for college students who have overcome car accident injuries and are rebuilding their lives. Apply today.