Overview Of Michigan No Fault Laws
Our insurance attorneys explain your Michigan No-Fault benefits and insurance rights after an auto accident
Michigan is a "No-Fault" state, meaning that both parties in an auto accident are entitled to valuable benefits from their insurance companies, no matter who caused the crash. Below is information to help you understand the No-Fault insurance law and other insurance issues that may apply to you.
To speak with an experienced insurance lawyer now, call Michigan Auto Law at (800) 777-0028. We can answer all of your questions – and there is no cost or obligation.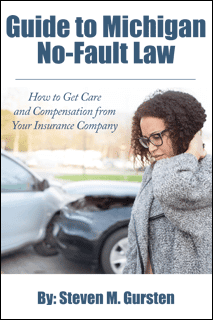 Guide to Michigan No Fault Law – Free Book

How to Get Care & Compensation from Your Insurance Company
Stay up to date with the latest news and information regarding Michigan's No-Fault reform.
This diagram provides an at-a-glance view of the three potential cases you have in Michigan if you've been injured in an auto accident.
Our insurance lawyers have summarized the five No-Fault benefits you're entitled to from your own auto insurance company following an accident, including medical expenses, payment for mileage to medical appointments, wage loss, household replacement services and attendant care (nursing services).
Click here for a list of forms and applications from various Michigan insurance companies. These include the application for No-Fault insurance benefits; forms for attendant care, replacement services, wage and salary verification, as well as attending physician reports (APRs)
Here we explain a pain and suffering lawsuit, where an injured car accident victim can sue the at-fault driver's auto insurance company for their personal injuries and excess economic loss.
Wondering how to get your vehicle damage paid for after an auto accident? This section covers the Michigan mini tort, with answers to frequently asked questions, a guide to collecting your mini tort and sample letters to streamline the process.
Many Michigan drivers do not have auto insurance. In some cities, like Detroit, 50 percent of drivers are uninsured. Learn how UM and UIM can protect you if you're in a car accident with a driver who has no insurance.
Our insurance attorneys are often asked to translate the Michigan No-Fault Act, so car accident and truck accident victims can better understand 'No-Fault.' This section was developed to help interpret and simplify the No-Fault Law.
Is your insurance adjuster forcing you to apply for Social Security Disability? Learn how a Social Security Disability claim affects your auto accident lawsuit. We're taking the guesswork out of the complicated, lengthy SSD process to help you get the best compensation available.
The No-Fault insurance attorneys at Michigan Auto Law can help you
Our insurance attorneys have successfully helped people who were told they had no case or that their case was too old. Call us for a free case evaluation at (800) 777-0028 – anytime. You can also use our consultation form.