FREE BOOK: Michigan Car Accident Victim Rights Explained
Essential Steps for a Successful Recovery of Pain and Suffering Compensation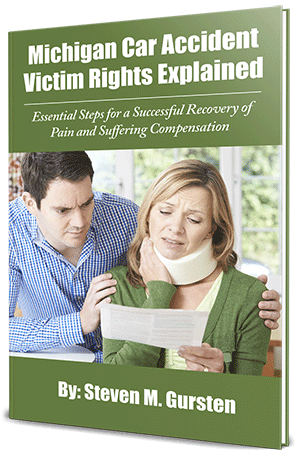 In this guide, you will discover how Michigan car accident victims can recover compensation for pain and suffering after they were injured in an automobile crash. You will learn about what is covered by pain and suffering compensation, what the elements of successful claim are, how your spouse can recover for loss of consortium and how much a jury can award you in damages. Our attorneys share their invaluable advice – based on more than 50 years of trial and litigation experience – about the mistakes you should avoid and how to protect yourself against the insurance companies' hardball tactics to push low-ball settlement offers. Read More
AUTHOR: Steven M. Gursten
CUSTOMER RATING:

---
Book Request: Michigan Car Accident Victims Rights Explained
---
How has drunk driving affected crash victims?
Michigan car accident victims can use an at-fault driver's drunk driving as proof of his or her negligence in a lawsuit for pain and suffering compensation. It is proof that the at-fault driver failed to use ordinary. Also, violation of Michigan's drunk driving laws can be considered as evidence of negligence.
How much do Michigan car accident victims get?
There is no set amount that automobile crash victims get for pain and suffering compensation. However, research shows that having an experienced lawyer with an established history of successful settlements and trial verdicts can increase the settlement value of a case by 3 to 4 times.
How to care for crash victims?
Care for crash victims in is largely provided through auto No-Fault insurance benefits which cover crash-related medical bills and lost wages when victims' injuries disable them from working. "Excess" medical and lost wages benefits can be sought as part of a pain and suffering claim.
No-Fault Benefits for Michigan Car Accident Victims
If you have been injured in an automobile crash in Michigan, you may be entitled to No-Fault benefits or PIP benefits. They provide a financial lifeline to victims and their families as they recover from their injuries. They cover: (1) medical bills; (2) lost wages; (3) medical transportation costs; and (4) attendant care.