Chest Pain After Car Accident: What You Need To Know?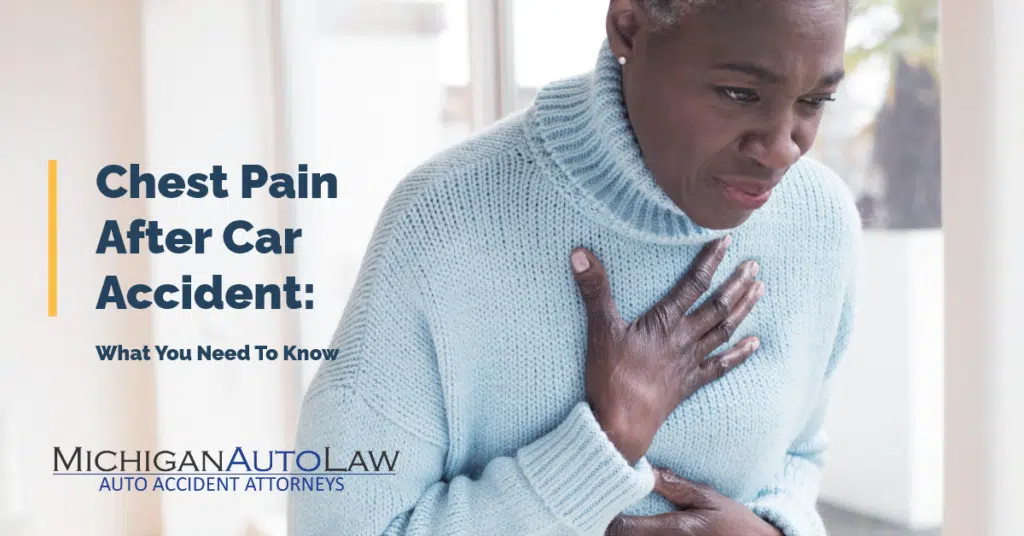 You should be concerned if you are experiencing chest pain after a car accident. The cause could be commonplace bruising or muscle strain. But it could also be a sign that you have suffered a fractured rib or serious injuries to internal organs such as the heart. It's crucial to seek prompt medical attention.
Why is this pain so common?
Chest pain after a car accident is particularly common because of the seat belts and air bags that vehicles are equipped with and because of the driver's and passenger's proximity to the steering wheel and dashboard.
Inertia from the sudden impact of a crash throws the vehicle's occupants forward, resulting in the pain in the front upper body from the restraint of the seat belt (and/or shoulder harness), the impact of the airbag as it deploys and/or from striking the steering wheel or dashboard.
What to do for chest pain after a car accident
If you suffered chest pain after a car accident, follow these steps:
Get examined immediately: Time may be of the essence. When it comes to properly diagnosing the cause of chest pain after a car accident, the sooner a person gets the proper diagnostic tests and medical treatment for these symptoms, the sooner they can rule out a potentially life-threatening injury. As an injury lawyer, I always advise people that the sooner they can get the necessary and appropriate medical care, the sooner they can get back on the road to good health and a full recovery, but with this injury the key is to rule out a much more serious injury as soon as possible.
Get medical treatment and get a referral for the appropriate diagnostic imaging to detect and diagnose if you have suffered from this pain. A doctor can't treat you until he or she knows what is causing these symptoms, and the appropriate diagnostic testing – often a CT scan – will enable your doctor to prescribe the best course of treatment for you and make the appropriate referrals for you.
Early documentation always makes it easier to avoid future problems with your own insurance company. Early medical documentation, such as in an emergency room or as soon as possible with your family doctor, will prove to a health insurance company or a No-Fault insurance company that the motor vehicle crash was the cause of your pain. If it does turn out to be a more serious injury, you've documented the early symptoms and again will be able to avoid many of the problems that arise when an insurance company is denying a causal relationship and refusing to pay for medical treatment. Early treatment and medical documentation create the temporal relationship that insurance companies will be looking for when they are being asked to pay for necessary medical care.
Showing a clear temporal relationship between a crash and the documentation of treatment for a condition or injury also makes it easier to get a full and fair legal settlement for your injury when it is caused by another driver's carelessness or negligence behind the wheel. Delays in seeking treatment hurt your ability to get better faster and make a good recovery, but it also often makes it harder for your attorney to get a reluctant insurance company to pay for your treatment and makes it harder to get a fair legal settlement after your motor vehicle collision.
Don't try to "tough it out": this pain may be a symptom of a far more serious injury that may even become fatal if you don't seek treatment right away. As a lawyer, I've seen so many instances where people felt like they didn't want to "complain," but within days or weeks what they thought would be a minor injury or something that would go away becomes far more serious.
Talk to an attorney who is experienced at helping people injured in car accidents. Most experienced lawyers have helped people suffering from chest pain after a car accident. The initial call is always free so at the very least you will be informed as to what your insurance company is responsible to pay and what medical help and wage loss you are entitled to. An attorney can also help you review your medical records as well as the treatment and care you're receiving to make sure bills are getting paid and they can use a car accident settlement calculator to help you assess what your case might be worth if your pain and disability was caused by another driver's negligence or carelessness.
Tell your auto insurance company about your chest pain after a car accident. If you live in Michigan, make sure to include this in your application for No-Fault benefits, which is also referred to as your "written notice of injury" – which must be given to your No-Fault auto insurance company "within 1 year after the accident." (MCL 500.3145(1) and (4))
Do not sign any settlements, releases, or waivers related to your motor vehicle crash: Until you have talked with an experienced attorney who is looking out for your interests, do not sign any settlements, releases, or waivers that are presented to you by your auto insurance company, the at-fault driver's auto insurer or any other insurance companies or persons.
How to make a claim
In Michigan, you start your claim for chest pain after a car accident by filing an application for No-Fault benefits with the responsible auto insurance company, according to the No-Fault law's "priority" rules. The No-Fault insurer will pay for your medical bills and your lost wages if you cannot return to work.
Can I sue?
Yes. If your auto insurance company refuses to pay for – or cuts-off – No-Fault benefits related to the chest pain after a car accident you have suffered and may be continuing to suffer, then you can sue for unpaid, overdue medical bills, attendant care, medical mileage, replacement services and lost wages because your injuries have prevented you from returning to work.
You can also sue the at-fault driver for pain and suffering compensation as a result of your motor vehicle collision-related injuries, but you will first have to show that the other driver was at-fault for causing the crash and that your mental trauma constitutes a "serious impairment of body function" under our auto law.
Additionally, you may be able to sue the at-fault driver for other economic damages, such as excess and future medical bills and lost wages.
Symptoms
If you have been injured in a crash and you're experiencing any of the following symptoms, then you should seek immediate medical attention:
Pain or discomfort in the chest, even if you're not moving
Pain or discomfort in the chest when even a small amount of pressure is applied
Pain or discomfort in the chest when you cough, sneeze or laugh
Pain or discomfort in the chest when you make any movements, no matter how slight
Causes
Chest pain after a car accident is a cause for concern, warranting a thorough physical examination by your doctor as soon as possible.
Prompt diagnosis will ensure you get the necessary treatment to relieve your pain.
More importantly, prompt medical attention will reveal whether your chest pain is really a symptom of larger, more severe accident-related injury, which could have harmful, life-altering effects if untreated.
The causes of chest pain after a car accident include:
Bruising
General soreness from jolting inside vehicle
Inhalation of cornstarch from an airbag deployment
Muscle strain
Bruised sternum
Bruised ribs
Fractured ribs – This is particularly serious. If the pain that a victim is experiencing involves shooting, sharp pain and discomfort in the front upper body, then the cause could very likely be one or more fractured ribs. The concern here is that the longer a fractured rib goes undiagnosed and untreated, the greater the chance the fractured rib could puncture the injured person's lung, heart, diaphragm or other internal organ.
Internal organ injuries
Injuries to the heart which may increase the chance of a heart attack
Chest pain and seat belts
Seat belts save lives. Unfortunately, in the process of doing so, seat belts can also result in chest pain suffered by car accident victims. Because of the force exerted by a seat belt that properly restrains a person during a crash, the pressure can cause abrasions and bruising to the person's chest as well as possible fractures to the sternum or ribs. Injuries to internal organs are also possible.
Diagnosis and treatment for chest pain after a car accident
If you're suffering from this injury you should see your doctor immediately for a diagnosis. This may involve X-rays and other diagnostic tests. Subsequently, your doctor will prescribe the proper course of treatment based on your condition.
Need help for chest pain after a car accident? Call the attorneys at Michigan Auto Law
If you have suffered chest pain after a car accident and would like to speak to an experienced injury attorney, call toll free anytime 24/7 at (248) 353-7575 for a free consultation with one of our attorneys. You can also get help from an experienced accident attorney by visiting our contact page or you can use the chat feature on our website.