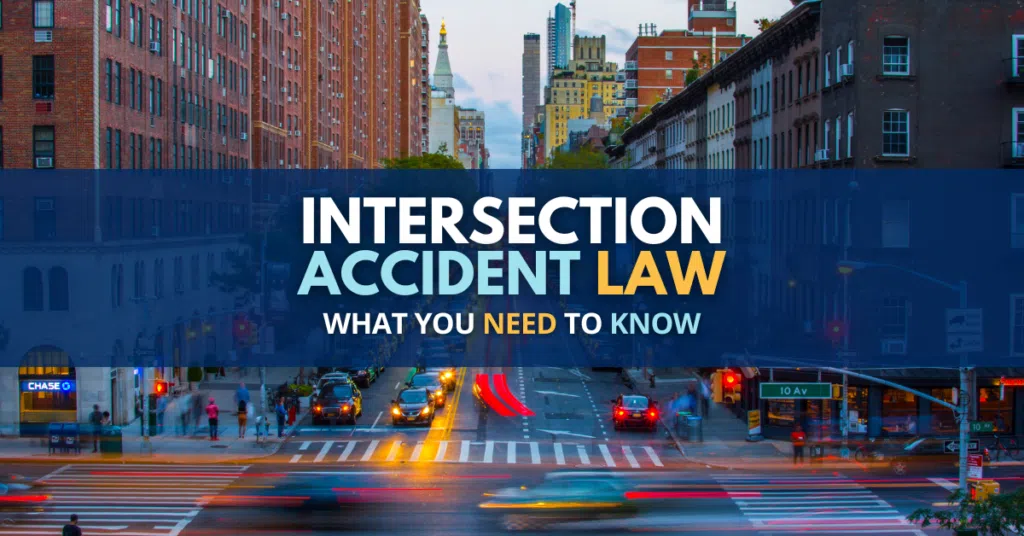 If you or a loved one has been injured in an intersection accident in Michigan, you may be able to recover pain and suffering compensation, past and future economic loss, No-Fault benefits, and money damages to cover your vehicle repair costs. If you've lost a loved one, your family may be able to file a wrongful death lawsuit.
Motor vehicle crashes at intersections are very common. Nearly one-third of all Michigan car crashes – and more than 30% of all fatal car crashes – occur at intersections.
To help yourself and your family stay safe, also check out our list of the Most Dangerous Intersections in Michigan.
What is an intersection accident?
An intersection is simply where two roads meet or cross, and an intersection crash is defined as a crash involving two or more cars, trucks, or motorcycles that make contact where two roads meet. It can also involve pedestrians or bicyclists.
Can I sue for pain and suffering compensation after an intersection accident in Michigan?
In Michigan, to sue for compensation for your pain and suffering after an intersection accident, you must show that the other driver was at-fault and you must also be able to prove that your injuries caused you to suffer a "serious impairment of body function" under Michigan's bodily injury threshold law. This requires you to show that your injuries resulted in an impairment that has affected your general ability to live your normal life.
Pain and suffering compensation from an intersection crash is also referred to as "noneconomic loss" damages. In addition to compensating victims for their pain and suffering, it provides compensation for the mental anguish, fright, shock, shame, anxiety, embarrassment, and denial of social pleasures and enjoyments that victims must endure.
Can I sue if a loved one is killed?
If you have lost a loved one in an intersection crash in Michigan, you and your family may be able to bring a wrongful death lawsuit to sue the at-fault driver for wrongful death compensation and damages for loss of your loved one's companionship and financial support.
The lawsuit must be brought by the personal representative of your loved one's estate. A probate judge will appoint the personal representative.
The family members who may be entitled to wrongful death damages after losing a loved in an intersection crash include: (1) the spouse of the deceased crash victim; (2) the victim's children and descendants; (3) the victim's parents and grandparents; (4) the victims' brothers and sisters; and (5) anyone who is a "devisee" under the victim's will.
What percentage of accidents happen at intersections in Michigan?
30.8% of all motor vehicle accidents in Michigan in 2021 occurred at intersections – 87,118 out of 282,640. Similarly, 31.3% of all fatal car crashes occurred at intersections in Michigan in 2021.
Can I sue for No-fault benefits?
You can sue for No-Fault benefits after an intersection crash if the responsible auto insurance company has denied your claim, if No-Fault benefits become overdue or are unpaid, and/or if the insurance company responsible for paying No-Fault benefits first began paying on your claim but then stopped, or "cut-off" your PIP benefits. You must under Michigan's auto No-Fault law file your lawsuit within 1 year of the insurer "formally" denying your claim. (MCL 500.3145(2) and (3))
Can I get compensation for vehicle damages?
To pay for your vehicle damage repair costs after an intersection accident in Michigan, you may: (1) file a claim under your collision coverage in your insurance policy; and/or (2) file a mini tort claim against the at-fault driver to recover up to $3,000 to put toward repair expenses or your collision deductible.
What is the leading cause of intersection accidents in Michigan?
In Michigan, the leading causes of intersection accidents include: running red lights; disregarding stop signs; disregarding yield signs; failing to yield the right-of-way; disregarding the right-of-way laws; improper left hand turns; speeding; distracted driving; and impaired driving.
Who is at fault in an intersection accident in Michigan?
In Michigan, the driver or drivers who are at fault for causing an intersection accident will have either: failed to drive with the ordinary care that a reasonably careful driver would use; and/or violated state traffic and/or local traffic ordinances. (Sources: M Civ JI 10.02; M Civ JI 12.01, 12.03 and 12.05)
Proving fault for an intersection crash in Michigan
In Michigan, the following evidence will be relied on to prove which driver was at-fault for an intersection crash: (1) statements to the police by drivers, passengers and witnesses; (2) video recordings; (3) data from black boxes or event data recorders; and (4) opinions by automobile crash reconstruction experts.
Preventing intersection crashes by following the right-of-way rules
To prevent intersection crashes when there is no traffic signal, stop sign or yield drivers must: 1) yield the right-of-way to drivers already in the intersection; and (2) yield the right-of-way to vehicles on their right when both vehicles are entering the intersection at the same time. (MCL 257.649(1) and (2))
These are the same right-of-way rules you must follow if you encounter a 4-way intersection where all of the traffic lights are out or they are malfunctioning.
Injured in an intersection crash in Michigan? Get help from Michigan Auto Law now
If you or a loved one was injured in an intersection accident in Michigan, call now (855) 781-7747 for a free consultation with one of our experienced car accident lawyers. There is no cost or obligation. You can also visit our contact page or use the chat feature on our website.
Michigan Auto Law is Michigan's largest and most successful law firm that specializes exclusively in helping people who have been injured in auto accidents.
Our secret? Our car accident attorneys deliberately handle fewer cases than other personal injury law firms. This allows us to focus more time and attention on our cases.
Unlike other law firms, our auto accident attorneys are never too busy to promptly return phone calls and answer questions.
We have more than 1,900 5-Star Reviews that reflect this care and attention to detail.
More importantly, this client-focused approach leads to better and faster settlements for our clients. Michigan Auto Law has recovered more million-dollar settlements and trial verdicts for motor vehicle accidents than any other lawyer or law firm in Michigan. We've also recovered the highest ever reported truck accident and car accident settlement in the state.
Call now so we can start making a real difference for you.
(Source: Michigan Traffic Crash Facts, 2021, Statewide Reports, "Quick Facts"; Michigan Traffic Crash Facts, 2021, Data Query Tool, Filters: Crashes; 2021; Entire State; "Crash: Intersection"; and "Intersection Crash")