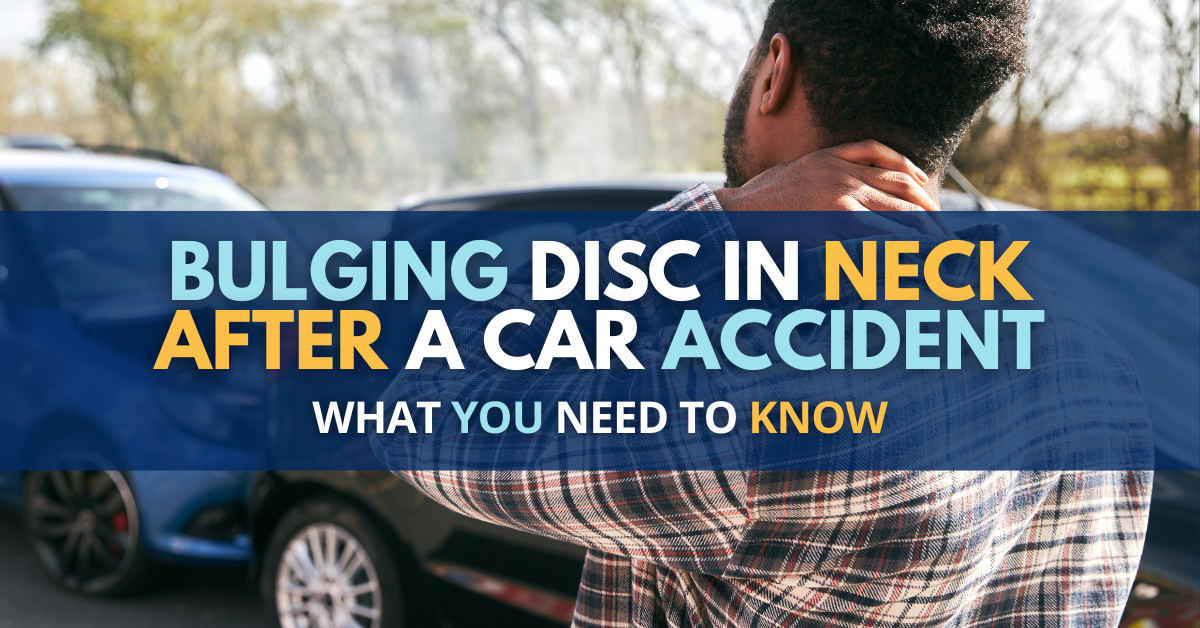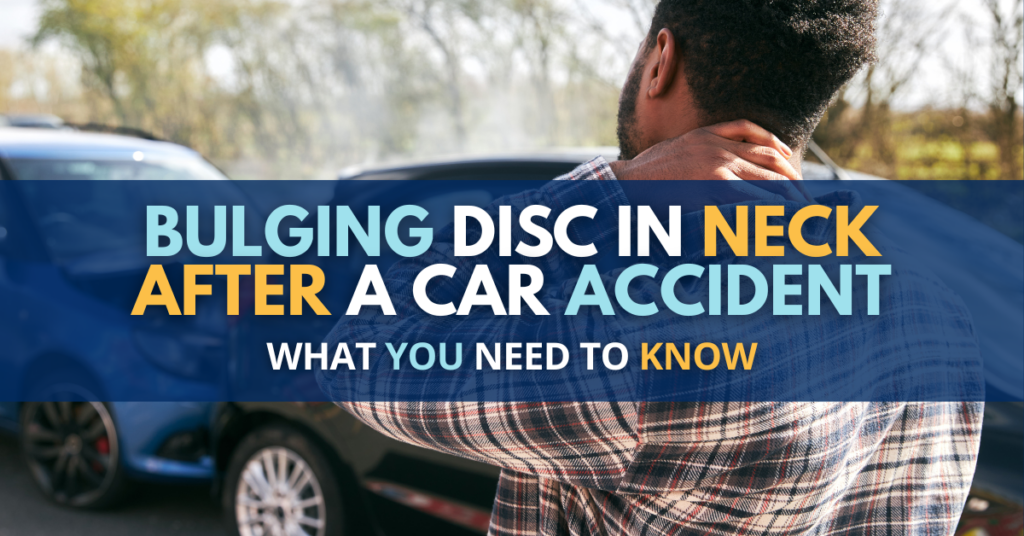 A bulging disc in the neck can be caused by the impact of a car accident as the rapid back-and-forth motion of the neck (whiplash) can place excessive stress on the cervical spine causing discs between the vertebrae to shift or protrude, resulting in compression or irritation of the spinal nerves.
It is a serious injury and can cause severe and chronic pain and can cause permanent nerve damage. Prompt medical treatment for this injury increases the chances for faster recovery.
What is a bulging disc in the neck after a car accident?
A bulging disc in the neck after a car accident is one of the most common injuries we see. This occurs when the trauma from the car crash causes a disc in the person's cervical spine to bulge or extend outside its normal position between the spine's vertebrae. The ruptured disc can cause pain, either from the bulge itself or when it compresses and puts pressure on the surrounding nerve roots.
A disc (which is also called a spinal disc) is the "rubbery cushion"-like substance made of cartilage that separates the vertebrae that make up a person's spine. The spinal disc in our necks act as a "shock absorber" for the bony vertebrae, keeping the spine flexible and stable.
The spinal cord is the bundle of nerves that run the length of a person's spine, carrying messages from the brain to the different parts of a person's body. It is located in the spinal canal which is encased and protected by the vertebrae (i.e., individual bones that interlock to form the spinal column).
Symptoms
If you are experiencing any of the following symptoms after a car accident, you may have a bulging disc in your neck and you should seek medical attention immediately:
Pain in the neck
Whiplash, immobility, inflammation, and restricted range of motion in the neck
Pain in the shoulders
Pain in the chest
Pain in the arms
Numbness in your arms and fingers
Weakness in your arms and fingers
Pain when moving
Restricted range of motion
Testing and diagnosis for a bulging disc in the neck after a car accident
Pain is the most common symptom of a bulging disc in the neck after a car accident. Unfortunately, beyond a simple neck X-ray, most emergency rooms will not order more sophisticated diagnostic imaging for car accident victims who are complaining of possible whiplash and neck pain. X-rays are appropriate to visualize fractures of the bony vertebrae, but they will not show a ruptured disc. A CT scan and an MRI will show a disc injury such as a bulge. Most often, your doctor will conduct a physical examination and likely order the following diagnostic imaging tests to make his or her diagnosis and recommend a course of treatment for this type of injury:
X-rays
CT Scans (Computerized Tomography)
MRI (Magnetic Resonance Imaging)
EMG (Electromyography)
SPECT (Single-Photon Emission Computerized Tomography)
Myelography
Treatment for a bulging disc
Treatment for a bulging disc in the neck after a car accident normally begins with more conservative treatment modalities and becomes gradually more aggressive and invasive if pain and impairment continues or becomes worse. This injury can also cause permanent damage to the surrounding nerves, so after conservative modalities of treatment such as physical therapy are exhausted surgery may be a necessary treatment option.
The different types of neck surgery used to address this injury include:
Fusion surgery – Fusing or joining two vertebrae to stop painful movement
Discectomy surgery – Removing the bulging or damaged portion of a disc
Laminectomy/Decompression – Removing the bone overlying the spinal canal to relieve nerve pressure
Artificial disc implant – Implanting artificial discs in between the injured discs to provide stability and eliminate pain
Other treatment options may include:
Pain medication
Steroid injections
Physical therapy
What to do for a bulging disc in the neck after a car accident
If you have a bulging disc in the neck after a car accident, follow these steps:
Get treatment as soon as possible. When it comes to treating a bulging disc in the neck after a car accident, the sooner a person begins treatment, the better the chances they have of making a full functional recovery and preventing a potentially more serious, disabling and permanent neck injury. This injury can be potentially very serious because of the pain it can cause and also because of the pressure it can put on the surrounding nerve roots. As a personal injury lawyer, I always advise people that the sooner they can get the necessary and appropriate medical care, the sooner they can get back on the road to good health and hopefully to a full recovery.
Get a referral for the appropriate diagnostic imaging tests to detect and diagnose if you have a ruptured disc. A doctor can't treat you properly until he or she knows what is causing your pain. The appropriate diagnostic testing will enable your doctor to prescribe the best course of treatment for you and to refer you to the appropriate specialists who can help you. Remember, an X-ray taken in the emergency room or at a doctor's office will NOT show a ruptured disc.
Early documentation showing a bulging disc in the neck after a car accident will make it easier for you to avoid future potential problems with your own insurance company or health care provider. Early medical documentation, such as documenting neck pain in an emergency room or with your family doctor, will establish a temporal connection to prove to a health insurance company or a No-Fault insurance company that your motor vehicle crash was the most likely and reasonable cause of your neck injury and bulging disc. Documenting pain and symptoms of a bulging disc early on can help you to avoid many of the problems that arise when an insurance company later might try to deny a causal relationship and refuse to pay for medical treatment, whether that be additional physical therapy or neck surgery. Putting it another way, if there is a large gap of time that passes before your neck injury and bulging disc is documented, then it is easier for your insurance company to question whether the motor vehicle crash you were involved in was the cause of your bulging disc. Early treatment helps you get better faster, and early medical documentation creates the clear temporal causal relationship that insurance companies will be looking for when they are being asked to pay for necessary medical care.
Showing a clear temporal relationship between the motor vehicle crash and documentation of when the ruptured disc in the neck was reported, diagnosed and treated also makes it easier for your lawyer to obtain a full and fair legal settlement for your disc injury. Delays in treatment and long gaps in medical documentation will hurt your ability to get better faster and to make a good recovery for your injury. Often, it also makes it harder for your attorney to get a reluctant and cynical insurance company adjuster to pay for your treatment and to pay for a full and fair legal settlement after your car crash for your pain and suffering if weeks or months have passed before there is any documentation in the medical records.
Don't try to "tough it out": A bulging disc in the neck after a car accident can be a very serious injury. Left untreated, it can cause permanent pain and permanent impairment. As an injury lawyer, I've seen so many instances where people felt like they didn't want to "complain," but days or weeks later what they hoped would be a minor injury that would go away becomes much worse. A bulging disc injury is analogous to a ticking time bomb in your spine – it has the potential to become much worse.
Talk to an experienced injury attorney who has helped people with bulging discs in the neck after car accidents and knows the medicine and what these cases can be worth. A lawyer who focuses on automobile crashes and who has extensive experience litigating motor vehicle crash cases can get you the help you need, including a settlement that reflects the full value of your bulging disc injury. An attorney can help you to make sure your bills are getting paid and that your vehicle crash settlement reflects the full measure of the harms and losses you will face.
Tell your auto insurance company about your bulging disc in the neck after a car accident. If you live in Michigan, make sure to include this (and any other injuries you suffered and/or symptoms you are experiencing) in your application for No-Fault benefits, which is also referred to as your "written notice of injury" – which must be given to your No-Fault auto insurance company "within 1 year after the accident." (MCL 500.3145(1) and (4))
Do not sign any settlements, releases, or waivers related to your automobile crash: Until you have talked with an experienced attorney who is looking out for your interests, do not sign any settlements, releases, or waivers that are presented to you by your auto insurance company, the at-fault driver's auto insurer or any other insurance companies or persons.
How to make a legal claim for a bulging disc in the neck after a car accident?
In Michigan, you start your claim for a bulging disc in the neck after a car accident by filing an application for No-Fault benefits with the responsible auto insurance company, according to the No-Fault law's "priority" rules. The No-Fault insurer will pay for your medical bills and your lost wages if you cannot return to work.
Can I file a lawsuit for this injury/condition?
Yes. You can file a car accident lawsuit against the at-fault driver to sue for pain and suffering compensation as a result of your bulging disc in your neck, but you will first have to show that the other driver was at-fault for causing the motor vehicle crash and that your injury constitutes a "serious impairment of body function" under Michigan's auto law.
Additionally, you may be able to sue the at-fault driver for other economic damages, such as excess and future medical bills and lost wages.
Finally, if your own No-Fault auto insurance company refuses to pay for – or even tries to cut-off – your auto No-Fault insurance benefits related to your medical treatment and care or wage loss for a bulging disc in the neck after a car accident, then you can also file a lawsuit to sue for unpaid, overdue medical bills, attendant care, medical mileage, replacement services and lost wages because your injury has prevented you from returning to work.
Suffered A Bulging Disc In Your Neck After A Car Accident? Call Now!
If you have suffered a bulging disc in the neck after a car accident, call now (855) 781-7747 for a free consultation with one of our experienced car accident lawyers. There is no cost or obligation. You can also visit our contact page or use the chat feature on our website.
Michigan Auto Law is Michigan's largest and most successful law firm that specializes exclusively in helping people who have been injured in auto accidents.
Our secret? Our car accident lawyers deliberately handle fewer cases than other personal injury law firms. This allows us to focus more time and attention on our cases.
Unlike other law firms, our attorneys are never too busy to promptly return phone calls and answer questions.
We have more than 1,900 5-Star Reviews that reflect this care and attention to detail.
More importantly, this client-focused approach leads to better and faster settlements for our clients. Michigan Auto Law has recovered more million-dollar settlements and trial verdicts for motor vehicle accidents than any other lawyer or law firm in Michigan. We've also recovered the highest ever reported truck accident and car accident settlement in the state.
Call now so we can start making a real difference for you.