Memory Loss After A Car Accident: What You Need To Know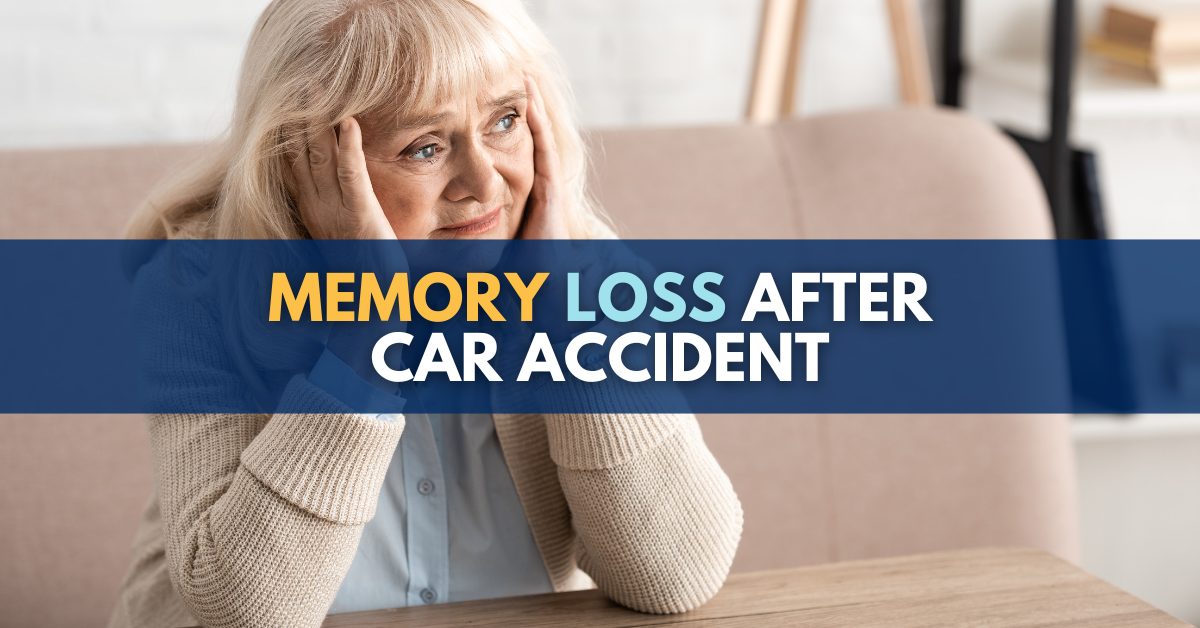 Memory loss after a car accident can take several forms. Anterograde amnesia prevents people from remembering many or all events since the crash. Post-traumatic amnesia blocks out memories of events immediately after a collision. Retrograde amnesia prevents recall of events that occurred before the crash.
Memory loss is often associated with a concussion or traumatic brain injury (TBI) resulting from the impact of the collision.
Significantly, memory loss is also one of the most common symptoms of a TBI.
If you're experiencing memory loss after having been injured in a crash, see your doctor immediately. The sooner you determine whether your memory loss is a stand-alone condition or a symptom of a brain injury, the sooner you can get the treatment you need to begin the recovery process.
What to do for memory loss after a car accident
If you suffered memory loss after a car accident, follow these steps:
Get examined immediately: Time may be of the essence. When it comes to properly diagnosing the cause of memory loss after a car accident, the sooner a person gets the proper diagnostic tests and medical treatment for these symptoms, the sooner they can rule out a potentially life-threatening injury. As an injury lawyer, I always advise people that the sooner they can get the necessary and appropriate medical care, the sooner they can get back on the road to good health and a full recovery, but with this condition the key is to rule out a much more serious injury as soon as possible.
Get medical treatment and get a referral for the appropriate diagnostic imaging to detect and diagnose if you have suffered memory loss after a car accident. A doctor can't treat you until he or she knows what is causing these symptoms, and the appropriate diagnostic testing – often a CT scan – will enable your doctor to prescribe the best course of treatment for you and make the appropriate referrals for you.
Early documentation always makes it easier to avoid future problems with your own insurance company. Early medical documentation, such as in an emergency room or as soon as possible with your family doctor, will prove to a health insurance company or a No-Fault insurance company that the crash was the cause of your injury. If it does turn out to be a more serious injury, you've documented the early symptoms and again will be able to avoid many of the problems that arise when an insurance company is denying a causal relationship and refusing to pay for medical treatment. Early treatment and medical documentation create the temporal relationship that insurance companies will be looking for when they are being asked to pay for necessary medical care.
Showing a clear temporal relationship between a motor vehicle collision and the documentation of treatment for a condition or injury also makes it easier to get a full and fair legal settlement for your injury when it is caused by another driver's carelessness or negligence behind the wheel. Delays in seeking treatment hurt your ability to get better faster and make a good recovery, but it also often makes it harder for your attorney to get a reluctant insurance company to pay for your treatment and makes it harder to get a fair legal settlement after your collision.
Don't try to "tough it out": this condition may be a symptom of a far more serious injury that may even become fatal if you don't seek treatment right away. As a lawyer, I've seen so many instances where people felt like they didn't want to "complain," but within days or weeks what they thought would be a minor injury or something that would go away becomes far more serious.
Talk to an attorney who is experienced at helping people injured in car accidents. Most experienced lawyers have helped people suffering from memory loss after a car accident. The initial call is always free so at the very least you will be informed as to what your insurance company is responsible to pay and what medical help and wage loss you are entitled to. An attorney can also help you review your medical records as well as the treatment and care you're receiving to make sure bills are getting paid and to help you assess what your case might be worth if your pain and disability was caused by another driver's negligence or carelessness.
Tell your auto insurance company about your amnesia after a crash. If you live in Michigan, make sure to include this in your application for No-Fault benefits, which is also referred to as your "written notice of injury" – which must be given to your No-Fault auto insurance company "within 1 year after the accident." (MCL 500.3145(1) and (4))
Do not sign any settlements, releases, or waivers related to your crash: Until you have talked with an experienced attorney who is looking out for your interests, do not sign any settlements, releases, or waivers that are presented to you by your auto insurance company, the at-fault driver's auto insurer or any other insurance companies or persons.
How to claim for memory loss after a car accident
In Michigan, you start your claim for memory loss after a car accident by filing an application for No-Fault benefits with the responsible auto insurance company, according to the No-Fault law's "priority" rules. The No-Fault insurer will pay for your medical bills and your lost wages if you cannot return to work.
Can I sue for memory loss after a car accident?
Yes. If your auto insurance company refuses to pay for – or cuts-off – No-Fault benefits related to the memory loss after a car accident you have suffered and may be continuing to suffer, then you can sue for unpaid, overdue medical bills, attendant care, medical mileage, replacement services and lost wages because your injuries have prevented you from returning to work.
You can also sue the at-fault driver for pain and suffering compensation as a result of your crash-related injuries, but you will first have to show that the other driver was at-fault for causing the motor vehicle collision and that your mental trauma constitutes a "serious impairment of body function" under our auto law.
Additionally, you may be able to sue the at-fault driver for other economic damages, such as excess and future medical bills and lost wages.
Types
There are different types of memory loss that all victims should be aware of:
Anterograde amnesia – This is the most common form of memory loss experienced by victims. Sufferers lose the ability to form memories for a period of time, which varies for each person. The result is that victims can't remember many or all of the events that occurred in their lives after the motor vehicle collision. Additionally, sufferers experience a lack of focus, confusion, and they frequently forget what they are doing and/or what they are supposed to do.
Post-traumatic amnesia – This type of memory loss occurs when a victim cannot remember what happened immediately after a crash. It's not necessarily a total loss of memory. Frequently, sufferers are said to have "blacked out."
Retrograde amnesia – Sufferers of this type of memory loss lose or forget memories that were formed before the occurrence of a traumatic event such as a crash. This condition causes the loss of past memories before the crash occurred. Some sufferers forget dates, major life events, their names and even the identity of family members and friends.
Short term memory loss after a car accident
Short term memory loss after a car accident occurs when a person forgets information they just saw or read or events that happened recently. Symptoms include repeatedly asking questions that have been answered, being confused, and forgetting where things are. Causes can include concussions or brain injuries.
Long term memory loss after a car accident
Long term memory loss after a car accident occurs when a crash victim forgets or has trouble remembering things that they have known for a long time, such as the names of family members, where they have lived, and how to do certain activities, tasks and hobbies. A common cause is a brain injury or concussion.
Symptoms
Symptoms indicating that you may be experiencing amnesia after a crash include:
Difficulty concentrating
Difficulty focusing on tasks
Clouded or foggy thinking
Feelings of confusion
Inability to organize one's thoughts
Treatment
Treatment usually starts with detailed testing. The full course of treatment may include medications and therapy.
Recovery
Unfortunately, there is no set "pattern" to recovery from memory loss after a car accident. Whether, when and to what extent memory returns varies from person to person. Seeking prompt and consistent medical attention is the best way to maximize a person's chances for the best possible recovery.
Suffering from memory loss after a car accident? Call Michigan Auto Law now!
If you have suffered memory loss after a car accident, call now (855) 781-7747 for a free consultation with one of our experienced lawyers. There is no cost or obligation. You can also visit our contact page or use the chat feature on our website.
Michigan Auto Law is Michigan's largest and most successful law firm that specializes exclusively in helping people who have been injured in auto accidents.
Our secret? Our car accident lawyers deliberately handle fewer cases than other personal injury law firms. This allows us to focus more time and attention on our cases.
Unlike other law firms, our attorneys are never too busy to promptly return phone calls and answer questions.
We have more than 1,900 5-Star reviews that reflect this care and attention to detail.
More importantly, this client-focused approach leads to better and faster settlements for our clients. Michigan Auto Law has recovered more million-dollar settlements and trial verdicts for motor vehicle accidents than any other lawyer or law firm in Michigan. We've also recovered the highest ever reported truck accident and car accident settlement in the state.
Call now so we can start making a real difference for you.