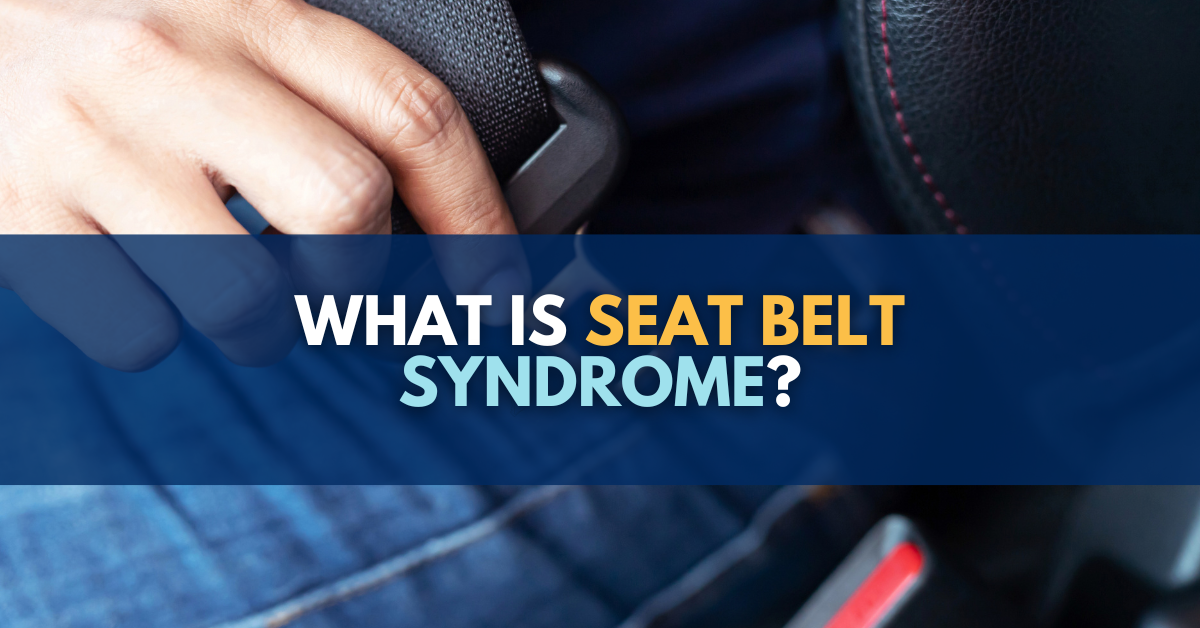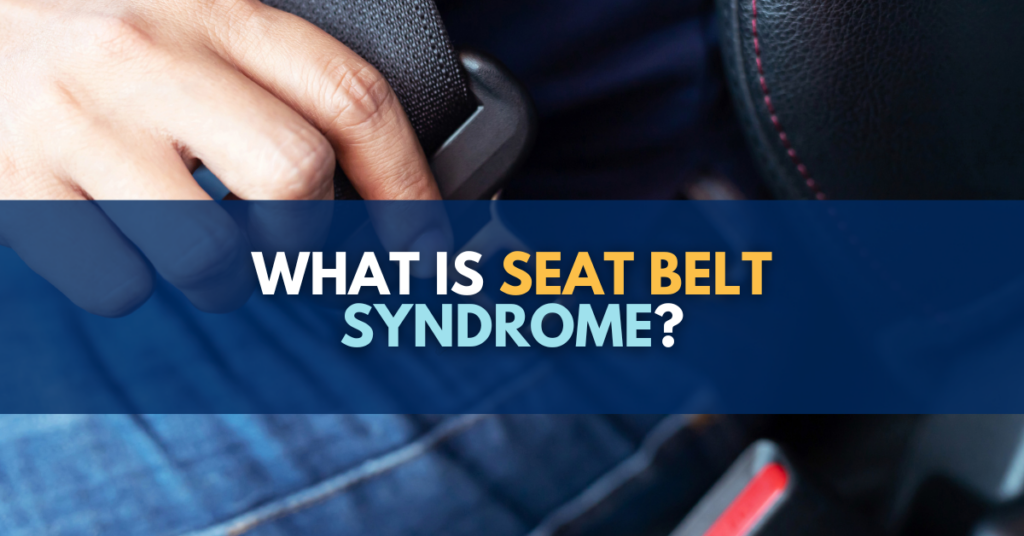 Seat belt syndrome, or seat belt injury, refers to a specific pattern of injuries that can occur as a result of wearing a seat belt during a car accident. It typically refers to injuries sustained by the upper torso, chest, and abdomen due to the restraining forces exerted by a seat belt. Injuries may also include internal organ damage and spine fractures.
What are the signs of seat belt syndrome?
The signs of seat belt syndrome that ER doctors and medical personnel look for are seat belt marks such as abrasions and/or bruises on the person's skin. They typically appear horizontally across the abdominal or waist area and at a 45-degree angle from hip to opposite shoulder, crossing the over the sternum area.
How often is this condition accompanied by injuries?
Research shows that signs of seat belt injuries are indicative of internal injuries in as many as 30% of the car accident victim cases seen in hospital ERs. Other research shows that car accident victims with safety belt marks on their body are 4 to 8 more likely to have suffered chest and abdomen injuries.
What injuries and medical conditions are caused by this condition?
The injuries and medical conditions that are caused by seat belt syndrome include injuries to internal organs such as the abdomen, stomach, bowels, intestines, kidneys, bladder, colon, lungs or heart. Injuries to vertebrae in the lumbar and thoracic spine is also common.
This condition can also cause car accident victims to suffer stomach pain and diarrhea as well as chest pain.
It is important to remember that medical attention should be sought immediately for injuries related to this condition because if they are left undiagnosed and, thus, untreated, they can become life-threatening or resulting in lifelong disabilities and impairments.
What causes seat belt injuries?
Seat belt injuries are caused when a car accident causes a crash victim's safety belt to activate and the pressure and force exerted by the safety belt compresses the victim's abdomen and chest, damaging the victim's internal organs and/or spine.
Symptoms
Doctors and medical personnel in the hospital emergency room will be looking for the following symptoms of seat belt syndrome:
Safety belt marks such as abrasions and/or bruises horizontally across a car accident victim's abdomen
Safety belt marks such as abrasions and/or bruises at a 45-degree angle from hip to opposite shoulder, crossing the over the sternum area
Muscle strains around the abdomen
Weakness in the legs (this may be indicative of abdominal or lower back injury)
Dizziness (this may be indicative of internal organ injury)
Blood in stool or urine
Changes in urination or bowel movements
Vomiting or coughing up blood (this may be indicative of a stomach injury)
Difficulty breathing (this may be indicative of damage to the victim's lungs and/or heart)
Abdominal pain or pain between the hips and ribs (this may be indicative of kidney damage)
How long does seat belt syndrome last?
Minor seat belt syndrome related injuries like bruising or abrasions may heal within a few days to weeks, while more severe injuries such as fractures or internal organ damage may require several weeks or months for recovery.
Diagnosis
To diagnose this condition, your doctor will perform a physical examination and may order X-rays, a CT scan and/or a focused abdominal sonography in trauma (FAST) which tests for free fluid in the abdominal cavity. In some case, abdominal surgery – which is known as a laparotomy – may be necessary to identify and treat internal organ injuries.
Treatment
Treatment for seat belt-related injuries typically involves medical evaluation and management by healthcare professionals. This may include pain management, immobilization of fractures, surgery for severe injuries, and monitoring of internal organ injuries.
Can I make a claim for No-Fault benefits?
In order to make a claim for No-Fault benefits when you have suffered injuries as a result of this condition, you must file an application for No-Fault benefits with the responsible auto insurance company within one (1) year of the accident.
The No-Fault law's "priority" rules will identify the auto insurer with which you must file your application. This auto insurance company will pay your No-Fault benefits, which cover your medical bills and your lost wages if you cannot return to work.
Can I sue for seat belt syndrome?
If your auto insurance company refuses to pay for – or cuts-off – No-Fault benefits related to the injuries you suffered as a result of seat belt syndrome, then you can sue for unpaid, overdue medical bills, attendant care, medical mileage, replacement services and lost wages because your injuries have prevented you from returning to work.
You can also sue the at-fault driver for pain and suffering compensation as a result of your injuries, but you will first have to show that the other driver was at-fault for causing the collision and that you suffered a "serious impairment of body function."
Additionally, you may be able to sue the at-fault driver for other economic damages, such as excess and future medical bills and lost wages.
How much compensation for this injury condition?
The amount of compensation for injuries resulting from this condition that you may be able to recover will depend on several factors. Courts will consider whether you are owed: (1) unpaid, overdue No-Fault benefits; (2) pain and suffering damages from the at-fault driver; and (3) other economic damages.
To learn more about how much compensation your case may be worth, please check our "Car Accident Settlement Calculator."
Injured In A Car Accident In Michigan? Call The Attorneys At Michigan Auto Law
If you suffered seat belt syndrome from a car accident in Michigan, call now (855) 781-7747 for a free consultation with one of our experienced car accident lawyers. There is no cost or obligation. You can also visit our contact page or use the chat feature on our website.
Michigan Auto Law is Michigan's largest and most successful law firm that specializes exclusively in helping people who have been injured in auto accidents.
Our secret? Our car accident attorneys deliberately handle fewer cases than other personal injury law firms. This allows us to focus more time and attention on our cases.
Unlike other law firms, our auto accident attorneys are never too busy to promptly return phone calls and answer questions.
We have more than 1,900 5-Star Reviews that reflect this care and attention to detail.
More importantly, this client-focused approach leads to better and faster settlements for our clients. Michigan Auto Law has recovered more million-dollar settlements and trial verdicts for motor vehicle accidents than any other lawyer or law firm in Michigan. We've also recovered the highest ever reported truck accident and car accident settlement in the state.
Call now so we can start making a real difference for you.
(Sources: "Seat belt-related injuries: A surgical perspective," Journal of Emergencies, Trauma and Shock, 2017; "Seat belt syndrome, a new pattern of injury in developing countries. Case report and review of literature," Journal of Surgery, 2014; "Seat belt syndrome: Delayed or missed intestinal injuries, a case report and review of literature," International Journal of Surgery, 2016)