Injury lawyer Steve Gursten proposes an action plan to stop offensive attorney solicitation and provide accident victims with real privacy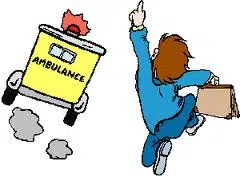 We need to think BIGGER when it comes to protecting Michigan auto accident victims against the bombardment of mail solicitations from aggressive, overreaching "ambulance chasing" attorneys.
I still fully support the protections proposed in House Bills 4770 and 4771, but they don't go far enough to deal with the problem. More needs to be done to restrict access to auto accident victims' personal information and to limit actual solicitations.
Auto accident victims need and deserve to know that their personal information is safe and that it won't fall into the "wrong" hands. And they need to be able to say "NO" to attorney mail solicitations if they want.
To accomplish those goals, I propose the enactment of the following "5-Point Plan to Protect Auto Accident Victims from Ambulance Chasing Lawyers":
In the next few days, I will discuss each idea more fully, to protect accident victims and the legal profession in Michigan. Tomorrow, I will start with the need to create a "Do Not Mail" registry for auto accident victims.
Related information:
Michigan Lawyers Weekly editorial by Steve Gursten: Stopping "ambulance chasing lawyers" is an issue everyone should care about