HB 4770-71 would stop lawyers from contacting people 30 days after a motor vehicle accident, punishing those who solicit with up to $30,000 in fines and possible felony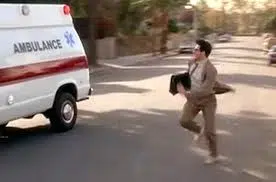 I've written extensively about how bad the ugly problem of attorney solicitation has become in Michigan in recent years. People injured in car accidents are now getting letters in the mail from about a dozen personal injury law firms  from around the state.  That was bad enough.
But now many injury lawyers – and here I do call out my own – have gone one step further.  They are using chiropractors and other proxies to directly contact these people. Police reports are purchased online and auto accident victims are being phoned at home.  Some are even knocking on doors and ringing doorbells.
This is beyond demeaning to the legal profession, and it does a tremendous disservice to people who have just been in a car accident.   This is taking the ugliness of ambulance chasing personal injury lawyers to new levels of disrepute.
It's time to stop this.
There is a Michigan Rule of Professional Conduct (Rule 7.3 regarding Direct Contact with Prospective Clients) that prohibits attorneys in Michigan from soliciting accident victims by phone or mail. However, the rule has a loophole, and it allows "sending truthful and non deceptive letters to potential clients known to face particular legal problems."
This led to gamesmanship.  It didn't take long for certain personal injury attorneys to figure out a way around this loophole. By buying and downloading the police report off the internet, and then sending the police report along with some glossy promotional materials about the law firm, many lawyers have jumped into the solicitation business.  And now I see other attorneys who are using  "proxies" such as "Michigan accident victim services" as fronts to get around the ban. These non-lawyers are even being paid by the lead. The more people they can send to the lawyers and the physical therapy and chiropractor offices to rack up big medical bills, the better.
The irony is the insurance companies in Michigan today know exactly who these lawyers are, and these lawyers are costing them untold millions in PIP fraud.  But the years pass and nothing is being done about it.
This is truly bewildering to me.  I don't understand how these insurance company higher-ups would rather cap the necessary medical care for paralyzed and severely brain injured auto accident victims, but turn a blind eye to the PIP fraud that has become increasingly prevalent in the legal profession today. Instead of devastating those who need medical care the most with No Fault "reform," these insurance companies should be taking on the crooked medical providers and yes, ambulance chasing lawyers.
In the meantime, the lawyers will still be knocking on doors and sending mail solicitations, getting people to doctors to rack up bills, filing No Fault lawsuits and then taking one-third to 50% of the outstanding medical bills.  Hey, these lawyers figured out years ago they can make a helluva lot more money doing it this way then having to actually litigate third party auto negligence lawsuits with these same insurance companies.
But maybe these ambulance chasing lawyers won't be allowed to harass auto accident victims and engage in PIP fraud for much longer.
There are two new proposed legislative bills that, if they become law, would address attorney solicitation in Michigan. And they carry some very harsh consequences.
HB 4770: Only certain people are allowed to contact accident victims within the first 30 days, and injury attorneys are not on this list
By only allowing certain relevant people and agencies to access an accident victim's accident report within 30 days, HB 4770 effectively prohibits injury attorneys from accessing the information, thus contacting the accident victims.
According to HB 477o, sponsored by Rep. Ellen Cogen Lipton (D-27th District), only the following people are allowed to access the accident reports within the first 30 days:
Individuals, vehicle owners and property owners involved in the auto accident.
A family member of an individual involved in the auto accident.
The representative of an individual, vehicle owner or property owner involved in the auto accident (as contacted by the accident victim).
The insurance producer, insurer, or employee or agent of an individual, vehicle owner or property owner involved in the auto accident.
The attorney general or other prosecutor.
An employee of a radio or television station licensed by the Federal Communications Commission.
An employee of a newspaper.
A local, state or federal government agency that's authorized to have access to a report in furtherance of the agency's duties.
An entity that is authorized by a law enforcement agency to manage the law enforcement agency's reports.
The people or organizations that are authorized to access the motor vehicle accident reports are required to submit certain documentation in order to access the reports, according to the law.
A person or attorney who violates the proposed law would be guilty of a felony punishable by imprisonment for up to two years or a fine of up to $15,000, or both.
HB 4771: Injury attorneys are not allowed to solicit auto accident victims within the first 30 days
Under HB 4771, sponsored by Rep. Joseph Graves (R-51st District), a person (read injury attorney) is not allowed to intentionally contact personal injury victim or family member of that victim with a direct solicitation to provide a service until 30 days after the event that caused the personal injury.
This doesn't apply if the individual has request contact from that person.
"Direct solicitation" means "a verbal or written solicitation or offer, including by electronic means, made to the injured individual or a family member seeking employment to provide a service that is based upon the knowledge or belief that the individual has sustained a personal injury and that is directed toward that individual or a family member."
In violating this proposed law, a person is guilty of a misdemeanor punishable by a fine of up to $15,000 for the first violation and up to $30,000 for a second or subsequent violation. The court may also order the convicted individual to pay the prosecution costs.
What lawyers who care about the image of the legal profession have been waiting for
This kind of legislation is what I've been waiting for all along. As I told Michigan Lawyers Weekly in a story called Ambulance chasing in the digital age:
"We could have legislation that prohibits an injured person from being contacted by anyone for a certain period of time. But it would have to be the law that no one could contact them, not the lawyers, not the health care providers. No one."
I believe these laws by Reps. Lipton and Graves are an important way to protect the public.  And the legal profession.
These bills strictly prohibit lawyers from contacting accident victims within the first 30 days of a crash, and the punishments are severe. Beyond that, the proposed laws prohibit everyone else from contacting accident victims, like the healthcare providers engaging in PIP fraud in Michigan and the phony front organizations like the "Michigan Accident Services" that are commonly used now to get around the rules.
I believe the practice of "ambulance chasing" is abhorrent. Attorneys who solicit are currently doing great harm to the legal profession, and just as important, to the accident victims they're contacting.
This is something that even the auto insurance companies – especially the auto insurance companies considering the measure will decimate the PIP fraud that is currently taking place – can support.
We can do better.  It's high time we should.

Related information: