Lawyer solicitation rules should apply to personal injury attorneys — not just family lawyers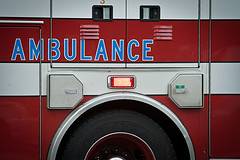 Michigan today has a terrible problem with runners and ambulance chasers. And if nothing happens to fix this, the problem will continue to grow. I've watched the problem with accident runners and ambulance chasing grow considerably over the past years.
People injured in car accidents today, especially in the metro-Detroit area, can now expect to get telephone calls from complete strangers, "informing" them of their No-Fault rights. These phone calls come with an offer to send an investigator to the house, with a referral to a chiropractor and then a strong push to a personal injury lawyer made by the investigator. There has even been some lawsuits, including this one recently filed in United States Eastern District Court by State Farm, that even names an alleged investigator by name.
But nothing so far from Michigan Attorney General Bill Schuette. And nothing so far from the State Bar of Michigan. And that is unfortunate, for we are only looking at the very tip of this iceberg.
The personal injury lawyers who are orchestrating most of this (I believe there are three or four in particular) are using non-lawyers and chiropractors to get around the attorney solicitation rule that currently exists and prevents lawyers from cold-calling people.
Rules, of course, only matter if they are enforced. The lack of any enforcement is certainly part of the problem. But the bigger problem here is the lack of rules. Today lawyers can buy UD-10s of car accidents online, and have a solicitation package out within minutes. Investigators and runners can look these people up and call them at home within minutes of a police report being posted online.
The real problem is that legal ethics hasn't caught up to the temptations of technology.
I can remember five years ago I would sometimes see one or two lawyer solicitation letters when I was meeting with a new client. But today, five years later, it is no longer just one or two solicitation letters. The phone calls and solicitation letters are threatening the image of the legal profession, and our failure to do anything about it is threatening the Michigan Bar Association's mission of protecting the public.
Today, Michigan injury lawyers are buying police reports on the Internet and these solicitation "shock and awe'" packages that have pretty glossy information about the law firm and the accident victim's police report are now going out to these accident victims within hours of the police report being posted online.
I have submitted several comments to the Michigan Supreme Court on the rules regarding the problem of attorney solicitation. I hope the Court considers my comments, as our rules need amending.
The news is only beginning to catch on. There was this piece recently on Channel 4 News: "Cappers target metro Detroit crash victims in illegal insurance scheme." And the story on Fox News, "Man's police report sparks lawyer feeding frenzy."
Regarding the latest Michigan Supreme Court rule, MRPC 7.3: I agree that requiring a waiting period before family attorneys can solicit people who are soon-to-be divorced is wise. However, limiting solicitation only to family attorneys is less so.
Allowing any type of lawyer solicitation — even within 14 days — is a terrible mistake that demeans the legal profession and fails in our most important responsibility of protecting the public.
In particular, I strongly urge the Michigan Supreme Court to look again at how lawyer solicitation is destroying the image of the personal injury lawyers in particular. A recent news piece on Fox News called "Man's Police Report Sparks Lawyer Feeding Frenzy," shows just how jarring and distasteful this can be for people who are injured in car accidents. Just days after a crash, these people are now being disturbed at home with phone calls made by agents paid by personal injury lawyers to get around the legal solicitation loopholes, and being carpet bombed by a dozen injury lawyer solicitation letters.
I could not imagine a more ugly way to portray the legal profession in this state. We must do better.
Technology has created "forbidden fruit" just too tempting for many injury lawyers to pass without tasting. Lawyers can click on Docview and pay a very small fee to find people who have just been injured, and when they are most vulnerable. They have set up phony "victims accident services" fronts to call these people at home, harassing them with multiple phone calls, so they can be "explained" their no fault insurance rights, and of course given the name of a chiropractor and a lawyer that they should see immediately.
I would not speak out about this if I did not feel it to be so damning and damaging to our profession. We are all tarred by this brush. But we do not all share the power to stop this despicable practice that is harming innocent and vulnerable people in this state every single day. That is why I believe that the 14-day ban on legal solicitation must be extended beyond family practice lawyers to include at the very least personal injury lawyers, and that the ban be extended beyond 14 days to 90 days.

– Steven M. Gursten is an injury lawyer and head of Michigan Auto Law. He is president of the Motor Vehicle Trial Lawyers Association and has received the highest verdict or settlement for a car or truck accident case in 2008, 2009, 2010 and 2011, according to Michigan Lawyers Weekly.
– Photo courtesy of Creative Commons, by andrewmalone
Related information:
New rule curbs lawyer solicitation letters in Michigan
Attorney solicitation rules: Michigan Supreme Court must do more to protect accident victims from predatory lawyers
Michigan Supreme Court considers 30-day waiting period for lawyer solicitation by mail
Michigan Auto Law exclusively handles car accident, truck accident and motorcycle accident cases throughout the entire state of Michigan. We have offices in Farmington Hills, Sterling Heights, Ann Arbor, Grand Rapids and Detroit. Call (248) 353-7575 or to speak with one of our Michigan injury lawyers.