For Howell, the dangers in Speaker Bolger's "Substitute for HB 4612" are personal: His son has brain injury from a catastrophic car accident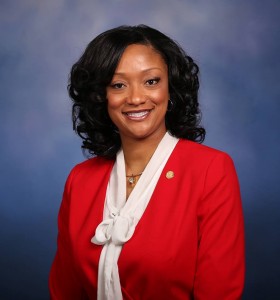 State Rep. Stacy Erwin Oakes (D-Saginaw) and former State Rep. Jim Howell (Saginaw County) have been outspoken about their opposition to recent No Fault "reform" proposals. And for Mr. Howell, it's personal.
His son, Sam Howell was in a car crash in February 2005 that put him in a coma for more than a year. He had a 3% chance of survival. Sam cannot walk on his own. He has a traumatic brain injury that affects how he communicates with people.
He needs 24-hour, around-the-clock nursing care, called attendant care. Sam continues to receive treatment from cognitive, physical, occupational and recreational therapists.
It is Mr. Howell's mission to spread the word that this is all possible because of Michigan's No-Fault auto insurance system. Without it, the family would have gone bankrupt within months and Sam wouldn't have had access to his life saving, healing care.
Below is a guest blog post from the lawmakers for our Michigan Auto Law readers.
"In today's political climate, there's a sentiment that the two political parties are so divided, common ground simply cannot be found. We don't believe this to be true.
Over the years, we've found common ground where many have failed. We recently found ourselves in agreement concerning the proposed No Fault auto insurance reforms.
I asked Rep. Oakes, "How could anyone consider capping and restricting no-fault?" In absolute agreement, we refuted the false claims and outlined the financial burdens that would follow.
We agreed it would be best to share our concerns.
In 1972, Gov. William Milliken championed the enactment of our state's No Fault system.
In Michigan, if you have a catastrophic accident, your medical expenses, wage loss, replacement services, and damages caused to other people's property are covered.
Benefits are paid out of the Michigan Catastrophic Claims Association (MCCA), a private nonprofit association every driver pays into.
As of 2013-14, insurance companies assess $188 per vehicle (including tax) to cover catastrophic claims. Under No Fault, the insurer pays the claim and is reimbursed by the MCCA for medical costs exceeding $500,000.
Recent efforts to cap and restrict coverage are very similar to what the people of Michigan decisively rejected by statewide vote in 1992 and 1994.
In 2011 and 2013, Governor Rick Snyder's proposed No Fault reforms failed to garner legislative support.
Now, we have yet another proposal to hastily cap and restrict coverage without any assurances that it will save taxpayers and motorists money. In reality, it will increase costs to taxpayers – House Speaker Bolger's draft "Substitute for HB 4612."
Proponents of the reforms deceivingly contest that No Fault is the cause of our state's high auto insurance rates.
This is false. You have to examine the averages amongst states for each portion of the policy. In doing so, you see that No-Fault isn't the culprit.
The average uncapped lifetime Personal Injury Protection (PIP) benefit costs Michigan drivers $544.20 per year, only $60 above the national average of $484.03.
Michigan's safeguards, protections and medical benefits are far superior to every other state for a nominal cost of $60 annually, evidence that we're getting a tremendous return on our investment.
Collision insurance is the most expensive portion of our policies. This is where we must focus our attention if we're going to be successful in reducing auto insurance costs.
If you speak to families that have been impacted by catastrophic accidents, they would tell you the peace of mind is invaluable.
Michigan is one of the few states where an accident survivor is certain to receive immediate medical attention.
In other states, accident victims must sue to receive reimbursement for treatment, or they're placed on Medicaid and taxpayers pay for the medical bills.
For instance, in 2003, Colorado switched from a No Fault to a tort system. Five years later, Colorado's Medicaid costs doubled from auto accidents. Colorado's example is proof that costs will be passed on to taxpayers through increased Medicaid costs, unpaid hospital bills and reduced rehabilitative care.
Despite the nation-leading value of our no-fault system, the insurance industry has continued their attacks.
Supporters of capping benefits falsely maintain this legislation would reduce costs and argue the MCCA is financially insolvent; however, they refuse to ensure savings for motorists, open the MCCA's books, or disclose the economic and actuarial assumptions their projections are based on.
This information is critical to the public and Legislature's understanding of No Fault and our ability to make sound policy decisions that will impact countless families throughout Michigan.
The newly proposed reforms would cap PIP benefits at $10 million.  While this may seem like a reasonable compromise, it is not.
Why you ask?  The answer is in the details of the bill, which places extreme limitations and restrictions on services, therapy and medical care, and the cap is a false assurance of what would be provided.
In the end, it would be devastating to individuals who suffer catastrophic injuries, like my son, Sam. The other falsehood is that this bill does not apply to people who were previously injured. While the $10 million cap does not apply to them, all the extreme restrictions and limitations on services, therapy and medical care do apply, and the insurance coverage they paid for would be taken away.
The bill would also allow insurers to cease coverage if the injured person fails to improve fast enough or where the goal of treatment is to maintain quality of life as opposed to measurable improvement in status.
It would be devastating to individuals who suffer catastrophic injuries in auto accidents if insurers were allowed to cut off treatment because the injured person isn't improving quickly enough.
It is very easy to go through millions of dollars in medical expenses and hundreds of thousands in out-of-pocket expenses when the unthinkable occurs. This is why we have an insurance system that acts as a safety net in these times of need.
We agree, repealing our state's No Fault system would have a profound impact on countless Michigan families, businesses, medical providers, jobs, and the overall quality of medical care in our state.
This legislation will not address the issue of insurance premiums and is fiscally and morally irresponsible.
That's not Pure Michigan."
Related information:
8 devastating new restriction on benefits, legal protections under 2014 No Fault "reform" plan