Driven by the deep-pocketed insurance industry, the billboards throughout Michigan spread a glaringly incorrect message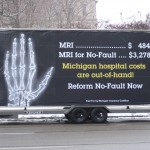 If you've driven in Michigan throughout the last six months, chances are you've seen one of the many billboards pushing for no-fault insurance "reform," especially on your way to the Grand Rapids area.
These billboards about no-fault reform are also completely misleading.
A recent article by the Michigan Truth Squad, "Coalition for Auto Insurance Reform: No Fault insurance billboards" spells out exactly how incorrect these billboards are.
For those of you who are unfamiliar with our no-fault insurance system in Michigan, drivers have unlimited medical coverage after an auto accident for all necessary medical care. It's part of our auto insurance. This means that for people with serious injuries — including catastrophic injuries like TBI and spinal cord injuries — every single necessary medical expense including the cost for attendant care (nursing services) is covered through Michigan no-fault.
Current no-fault reform measures aim to cap our medical benefits. This would leave injured accident victims without critical medical care. And it would lead to Michigan taxpayers footing the bill (instead of the insurance companies) after an auto accident victim's medical bills exceed the proposed low cap and these people get pushed onto Medicaid.
These billboards are sponsored by the Coalition for Auto Insurance Reform, i.e., the insurance industry. The message states that medical care is more expensive under Michigan No-Fault. For instance, one billboard lists the cost of an MRI charged to no-fault insurance coverage at $3,278 and something generally labeled as "MRI" at $484.
As the Michigan Truth Squad reports, the figures, which cover the average price of a lower back MRI, do not include the whole story:
"The $3,278 figure represents the average cost of that MRI in Detroit, the most expensive area of the state for medical care. The same procedure in Lansing costs $2,057 under no-fault coverage, and $2,057 in Grand Rapids.

The $484 figure is the price in Detroit for the same MRI covered by Medicare. In the rest of the state, the average Medicare reimbursement was $452.

By using the Detroit figures, the gap between no-fault and Medicare appears larger than a state-average.

Using Medicare reimbursement for such a comparison also is a tad misleading, because Medicare and Medicaid reimbursements are lower than reimbursements from traditional health insurance plans."
So keep in mind when you drive past these billboards, they are sponsored by the insurance industry (yes, the insurance industry which already makes record-breaking profits selling no fault insurance) in order to save itself even more money by paying out less on the most serious auto accident claims.
So the Michigan auto insurance industry, that already leads the nation in profitability, wants to "reform" no fault by taking away PIP benefits from those who need it most – the people who have been most seriously injured in auto accidents!
There has never been any public outcry for no fault reform. This is the same insurance industry who's previous two public referendums were soundly voted down by Michigan voters.
And remember, "reforming" Michigan no-fault does not mean any savings on the cost of auto insurance to Michigan drivers on their auto insurance premiums." No-fault reform will simply rob Michigan drivers of their most important medical protections after an auto accident, and put more money in the Michigan insurance industry's pockets.
– Steve Gursten is one of the nation's top No-Fault lawyers handling auto accident lawsuits. He is head of Michigan Auto Law and president of the Motor Vehicle Trial Lawyers Association. Steve frequently writes and speaks about Michigan no-fault law and auto insurance, and is available for comment.
Related information to protect yourselves:
New study highlights dangers of Michigan No-Fault reform
Michigan auto insurance industry "highly profitable"
Michigan Auto Law is the largest law firm exclusively handling car accident, truck accident and motorcycle accident cases throughout the entire state. We have offices in Farmington Hills, Detroit, Ann Arbor, Grand Rapids and Sterling Heights. Call (248) 353-7575 to speak with one of our Michigan no-fault lawyers.