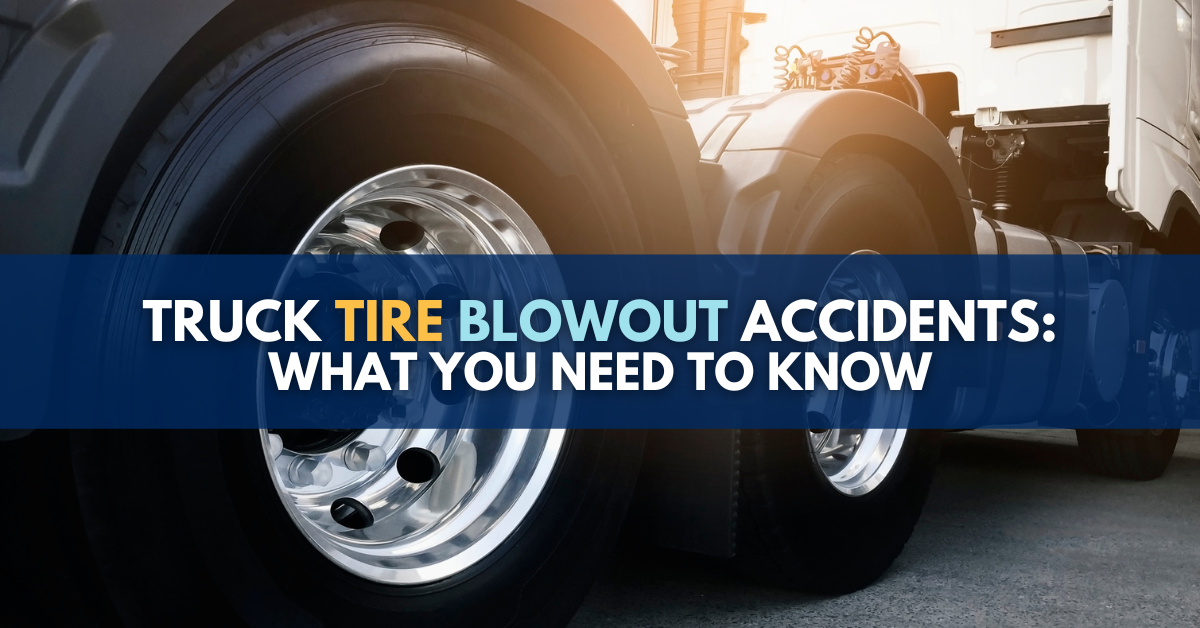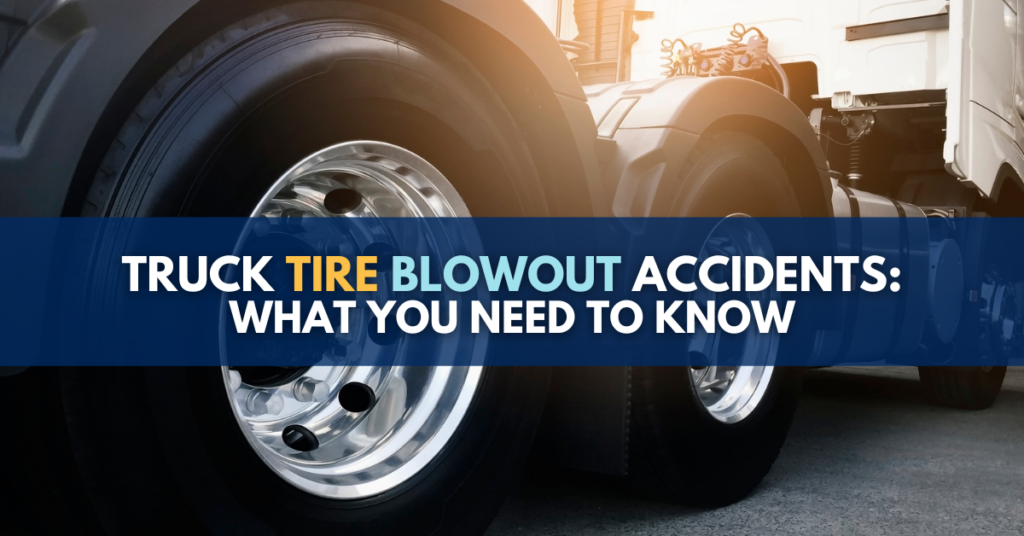 Truck tire blowout accidents are among some of the worst semi and tractor trailer crash cases that I have litigated in Michigan. The results are often deadly. And when they are not, the victims are usually left with catastrophic injuries. The key to understanding these types of cases is that they are almost always preventable.
I've now litigated 6 tragic truck tire blowout cases, which is almost certainly more than any other lawyer in Michigan. In Nunez vs. Utica Transit Mix, I represented the family of a wonderful man, a husband and father, who suffered a tragic and avoidable death because a commercial truck blew a steer tire. While the company claimed this was an unforeseeable event, the real cause was that the tire was in a defective and dangerous condition.
Preventing truck tire blowout accidents is also a subject that I have lectured on at conferences, teaching other lawyers how to investigate and litigate these cases. They do tend to be expert intensive and expensive, but these are not your usual types of cases. The defense is almost always some version that these tires coming loose or blowing out from semis and injuring and killing others in the roadway are an unforeseeable "act of God" – a sudden emergency legal defense that the lawyers defending these cases will raise in hopes of avoiding responsibility for the crash.
In fact, nothing could be farther from the truth.
These types of crashes are almost always preventable.
What is a truck tire blowout accident?
A truck tire blowout accident occurs when a tire suddenly deflates or, more often, completely or partially comes apart. Often the tire or debris left behind can cause a crash with massive injuries to unfortunate passersby who are in the wrong place at the wrong time.
Many of these types of crashes cause the driver to lose control and strike another vehicle. A steer tire blowout, for example, can cause a semi or tractor trailer to swerve into another lane, drive into oncoming traffic, or rollover.
To learn more, please check out this video:
Causes of truck tire blowout accidents
The most common causes of truck tire blowout accidents include: (1) under-inflation of tires; (2) worn down or "treadburn" tires; (3) tread separation; (4) driving on a spare; (5) a manufacturing defect in the tire or tread; (6) negligent maintenance and repair; and (7) overloading or excessive load.
Here are more details about these causes:
Under-inflation – When there is not enough air in a tire, it can overheat and explode.
"Treadburn" – This term describes the phenomenon that occurs when a tire tread that is burnt or worn overheats and breaks down as a result of the friction that is generated from driving on the road.
Tread separation – Tread separation causes a tire to break apart and scatter over the freeway when the metal and rubber inside of a tire become disconnected from each other.
Spare tire – Since semis and tractor trailers go through tires so often, it is possible that they will be riding on a spare. However, spares are not designed for long-term, permanent use and if a spare is too old, it could rot, leading it to break apart.
Recovering No-Fault benefits
To recover Michigan No-Fault benefits, you must file an application for No-Fault benefits – which is also called your "written notice of injury" – with the responsible car insurance company within one (1) year after the crash. (MCL 500.3145(1) and (4))
If you fail to file your application on time – within ONE YEAR from the date of the crash – then you will forever lose any benefits to which you might be entitled.
After this type of crash in Michigan, No-Fault PIP benefits will pay for your medical expenses, your lost wages if your injuries have disabled you from returning to work, to reimburse you for mileage and transportation costs associated with traveling to and from your medical appointments, your cost for replacement services (of household chores and tasks) and for your attendant care benefits.
Pain and suffering compensation after a Michigan truck tire blowout accident
In Michigan, you may be able to file a claim for pain and suffering compensation after you were injured in a truck tire blowout accident. This claim may also allow you to recover excess lost wages as well as excess medical expenses that were not covered by the No-Fault medical coverage limit in the auto insurance policy that applies to your claim.
To succeed with a pain and suffering compensation case after this type of crash, you must be able to show that you have suffered a "serious impairment of body function" or permanent, serious disfigurement.
The statute of limitations for filing a pain and suffering compensation case – as well as claims for excess medical expenses, excess lost wages and other economic loss – is three years after the date of the crash. (MCL 600.5805(2))
Truck tire blowout caused accident, who is at fault?
In Michigan, the following people or entities may be negligent and at-fault for a truck tire blowout accident: (1) the company and driver for negligent inspection, maintenance and/or vehicle overload; (2) the driver for failure to detect during a pre-trip inspection; (3) the mechanic/service shop for negligent install or repair of the tire; and (4) the tire manufacturer for faulty design/construction and failure to warn.
There are federal and state regulations that require companies and owners to safely maintain the tires on their vehicles. There are also safety regulations that require inspection and maintenance to assess and monitor tire inflation, tire tread depth, and mileage on the tires. This is important because often the defense will dispute whether there is any industry guidance regarding what the driver is required to do to "see" if the hub or axle seals are leaking or how bare the tire tread is. In this regard, the JJ Keller training videos on pre- and post-trip inspection are very helpful on what a driver must do to detect a dangerous condition before the tire blows. The CDL Manual also requires that drivers:
"See that hub oil/grease seals and axle seals are not leaking and, if wheel has a sight glass, oil level is adequate."
Lawyers and their experts should also know how to use 49 CFR 383 and to apply the CDL Manual standards to these types of crashes.
Tire debris hit my car, who pays for damage?
If tire debris hit your car, then the damage could be paid for through your collision coverage and/or through a mini tort claim against the company that owns the vehicle. The mini tort may help pay for your collision deductible or pay for repairs directly if you do not have collision coverage.
The mini tort only covers vehicle damage that is not covered by insurance and it limits a person's recovery to $3,000. Plus, a person making a mini tort claim for vehicle damage caused by a truck tire blowout accident will need to be able to prove that he or she had car insurance at the time of the accident.
Injured in a truck tire blowout accident in Michigan? Call Michigan Auto Law
If you were injured in a truck tire blowout accident in Michigan, call now (248) 353-7575 for a free consultation with one of our experienced car accident lawyers. There is no cost or obligation. You can also visit our contact page or use the chat feature on our website.
Michigan Auto Law is Michigan's largest and most successful law firm that specializes exclusively in helping people who have been injured in auto accidents.
Our secret? Our car accident attorneys deliberately handle fewer cases than other personal injury law firms. This allows us to focus more time and attention on our cases.
Unlike other law firms, our auto accident attorneys are never too busy to promptly return phone calls and answer questions.
We have more than 2,000 5-Star reviews that reflect this care and attention to detail.
More importantly, this client-focused approach leads to better and faster settlements for our clients. Michigan Auto Law has recovered more million-dollar settlements and trial verdicts for motor vehicle accidents than any other lawyer or law firm in Michigan. We've also recovered the highest ever reported truck accident and car accident settlement in the state.
Call now so we can start making a real difference for you.