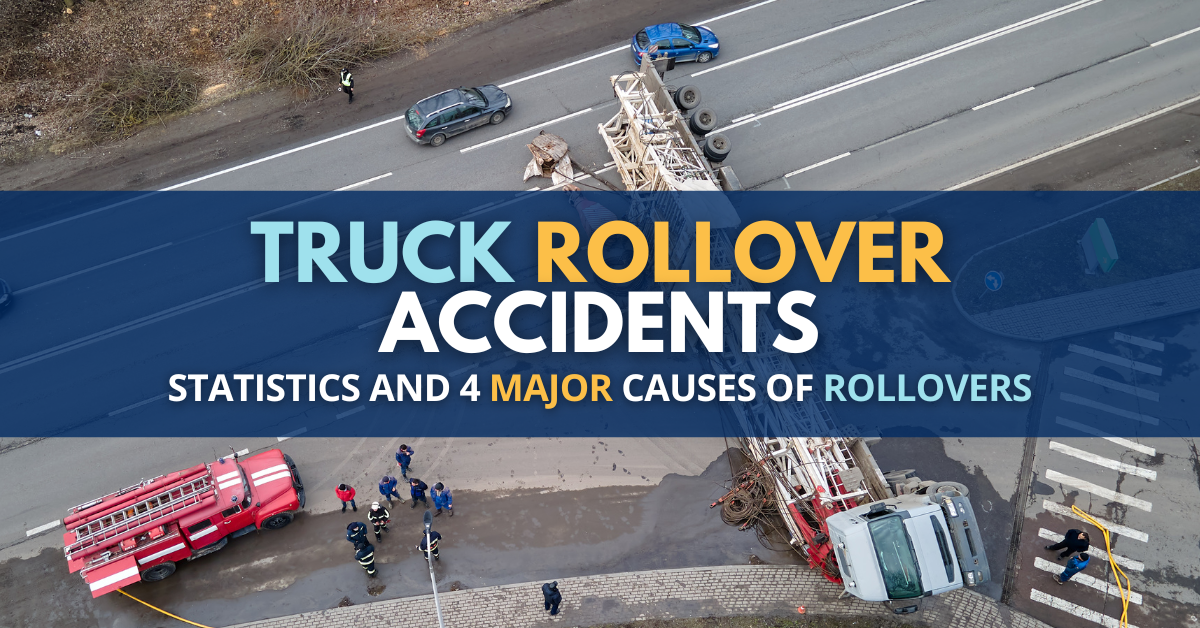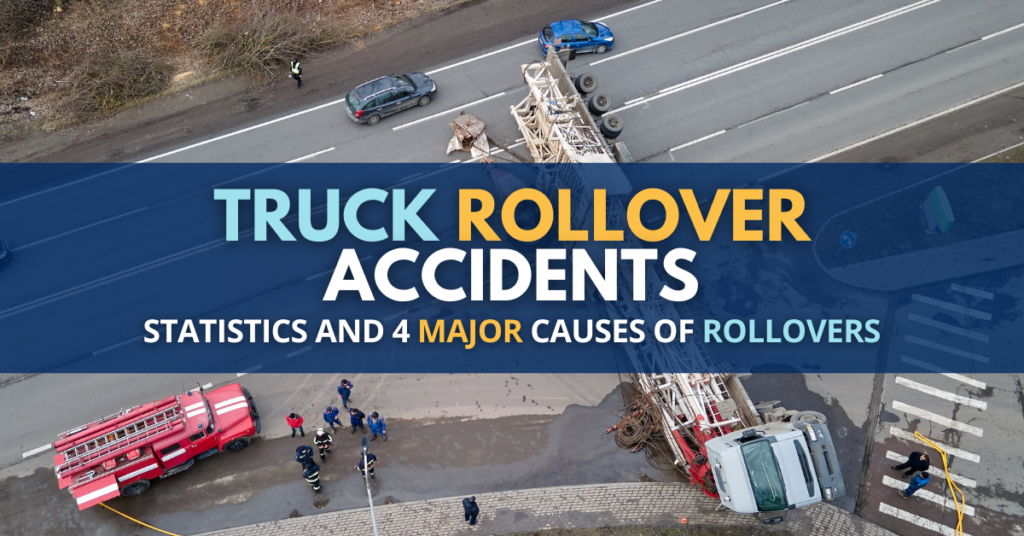 Truck rollover accidents are often preventable and are most commonly caused by the negligence of the truck driver; however other drivers on the road can be at-fault. Driving behaviors that typically lead to these accidents are: speeding, driver distraction, reckless steering and unsafe loading of the tractor trailer. Other factors that can cause these truck accident are poor weather conditions, mechanical failures to the truck and driver fatigue. Prevention should focus on better education and training.
One of the very first tractor trailer crash cases I litigated about 25 years ago involved a this type of crash. In the 25 years and well over 300 tractor trailer cases since, I've handled many more rollover cases, both for injured truck drivers and for other people who were terribly injured when a truck rolled onto and over their cars. I've also spoken at legal seminars to other attorneys on this this topic and have answered live questions from truckers about these serious crashes on Sirius Radio.
These type of crashes are by far one of the most deadly types of tractor trailer crashes. Even worse, such crashes are often preventable.
How do truck rollover accidents happen?
Most truck rollover accidents happen when a tractor trailer is driving on a curve in the road or when the tractor trailer suddenly changes direction. Due to the high center of gravity of the truck and its load, the load continues in its original direction, causing the truck to tip onto its side or roll over completely.
The Federal Motor Carrier Safety Administration (FMCSA) has defined a truck rollover accident as an "overturn" and/or as an event involving a truck making "one or more vehicle quarter turns about [the vehicle's] longitudinal axis."
Truck rollover accident statistics
According to the truck rollover accident statistics these crashes are far more common than most people might believe:
Truck rollover accidents accounted for 4.4%, 5% and 4.3% of all fatal tractor trailer crashes in the U.S. in 2015, 2016 and 2017, respectively.
They accounted for 4.1%, 4.7% and 4.7% of all injury-related truck crashes in the U.S. in 2015, 2016 and 2017, respectively.
Over 78% of cargo tank truck rollover accidents involve driver error.
"The direct cause of any rollover" which is "generally either turning too quickly or allowing one side of the vehicle to drop or rise suddenly . . . is primarily due to an error on the part of the driver, less often some other driver or condition of the truck."
"[M]ost rollovers are the fault of the truck driver."
Speed is a factor in approximately 45% of all these types of tractor trailer crashes.
(Note: The statistics above reflect the most current data available from the U.S. Department of Transportation's Federal Motor Carrier Safety Administration (FMCSA)).
Four major causes
The top four causes of these tractor trailer crashes that result in death or injury are:
Failure to adjust speed for curves in the road: This occurs frequently on highway or interstate on- and off-ramps. Contributors to this dangerous driving behavior include driver misjudgment of the speed at which a curve can be safely driven and driver impatience or haste because he or she is behind schedule, is late for a non-work-related commitment or because he or she is trying to get ahead of a seemingly slower-moving vehicle.
Truck driver inattention: Truckers cause the majority of truck rollover accidents. Most often this is because they are not paying attention to the road and to their own driving. They are either distracted, drowsy, overly-aggressive or "daydreaming" which then causes them to oversteer to stay on the road. Whatever the specifics, the underlying cause is the same as in the majority of trucking crash cases I've litigated, that is, a general lack of attention. With rollovers, truck drivers are causing rollovers when they fail to recognize and appropriately react to situations that require a sudden change or adjustment in direction.
Steering unsafely: There are two ways that unsafe steering contributes to these type of tractor trailer crashes. First, truck drivers may fail to steer in a way that keeps his or her truck safely in his or her lane on the roadway. Second, drivers may steer in an "overcorrecting" fashion where they turn too much in one direction and then suddenly turn the wheel in the other direct to right themselves, jeopardizing the stability of the truck in the process.
Failure to account for loads being transported: This often is not the driver's fault, especially when the driver has a sealed load and cannot inspect or perform a pre-trip inspection. With unsealed loads, truck rollover accidents can occur when drivers fail to adjust their driving and speed for the weight, heights, security, stability and shifting of the loads they are transporting. Additionally, if the driver hurried through his or her pre-trip inspection (or more often, neglected to do it altogether), then he or she may be unaware that the load is too heavy, insecurely fastened or mounted too high. In my own legal truck accident practice as an attorney, I help a large number of truck drivers who are injured in truck accidents caused by other motor vehicles. Load shift cases cause terrible injuries and are the second most frequent type of calls I receive from truckers (and the cause of my very first truck accident case as an attorney almost three decades and 300 cases ago).
Prevention
Solutions for preventing truck rollover accidents include:
Include rollover prevention in the curriculum of CDL training courses
Require truck drivers to engage in rollover simulation training exercises that allow them to experience and learn from a rollover situation without facing real world consequences
Drivers should avoid sudden movements that may lead to rollovers
Drivers should be mindful of their load and adjust their speed and driving accordingly in turns and on straight roadways
Drivers should identify high risk areas on roads
Drivers must remain alert and attentive behind the wheel
Drivers must always drive at a safe speed, taking into to consideration both the posted speed limits, the road design and the road conditions
Why do these type of tractor trailer crashes keep happening?
When I've spoken to lawyers who litigate these cases, I've said it boils down to the system errors with the trucking companies who fail to properly train, maintain, supervise and enforce mandatory safety regulations on loading and driver education laws.
It is up to trucking companies and their safety managers to train drivers to follow the regs, including loading and not leave these drivers helpless when they are given unsealed loads to drive that they cannot inspect to protect themselves.
Need help? Call the attorneys at Michigan Auto Law
If you were injured in a truck rollover accident and have questions on your legal rights, injuries and losses, you can speak to an experienced attorney, toll free anytime 24/7 at (248) 353-7575 for a free consultation. You can also get help from an experienced accident attorney by visiting our contact page or you can use the chat feature on our website.
(Sources: "Analysis of Large Truck Rollover Crashes," Annals of Advances in Automotive Medicine published by Association for the Advancement of Automotive Medicine; "Large Truck Crash Causation Study," Federal Motor Carrier Safety Administration (FMCSA) of the U.S. Department of Transportation; "Large Truck and Bus Crash Facts" for 2015, 2016 and 2017," FMCSA; "Cargo Tank Truck Rollover Prevention" page, FMCSA website)