Michigan Truck Accident Lawsuit Guide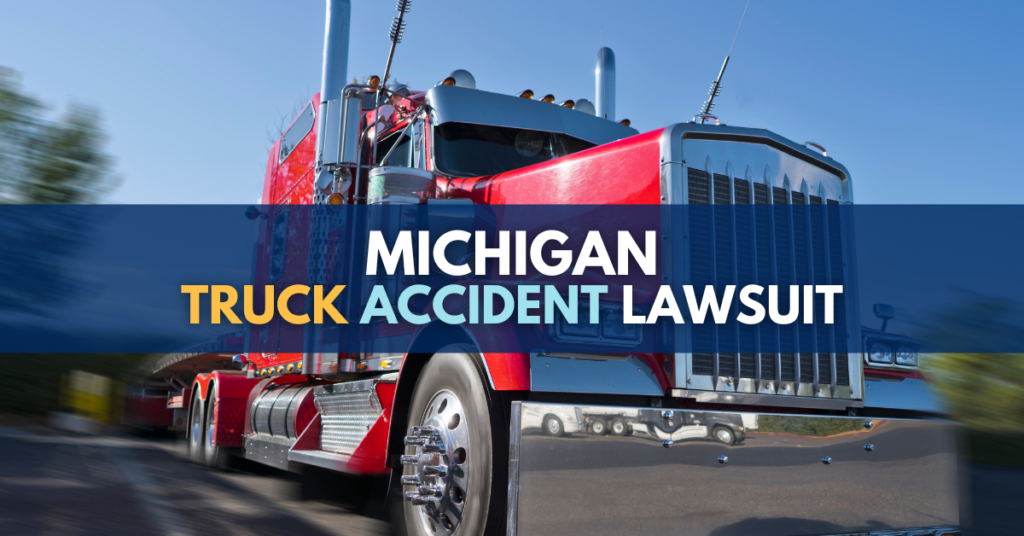 A Michigan truck accident lawsuit will allow you to recover compensation and money damages when you or a family member has been injured or lost their life in a truck crash. A truck settlement can take anywhere from six months to several years, depending on the venue where the crash occurred and the specific issues involved that will need to be litigated. In many truck accident cases, a quick settlement is actually costly because it almost certainly means a lawyer settled the case without a careful investigation of possible broker liability, whether there is a hidden motor carrier involved that can add additional insurance coverage, telematics and cell phone data, obtaining the driver qualification file and reviewing the company's role in negligent hiring, monitoring and supervision of the driver who caused the crash.
When you are considering filing a truck accident lawsuit in Michigan, one of the most important things you can do is to hire an experienced truck accident attorney.
He or she will also know how to stop the trucking company from deliberately destroying important evidence you may need for your case, which under the federal regs is legal unless notice is provided to the company to prevent this.
Your trucking attorney will also know how to identify all of the responsible parties and hold them liable, and uncover all of the layers of liability insurance coverage that can be used to ensure your settlement reflects the full value of your case. Sadly, most personal injury lawyers who advertise for truck accident cases are not experienced truck accident lawyers, and settling these cases for less than full value because the lawyer does not know about additional layers of insurance coverage and other liable parties is common.
To find out what your Michigan truck accident lawsuit may be worth, please check out our Settlement Calculator.
How do truck accident lawsuits work in Michigan?
In Michigan, a truck accident lawsuit will begin with your lawyer investigating the crash scene and the commercial motor carrier or trucking company involved in the crash, preserving key evidence, and interviewing witnesses. Next comes hiring expert witnesses and identifying all liable parties. After the lawsuit is filed, there will be depositions, settlement negotiations, mediations and/or facilitations depending on the state where the lawsuit is filed, and possibly a trial.
How much will a truck accident lawsuit cost me in Michigan?
In Michigan, a truck accident lawsuit will cost you nothing in attorney fees unless and until your attorney wins your case. You will pay nothing up front nor while your lawsuit is ongoing. After your case is resolved and a recovery has been made, your attorney is paid based upon a contingency fee that is set by the Michigan Supreme Court of 33%. If your lawyer doesn't win, you don't pay. In many other states, the contingency fee can be significantly higher.
At Michigan Auto Law, you will never pay unless we win. And each and every one of our clients also gets our 100% client satisfaction guarantee.
How long does a truck accident lawsuit take in Michigan?
A truck accident lawsuit will generally take anywhere from six months to several years, depending on the facts of each case and the specific venue (location) where the lawsuit must be filed. Some counties where lawsuits are filed will take longer than others where case dockets are less crowded.
Other factors that may affect how long it takes to settle your lawsuit include: (1) the nature and extent of your injuries; (2) your prognosis; (3) your current and future medical needs; (4) whether you are partially or fully disabled from working; (5) whether your injuries have resulted in an impairment that affects your ability to lead your normal life; (6) whether your injuries will necessitate "excess" coverage for medical bills and lost wages; (7) the insurance companies for the truck driver, trucking company and identifying all other responsible parties; (8) the liability insurance limits of the responsible parties; and (9) the experience, track record and reputation of your attorney (Note: This is very important because attorneys known for going to trial can settle cases for significantly more money and often much faster than lawyers who are known not to take cases to trial).
Who can you hold liable in a lawsuit?
In a Michigan, you can hold anyone liable who caused or contributed to the crash. This can include: the truck driver; trucking company; owner (of the truck and/or trailer); shipping company; loading company; load broker; leasing agent; manufacturer of truck, trailer, or equipment; and maintenance company.
Compensation in a truck accident lawsuit in Michigan
In Michigan, the amount of compensation you may be able to recover in a truck accident lawsuit will largely depend on how much liability insurance coverage the at-fault driver, trucking companies, and other responsible entities have. Interstate trucks must have at least a minimum of $750,000 to cover bodily injury and property damage, although many trucking companies have substantially more insurance. In addition, an experienced truck accident lawyer can investigate potential "hidden" motor carriers, and an investigation in legal discovery after a case is filed will determine if a truck was under dispatch at the time of the crash and who was exercising control of the load. There are also potential broker claims based upon negligent selection if the underlying motor carrier has a poor safety record and is below the national averages in factors that reflect an unsafe and dangerous motor carrier.
The other factors that will influence the amount of your compensation in a Michigan truck accident lawsuit include: (1) your injuries; (2) your present and future medical needs as a result of the crash; (3) whether your injuries have disabled you from working and, if so, for how long; and (4) your attorney's experience and track record.
Pain and suffering compensation
You may be able to recover pain and suffering compensation and other economic damages in your lawsuit if you are able to prove that you suffered a serious impairment of body function as a result of your injuries.
Wrongful death damages
You and your family may be able to pursue wrongful death damages in a truck accident lawsuit if you have a loved one who lost his or her life in a truck crash.
A Michigan wrongful death lawsuit will allow you and your family to recover damages for: (1) medical, hospital, funeral, and burial expenses; (2) pain and suffering compensation; and (3) loss of the deceased's financial support, society and companionship.
Injured in a Michigan truck accident and have questions about a lawsuit? Call Michigan Auto Law now!
If you are injured in a truck crash in Michigan and you have questions about how a truck accident lawsuit will allow you to sue for pain and suffering compensation as well as other noneconomic and economic damages, you can speak to an experienced truck accident attorney at (800) 777-0028 for a free consultation. You can also get help from an experienced trucking attorney by visiting our contact page or chat feature on our website.
For more than 50 years, our attorneys have been helping people like you who have been injured in a serious truck crash injury and death cases. Our lawyers understand the physical, emotional and psychological hardships you are experiencing. We've also recovered the largest truck accident settlement out of any Michigan lawyer or law firm and more of top-reported settlements and trial verdicts for truck accidents than any law firm in the state. We have the experience and the results to truly help.
Michigan Auto Law specializes in truck accident cases and receives referrals from lawyers all over Michigan and the U.S. Attorney Steven Gursten is one of only 3 lawyers in the nation to be inducted into the American Association for Justice's "Hall of Fame" for truck accident lawyers. He is a Past-President of the American Association for Justice Truck Accident Litigation Group and speaks at legal seminars throughout the country teaching other attorneys how to handle truck accident lawsuits. Our law firm has an extensive record of success, including recovering the highest recorded truck accident jury verdicts and settlements over multiple years, according to year-end compilations of settlements and trial verdicts by Michigan Lawyers Weekly.
Some of our recent notable Michigan truck accident lawsuit settlements and trial verdicts include: :
$34.5 Million – A Michigan Auto Law attorney and his team secured the largest-reported tractor-trailer crash settlement in the U.S. for the year of this crash. It is the largest truck settlement to date by any Michigan attorney or law firm. The defense's "final offer" before trial was $14 million. The case settled for $34 million in trial.
$14.3 Million – Our attorneys won this truck accident verdict in Clinton County in a case involving a traumatic brain injury, extensive economic damages and loss of consortium. The defense's final pre-trial settlement offer was $25,000. This was the largest-reported motor vehicle trial verdict in Michigan for that year.
$13.5 Million – Our attorneys settled a case for a victim in a car vs. tractor trailer crash who suffered major burn injuries.
$10.5 Million – A Michigan Auto Law attorney obtained this truck accident settlement for a woman who was seriously injured when a truck crashed into her vehicle.
$9 Million – Our attorneys obtained this recovery for a man who lost both of his legs in a rear-end collision. This was the largest pain and suffering trucking settlement of the preceding decade for a rear-end crash in the state. The insurance company for the trucking company attempted to settle this case for $1 million with the client's previous attorney, who had urged the client to take this offer before a Michigan Auto Law attorney got involved in the case.
$6.2 million – This confidential out of state trucking death case was settled by a Michigan Auto Law attorney, who was brought in to try the case by another attorney after the insurance company made a "final" offer of $1 million dollars to the widow of the man who was killed.