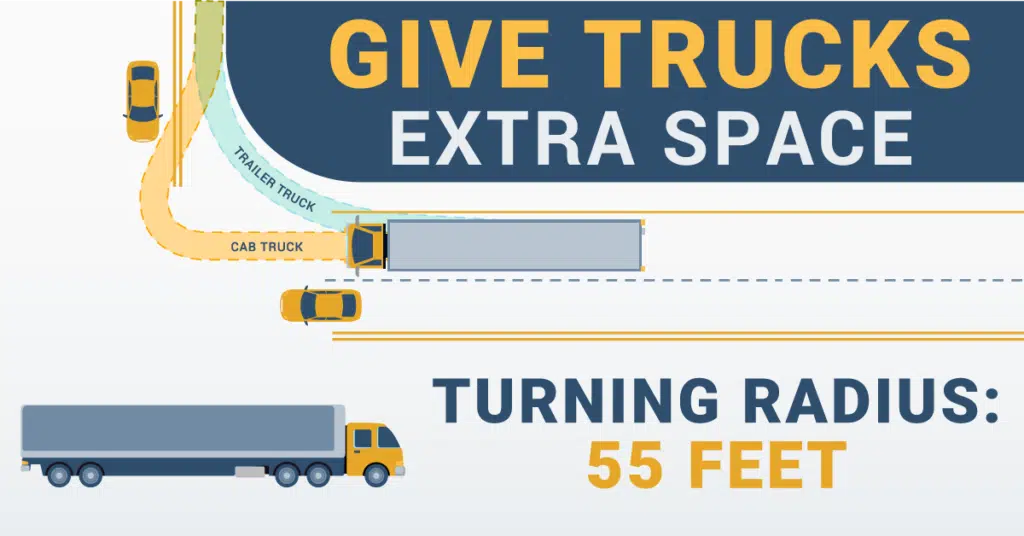 "Limited maneuverability" safety message from the Federal Motor Carrier Safety Administration takes responsibility off of truck drivers and excuses what truck drivers have been taught about preventable tractor trailer right hand turn crashes
The old adage is that it's not what you say, it's how you say it. In this case, the trucking industry is claiming "limited maneuverability" of trucks is the cause of serious tractor trailer right hand turn accidents — instead of the truck drivers who fail to check their "no zones" for other drivers, pedestrians or motorcyclists.
See for yourself… I recently came across this FMSCA webpage on "limited maneuverability," which makes these claims about tractor trailer right hand turns:
"Trucks and buses can't make sharp turns or maneuver as easily as cars due to their longer length and larger size."
"Extra care is needed in places where trucks or buses are dealing with space restrictions, such as in work zones, truck stops, and service stations."
"Pay particular attention when trucks are turning right so you don't get caught in the "right turn squeeze." A large truck cannot easily turn right from the right lane. A truck initially moves left to create enough turning space. A crash may result if a vehicle tries to pass the truck on the right."
It's well and good to warn motorists of the dangers of trucks, and as an accident attorney I'm all for it. I have certainly shared a healthy amount of safety tips with readers of this blog, as we've made it part of our mission to work to prevent deadly commercial motor carrier crashes. Awareness is always a part of the solution.
But it's one thing for motorists to be aware of truck drivers who share the road and to give truckers room for a tractor trailer right hand turn. It's another thing entirely to put the responsibility on drivers of cars for reckless truck drivers who choose to make tractor trailer right hand turns that seriously hurt and kill people by ignoring what they've been taught and tested on when securing a commercial drivers license.
Any attorney who has experience with truck accident litigation is familiar with the concept of a truck drivers' "no zone.' It's a frequent cause of crashes, injuries and deaths. And as attorneys who litigate these types of trucking accidents nationwide, a key to any of these cases is to know that truck drivers are taught in truck school that "there's no such thing as a blind spot if the driver is looking ahead to where the truck will be moving." Similar language appears in the safety materials from JJ Keller, and many other courses.
But when a truck driver does not know his "no zone" because he fails to look to what will be falling into his blind spot, a crash is more likely to occur with a tractor trailer right hand turn. A truck driver must look ahead as there can be a large and potentially deadly blind spot directly in front of and to the immediate left and right of the cab. The danger is removed by just looking ahead.
Our attorneys believe the FMCSA web page is misleading. Actually, it may be more accurate to say I suspect this is a trucking industry public relations tactic. It may be well-intentioned (on the part of the FMCSA, not the trucking lobbying groups) but it shifts responsibility for preventable wide tractor trailer right hand turns to the accident victims instead of placing it where it belongs: On the truck driver who fails to look when executing a maneuver they know and are taught is very dangerous.
They even have a catchy name for it: The "right turn squeeze."
Basic defensive driving principles provide that when you know your practices are potentially dangerous, you must take steps to avoid the danger. In this case, the danger is alleviated by just looking ahead, as they are trained and tested to do.
So why isn't the trucking industry doing everything it can to prevent crashes in that no-zone – instead of attempting to push some fault on the people who are hurt?
A Solution To Prevent Tractor Trailer Right Hand Turn Accidents
One very simple, inexpensive solution that can help to prevent many tractor trailer right hand turn accidents is crossover mirrors.
As to the "no zone," we adopt what the truck schools teach drivers – there is no such thing as a "no-zone." Instead, there is a "know zone," meaning that truck drivers know and are aware of what may become obscured by looking ahead to where the truck will be.
Consider my own case involving a tragic truck accident wrongful death case where my client, a bicyclist, was killed in a crosswalk by a large commercial truck in Macomb County, Michigan. The truck driver maintained that he never saw the victim (an 83-year-old man) because he was presumably in the truck's blind spot. But the trucker never looked ahead to see who would be falling into this blind spot as he was approaching the traffic signal on a busy street bordering residential neighborhoods where there are often children (there was a children's day care on the corner), pedestrians and people riding bikes.
When my client entered the crosswalk on a white walk signal, the truck driver proceeded to make a blind right turn on the red light, running over, dragging and killing the man.
His death would have been prevented if the truck driver only looked.