Steve Gursten of Michigan Auto Law is speaking today at national 360 Advocacy trucking conference – on "Settlement Tips and Strategies in Truck Accident Cases"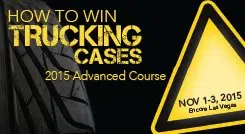 Today I'll be presenting at a national conference in Las Vegas for truck accident lawyers, sponsored by 360 Advocacy. It's called "How to Win Trucking Cases – 2015 Advanced Course," and my presentation will cover "Settlement Tips and Strategies in Truck Accident Cases."
To start, I will discuss all the ways trucking cases are different: They're not just automobile accident cases with higher policy limits. For more info now, here's a web page I wrote on the ways truck cases are different from car crashes.
In addition, I will give tips on:
How to get the defense attorneys to take your number seriously,
How to get out of our own way as plaintiff attorneys, and
Exploring conflicts on the defense side.
Part of my talk is also regarding FMCSA's most recent report confirming that the data used in the Agency's Safety Measurement System (SMS)—quantifying the safety performance of motor carriers—is clearly accurate enough to allow FMCSA to identify high-risk interstate trucking companies and bus transportation companies. SMS data compose the Compliance, Safety, Accountability (CSA) program is not well liked in the trucking industry, and the trucking industry lobbyists have been pushing politicians in both the Senate and House to dismantle it, but the report's findings show CSA scores are accurate and should be public. Truck accident lawyers must be able to understand these scores when building the foundation for each case, as the scores contain invaluable safety information about what truck companies did – and didn't— do leading up to the crashes they caused.
"How to Win Trucking Cases" is sponsored by the 360 Advocacy Group, which hosts legal conferences and seminars for personal injury attorneys. The group was formed in response to the pressures and tactics of the insurance industry and to fill the vacuum in education that exists in teaching lawyers how to better litigate in specialized areas, such as motor vehicle accident cases.