Rule of the Road No. 7 – How to poke holes in a dishonest truck driver's story during the deposition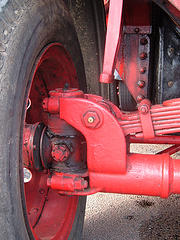 Pre-trip inspection requirements are probably the most violated mandatory safety rule by the trucking industry today. Unfortunately, most lawyers who handle truck accident cases have no idea what those inspection requirements are. Most lawyers think a pre-trip inspection is one inspection by the driver before he gets behind the wheel.
Wrong.
As required by 49 CFR ? 392.9, a truck driver must inspect his truck and cargo:
o Within the first 50 miles of a trip,
o Whenever the driver changes duty status, and
o When he drives more than three hours or 150 miles.
And that, if you ask any experienced truck accident lawyer, is almost never done. When it is done, it's usually wrong. If you see a 10-minute inspection on the driver's log books (lie logs, as many truckers derisively refer to them), you know that trucker is cutting corners. Unfortunately, when it comes to pre-trip inspections of 80,000 pound tractor-trailers on our roadways, cutting corners means that a lot of very preventable truck accidents occur.
Why does a 10-minute pre-trip inspection mean that important things are being skipped over?
Under 49 CFR ? 396.11, every motor carrier must require its drivers to report, and every truck driver must prepare a written pre-trip inspection report at the completion of each day's work on each vehicle operated. The report MUST cover the following at a minimum:
o Service brakes (including trailer brake connections),
o Parking brakes,
o Steering mechanism,
o Lighting devices and reflectors,
o Tires,
o Horn,
o Windshield wipers,
o Rear-view mirrors,
o Coupling devices,
o Wheels and rims, and
o Emergency equipment
Before driving the truck, the trucker must be satisfied that the vehicle is in safe operating condition. Then he must review the last driver's inspection report and sign it, certifying that any required repairs have been performed.
Take a look at this sample driver log.
How Much Time Did the Trucker Really Spend on the Inspection?
Looking at our sample driver log above, it appears that this driver only allowed himself 15 minutes to perform a pre-trip inspection of his truck. Drivers often document very little time for inspections (frankly, because money is wasted when they're not driving). Many truck accident lawyers have found that truckers typically either spend much less than is actually needed to perform a proper inspection, or falsify the inspection time on the daily long. This situation sets up a fantastic opportunity to impeach the credibility of the driver.
During the deposition, a truck accident lawyer can ask:
o Was a pre-trip inspection completed?
o What did you inspect?
o In what manner did you inspect the various parts and accessories?
o How long did that take you?
o Was this inspection recorded on FMCSA compliant paperwork?
o How often do you perform this inspection?
o Have you ever found faulty parts or accessories during this inspection?
o When was the last time you reported a vehicle as out-of-service and brought it in for repairs?
o How do you record this downtime on your log book?
o Is 15 minutes enough to thoroughly inspect these parts and accessories?
o Who within the organization trained you on proper pre-trip inspection procedures?
o Do you believe that 15 minutes is sufficient?
By asking these questions, a truck accident lawyer will either expose the driver with a) submitting a false log for only reporting 15 minutes on the inspection or, b) conducting an improper pre-trip inspection for not thoroughly inspecting the list of parts and accessories under 49 CFR ? 396.11.
Again, if you know what to look for, and what to ask, you can nab a trucker who was negligent with his inspection report in the deposition. My series on "Rules of the Road" for truck accident lawyers will continue Tuesday, with a blog on driving under hazardous conditions.
– Steven M. Gursten is recognized as one of the nation's top attorneys handling serious truck accident injury cases. He serves on the board of governors for the Association of Plaintiffs Interstate Trucking Lawyers of America. Steve is past-president of the American Association for Justice Truck Litigation Group. Recently, he was named a Michigan Lawyers Weekly Leader in the Law for his efforts to promote truck safety and his help in stopping preventable truck accidents in Michigan.
– Photo courtesy of Creative Commons, by Elsie esq.
Related information:
Things to Know After a Truck Accident
Michigan Truck Accident Facts and Causes
Michigan Truck Accident Statistics
Previous blogs from "Rules of the Road Every Truck Accident Lawyer Needs to Know" series:
Rules of the Road: Intro for Truck Lawyers
Truck Lawyers: Get Your Hands on Those Discovery Documents!
Investigate the Trucker's Background and History
Truck Driver Qualification Files
What Truck Accident Lawyers Must Know About Black Boxes
Michigan Auto Law exclusively handles car accident, truck accident and motorcycle accident cases throughout the entire state of Michigan. We have offices in Farmington Hills, Sterling Heights, Ann Arbor, Grand Rapids and Detroit to better serve you. Call (248) 353-7575 for a free consultation from one of our attorneys.