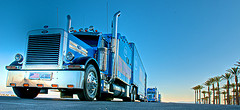 Any lawyer who assumes a commercial truck accident case is simply a "car wreck" case with bigger policy limits is bound to commit legal malpractice. In trucking cases, the federal government imposes hundreds of regulations that essentially, create theories of strict liability against the truck driver and the trucking company.
Without knowledge of these regulations, a lawyer cannot possibly recover top value for his clients after a serious truck accident case.
Next week, I'll be teaching at an American Association for Justice seminar, "Litigating Truck Crash Cases," in New Orleans. I will review a dozen of what I consider to be the most important Federal Motor Carrier Safety Administration Regulations, and how they're integral to handling a truck accident case the right way. Several hundred truck accident lawyers from across the country are attending the four-day conference.
If you've ever been to a trucking seminar before, you've probably heard the litany of discoverable materials that must be preserved and requested by lawyers in serious trucking cases. This advice is important, but the "why" is often missing. For example, what good is having a carrier's Qualcomm data if truck accident lawyers don't know the regulations regarding speeding and hours of service? I could go on, but my point is this: If you don't know the "why" – the most important, the most critical regulations – all the preservation letters and discovery requests won't be very effective.
Throughout the next few posts, I'm going to share the "rules of the road" I've developed for truck accident lawyers. I know many of our regular readers are defense lawyers and insurance adjusters, so I won't be sharing all my tips. But my hope is that the following few posts will help provide a meaningful framework for lawyers conducting legal discovery in truck cases.
My "why" is simple. Today, one in every three trucks on the road in so dangerous a condition that it would be placed immediately out-of-service if inspected. It's the lawyers handing truck cases who are doing the most to make trucking companies in America safer. Unfortunately, many attorneys don't have a lot of experience with truck cases, and if I can help just a few – or better yet, a few hundred, then hopefully we will be saving lives and making our roads safer for our families.
Keep an eye out for my next blog, on rule No. 1 – Hours of Service Regulations.
– Steven M. Gursten is recognized as one of the nation's top attorneys handling serious truck accident injury cases. He is on the board of governors for the Association of Plaintiffs Interstate Trucking Lawyers of America and past president of the American Association for Justice Truck Litigation Group. Recently, he was named a Michigan Lawyers Weekly Leader in the Law for his efforts to promote truck safety.

– Photo courtesy of Creative Commons, by Ryan Holst

Related information:
Do I Have a Truck Accident Case?
Michigan Bad Trucking Companies
Video: No Punitive Damages in Michigan

Michigan Auto Law exclusively handles car accident, truck accident and motorcycle accident cases throughout the entire state of Michigan. We have offices in Farmington Hills, Sterling Heights, Ann Arbor, Grand Rapids and Detroit to better serve you.