Rule of the Road No. 6 – Truck Accident Attorneys Show How to Identify Driver Fatigue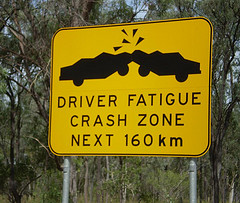 A recent survey states that 20 percent of truck drivers nationwide admitted to falling asleep at the wheel in a given month. This stat comes at no surprise to our truck accident lawyers, who frequently handle horrible truck crash cases, caused by truck driver fatigue due to truckers continuing to drive over the legal limits. This is usually due to intense pressure by management, as well as financial incentives to drive past federally regulated hours of service.
It's against the law. And it's incredibly dangerous to fall asleep when driving an 80,000 pound tractor-trailer on the public roadways.
Under 49 CFR ? 392.3, no driver shall operate a commercial motor vehicle, and a motor carrier shall not require or permit a driver to operate a commercial motor vehicle, while the driver's ability or alertness is so impaired as to make it unsafe for him to operate the truck.
Obviously, a truck driver will never tell you he was too "fatigued" to have been behind the wheel during his deposition. But a series of questions regarding the driver's medical condition or recent food and beverage purchases can determine whether or not he was operating a commercial truck while ill or fatigued.
Sample Deposition Questions for the Tired Truck Driver
o Within the 48 hours preceding the accident, where did you stop to eat?
o What did you have to eat?
o What did you have to drink?
o Did you experience an upset stomach later? Did feel any nausea? Diarrhea?
o If so, did you pull off the road?
o How long did you wait before returning to driving?
o Did you have any coffee or tea? Any energy drinks? Any other caffeinated beverages?
o How many of these caffeinated beverages did you consume within the last 12 hours leading up to the accident?
o Were you taking any medications at the time of the accident?
o What conditions were those medications treating?
o Where those conditions disclosed during your physical? Would they appear on your medical certificate?
Many of these questions could be answered upon inspection of the truck or the driver's supporting documents if your spoliation requests and temporary restraining orders are filed soon after the date of the accident. You'll often find empty prescription bottles, empty energy drink cans or coffee cups, bottles of Pepto-Bismol, TUMS or any other over-the-counter digestive system medication.
What Medications was the Driver Who Caused the Truck Accident Taking?
It's important for truck accident attorneys to take the time to do a little research on some of the medications the driver was taking — whether prescribed or over the counter. What are the side effects of these drugs? Chances are, at least some of these medications warn consumers from operating heavy equipment while taking doses.
Here's a dramatic — and very true — example. In one of my cases, Nunez v. Utica Transit Mix, my client was senselessly killed by a truck driver who was on powerful epilepsy medication that causes drowsiness. The driver also admitted he had no training and was driving his fully-loaded gravel hauler when it was out-of-service five different ways.
This egregious case was part of a truck safety campaign I headed up last year, which found that more than 1,000 truck companies in Michigan — and more than 28,000 motor carrier companies nationally — are on our roads with unsatisfactory safety ratings. One of the most common regulations that's disregarded in Michigan is truckers driving past federal regulations; and a fatigued truck driver is just as impaired in judgment and reaction time as a drunk driver.
If you know what to look for, you can nab these tired and very dangerous truckers in the deposition. My series on "Rules of the Road" for truck accident attorneys will continue Tuesday, with a blog on truck inspection requirements.
– Steven M. Gursten is recognized as one of the nation's top attorneys handling serious truck accident injury cases. He serves on the board of governors for the Association of Plaintiffs Interstate Trucking Lawyers of America. Steve is past-president of the American Association for Justice Truck Litigation Group. Recently, he was named a Michigan Lawyers Weekly Leader in the Law for his efforts to promote truck safety and his help in stopping preventable truck accidents in Michigan.
– Photo courtesy of Creative Commons, by tm-tm
Related information:
Trucking Accident Cases: 8 Things to Know 
Previous blogs from "Rules of the Road Every Truck Accident Lawyer Needs to Know" series:
Rules of the Road: Intro for Truck Lawyers
Truck Lawyers: Get Your Hands on Those Discovery Documents!
Investigate the Trucker's Background and History
Truck Driver Qualification Files
What Truck Accident Lawyers Must Know About Black Boxes
Michigan Auto Law exclusively handles car accident, truck accident and motorcycle accident cases throughout the entire state of Michigan. We have offices in Farmington Hills, Sterling Heights, Ann Arbor, Grand Rapids and Detroit to better serve you. Call (248) 353-7575 for a free consultation from one of our attorneys.