Car Accident in Michigan FAQs: Know Your Legal Rights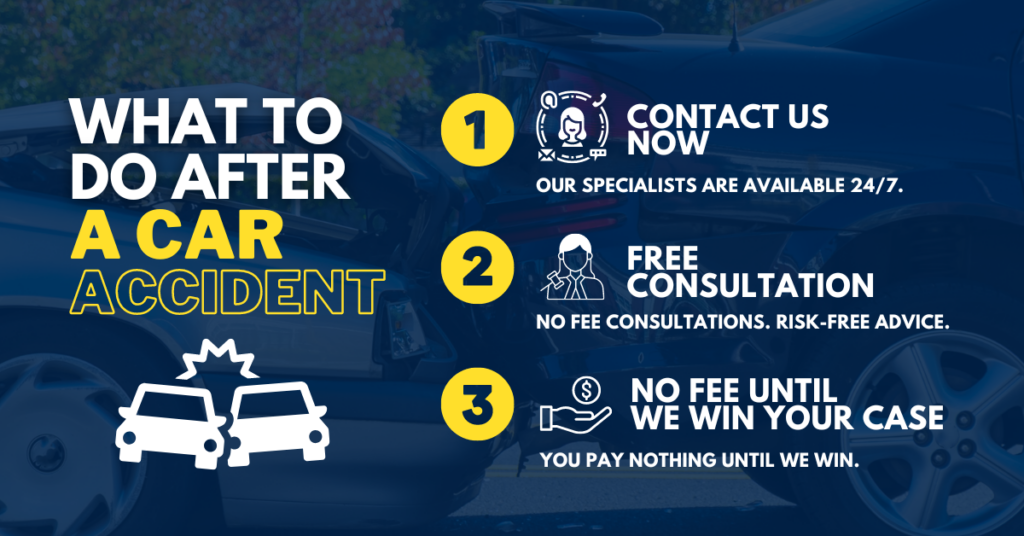 In Michigan, even though the total number of car accidents has dropped 6% over the last 5 years from 312,798 in 2018 to 293,341 in 2022, fatal car crashes in Michigan are on the rise. They've jumped 16.3% over the past 5 years, from 905 in 2018 to 1,053 in 2022. Fatalities are up 15% over the same period.
Immediately following a motor vehicle crash in Michigan, there are so many important considerations to make. Our attorneys have highlighted the most time-sensitive precautions below.
It is never too soon to get an attorney for a car accident. If you'd like to speak with a lawyer, call us at (248) 353-7575. We can answer all of your questions at no cost.
Answers to frequently asked questions about being in a car accident in Michigan that deals with auto insurance, medical issues and No-Fault claims
---
What should I do after a car accident in Michigan?
Following any car accident in Michigan, a crash victim should definitely contact the nearest police department, file a police report and seek any medical treatment if needed. After everything settles down, it's important to obtain a copy of the police report.
You can contact the police department where your accident occurred to order a copy. Many reports can be ordered online.
---
Do I have to render first aid after a car accident in Michigan?
Yes. The drivers who are involved in a car accident must stop at the scene of the crash and they must "render to any individual injured in the accident reasonable assistance in securing medical aid . . ." (MCL 257.619(c); see also MCL 257.617, 617a and 618)
---
What information should I document about the automobile crash?
With a car accident in Michigan, it's very important to obtain contact information for any passengers and witnesses involved in the recent crash. Contact information includes name, phone number, address, insurance company and license plate. If personal injuries suffered make it difficult to identify circumstances that may have contributed to the automobile crash, friends or family should aid the injured victim at the scene. This information will be extremely important if it becomes necessary to hire an attorney.
All too often, the driver who caused an automobile crash, will change his or her story along the way. If witness information is not preserved at the scene of the crash or shortly thereafter, or if it's missing from the police investigation, it will become much more difficult to prove negligence.
Keep in mind, mistakes can be made by the police in determining who is at fault for the automobile crash. An attorney can often help with the auto accident investigation to protect crash victims' rights, and identify the cause and circumstances before evidence is lost or destroyed.
---
Should I seek medical treatment following a car accident in Michigan?
After a car accident in Michigan you should immediately seek medical attention for any injuries that occurred in the crash. Be sure to report any minor pain that may seem less important at the time, in comparison to more serious injuries. Significant injuries are often "masked" early on, making it difficult to link them to the recent auto accident if not thoroughly documented.
It's important that you report ALL Injuries to EMS and Emergency Room personnel. It is especially critical to tell emergency workers or ER doctors if you experienced any loss of consciousness as a result of the accident. Insist that medical personnel record all of your injuries.
Although they may initially appear to be minor, be sure to report symptoms resulting from the accident such as:
Headaches
Dizziness
Lightheadedness
Ringing in the ears (tinnitus)
Blurred vision
Problems with short-term memory or concentration
Emotional changes
Seek additional medical attention if necessary. Return to your medical provider if you experience any new symptoms that were not reported during initial treatment.
---
How do I document my personal injuries related to my automobile crash?
Keep good records:
Document all doctor's visits, prescriptions, over the counter medications, laboratory services, physical therapy, hospital visits, treatments, medical documents and x-rays.

Be sure to note the date each service was provided and the amount you were charged.

Keep a diary of your day-to-day pain, discomfort, emotional distress, fatigue, tenderness, inconvenience, etc.

Record how your injuries have impacted your daily life and relationships.

Take photographs of all of your injuries, as soon after the accident as possible.

Keep copies of all medical bills, medical records and other documents.
Make sure you attend all of your medical appointments. Insurance adjusters often contend that an accident victim who fails to attend his or her doctor's appointment must not be experiencing pain.
---
I heard that Michigan is a "No-Fault" state. How does that pertain to my automobile crash?
The term No-Fault means that both parties involved in a car accident in Michigan are entitled to benefits from their auto insurance companies, no matter who caused the crash. The No-Fault law can become very complicated due to several additional issues such as different insurance policies, workers compensation and unemployment benefits. That's why it's best to retain an attorney who has much experience handling auto negligence cases involving No-Fault insurance.
---
What's the first step to take with my auto insurance company?
After a car accident in Michigan the auto insurance companies must be immediately notified. There is a strict one-year time limit to notify your own (first-party lawsuit) No-Fault insurance company of your automobile crash, and to file your application for benefits. Also, there is a three-year time limit to file a lawsuit against the negligent driver's (third-party lawsuit) car insurance company.
Still, there are different notification requirements that vary depending on the insurance company. Check your insurance policy for VERY specific notification requirements pertaining to your car accident in Michigan.
In addition to the above statutory deadlines, many Michigan auto insurance policies pose even stricter "policy driven" notification requirement and can change them at any time — such as 30 days notice for hit-and-run accidents. Regretfully, the attorneys at Michigan Auto Law have seen far too many unadvised clients assume that their car insurance policies were consistent with No-Fault timelines of one-year or three years. In many cases, the contractual language of the policy and the filing limits were far more restrictive, and people lost important No-Fault insurance benefits.
It is strongly recommended that you discuss any questions about notice and filing with an experienced attorney. Call us at (248) 353-7575 for help now.
---
Should I sign the release from my auto insurance claims adjuster or give a statement?
No. Never give "statements" to an auto insurance claims adjuster. And never sign a release or allow the adjuster look at the car damage without the presence of an attorney. Claims adjusters often try to get recorded statements early trying to minimize pain and injuries (for use later in court when trying to undermine the crash victim). Often, when there is low car damage, insurance adjusters try to claim that no one could have been seriously injured in the crash.
Again, it's recommended that nothing be discussed or signed directly after any car accident in Michigan, in order to protect your rights. Even limited property damage releases will contain unrelated language releasing all personal injuries suffered from an automobile crash, whether known or unknown. Too many people rush into signing these documents without having the release language reviewed by an attorney, and may lose their right to sue the negligent driver later – or receive critical No-Fault benefits – for their car accident-related injuries. For more information, read how to win a Car Accident Lawsuit: Avoide These Mistakes.
---
What if the driver who hit me does not have auto insurance?
In regards to a car accident in Michigan, if you have No-Fault insurance and the other driver involved does not have insurance, you are still entitled to No-Fault benefits, regardless of who was at fault.
Uninsured motorist coverage (UM) and underinsured motorist coverage (UIM) provide a valuable source of legal recovery – for pain and suffering damage – when someone is injured in a crash by another driver who is uninsured or does not have adequate insurance. Check your No-Fault insurance policy to see if you have this coverage. If you do not have this coverage, call one of our attorneys at (248) 353-7575. We can help you get everything you deserve following a serious crash.
Regarding car damage, when you are hit by an uninsured driver, you are not limited to the $1,000 mini tort maximum for your car damage.
---
How do I get my No-Fault insurance benefits?
You must submit an application for benefits form with your insurance company. This is extremely important – and absolutely essential for protecting your No-Fault rights if you were involved in a Michigan car accident. There is no danger in completing this form, even if the injuries do not seem severe. This form is required to receive five important No-Fault insurance benefits:
Medical costs

Mileage for travel to your medical appointments

Wage loss

Replacement services

Attendant care benefits (based on severity of the injuries).
Again, this cannot be stressed enough – this application must be filed within one year – no exceptions. You can request the form from your auto insurance company. Be as accurate and complete as possible. If you need help filling out your application for benefits, you can call one of our attorneys at (248) 353-7575. There is no cost or obligation.
---
Am I going to get money for my vehicle damage?
Whether you receive compensation for your vehicle that was destroyed in a in a car accident in Michigan is based on what is specified in your individual insurance policy regarding coverage for collision and property damage.
However, according to the mini tort law, you are entitled to up to $1,000 (or $3,000 for accidents after July 1, 2020) for any deductible that insurance doesn't otherwise pay.
---
Warning: Are you being hounded by attorneys after your crash? This is ILLEGAL!
Here's what you can do about it, and why these attorneys are not qualified to help you.
The information above is a simplified summary of the most important things to address immediately following a car accident in Michigan. For more FAQs, take a look at our pages on what happens in a No-Fault accident and filing a lawsuit.
Injured in a car accident in Michigan? Call the attorneys at Michigan Auto Law
Call now (855) 781-7747 for a free consultation with one of our experienced attorneys. There is no cost or obligation. You can also visit our contact page or use the chat feature on our website.
Michigan Auto Law is Michigan's largest and most successful law firm that specializes exclusively in helping people who have been injured in auto accidents.
Our secret? Our attorneys deliberately handle fewer cases than other personal injury law firms. This allows us to focus more time and attention on our cases.
Unlike other law firms, our Michigan car accident lawyers are never too busy to promptly return phone calls and answer questions.
We have more than 2,000 5-Star Reviews that reflect this care and attention to detail.
More importantly, this client-focused approach leads to better and faster settlements for our clients. Michigan Auto Law has recovered more million-dollar settlements and trial verdicts for motor vehicle accidents than any other lawyer or law firm in Michigan. We've also recovered the highest ever reported truck and car accident settlement in the state.
Call now so we can start making a real difference for you.