Car Accident Lawsuit FAQs & Mistakes That Can Ruin A Case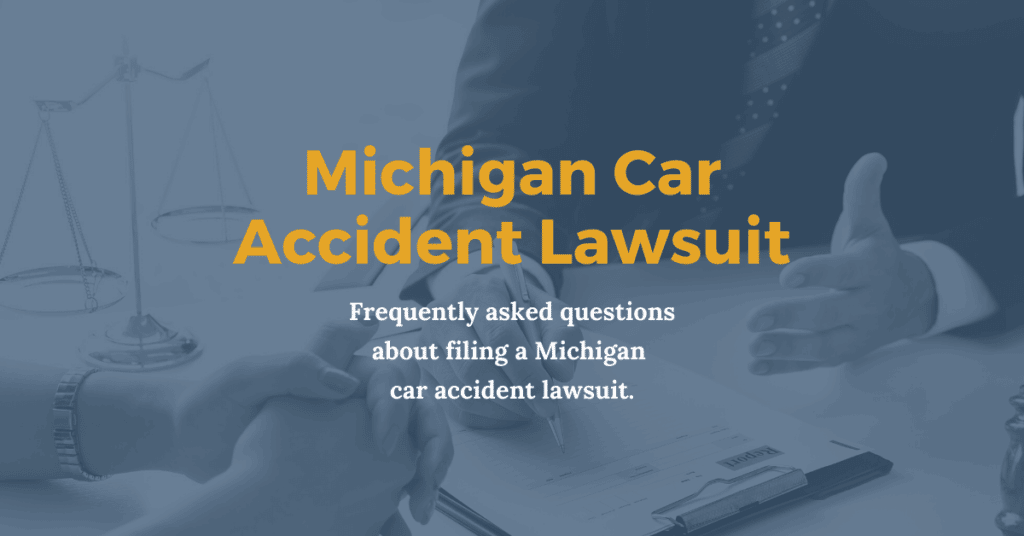 Probably the most frequently asked question that people have after they have been injured in a crash in Michigan is how they can file a car accident lawsuit. They want to know how they can sue a careless at-fault driver who has caused a crash that results in injuries, lost work, medical bills, and upended lives – permanently in many cases.
This makes perfect sense from both a justice – and a practical-oriented perspective. People who've been hurt due to another driver's negligence want them held accountable for the harms and losses they have caused.
These losses include money for pain and suffering compensation, medical benefits (and medical bills), lost wages and other economic losses and damages they are legally entitled to and so they can move forward with their lives.
Below our attorneys answer the most frequently asked questions about car accident lawsuits.
How does a car accident lawsuit work?
A car accident lawsuit in Michigan requires you to prove two important things. First, the other driver was at-fault, meaning he or she violated the traffic laws or was not reasonably careful. Second, you must show that your injuries have caused you to suffer an impairment that affected your ability to lead your normal life.
How do you prove fault?
You must be able to prove that the driver was 50% or more at-fault in causing the crash that injured you. If the other driver was less at-fault than that, then you will not be able to sue for pain and suffering and other compensation. Under Michigan's comparative fault law, a crash victim who was "more than 50% at fault" cannot sue. (MCL 500.3135(2)(b))
Importantly, the comparative fault rules also provide that if you were at-fault in causing or contributing to your crash, then the amount of compensation you recover from your car accident lawsuit in Michigan will be reduced by the percentage of fault you were responsible for.
Once you prove that the other driver was at-fault in causing your crash, you must then be able to show that your crash-related injuries caused you to suffer a "serious impairment of body function." (MCL 500.3135(1), (2), (3)(b)) This is called a tort-threshold and it is a legal standard that requires a crash victim to first prove that their injuries rise to this threshold level in order to sue for and collect pain and suffering compensation.
If you are suing for "excess" medical benefits (i.e., medical expenses in excess of the No-Fault PIP medical benefits coverage level in the policy through which you are claiming No-Fault insurance benefits) or "excess" lost wages or other economic damages, you do not need to prove a "serious impairment of body function." The only exception to this is if you are a non-Michigan resident seeking economic damages. (MCL 500.3135(3)(d))
How to file a lawsuit for a car accident?
To file a car accident lawsuit in Michigan, it is advisable to hire a lawyer who specializes in and has extensive experience handling these types of cases, has recovered verdicts and settlements in these cases, and who has reviews that show satisfied clients and expectations that were met.
Michigan's laws for recovering pain and suffering compensation, excess medical benefits and lost wages and other economic damages in a car accident lawsuit can be very complex and confusing. They can also carry very harsh penalties for getting things wrong, such as a strict one-year deadline to file a first-party car accident lawsuit for incurred No-Fault insurance benefits.
When it comes to your case, you don't want to get anything wrong. That's why it's crucial that you hire an experienced lawyer who knows the law.
How long does a car accident lawsuit take?
It's difficult to answer how long does a car accident lawsuit take. It will depend on your injuries, the docket of where it is filed, whether you're disabled from working and how long until you can return to your normal life; your lawyer's track record and reputation; and the at-fault driver's insurer.
Other relevant factors that influence how long it can takes include: whether your injuries will necessitate "excess" coverage for medical bills and lost wages; whether the at-fault driver is contesting liability; the liability insurance policy limits of the at-fault driver; whether there are multiple layers of insurance with different insurance companies; the defense lawyer or lawyers assigned to the case; whether the defendant is self-insured or has hired private counsel; the insurance company that insures the driver; whether the case is on a fast or slower discovery track which is determined by the judge assigned to the case; and how quickly the case can be scheduled for trial.
One of the factors that can significantly shorten how long a car accident lawsuit will take is the track record and reputation of your lawyer. Lawyers who have a proven track record of winning at trial and a reputation for being ready to go to trial will often be able to settle your case faster and for more money, compared to lawyers who an insurance company knows always take the last settlement offer and who the insurer knows has not taken a case to trial in years.
How much money to expect from a car accident lawsuit?
Every case is unique, so it's difficult to say how much money you can expect from a car accident lawsuit in Michigan. But insurance industry research shows that cases will settle for 3 to 4 times as much when you have an experienced lawyer. Cases will settle faster and for more money.
The lawyers at Michigan Auto Law have more than 50 years of experience getting record-breaking automobile crash settlements and trial verdicts for our clients. In fact, we've recovered more million-dollar settlements on behalf of our clients than any other lawyer or law firm in Michigan.
To learn more about what the settlement value of your case may be, please check out our "Settlement Calculator."
Who pays in a car accident lawsuit?
The at-fault driver's auto insurance company is who pays in a car accident lawsuit in Michigan. However, if the pain and suffering compensation, excess medical and lost wages and other economic damages exceed the driver's liability insurance coverage, then the driver may also have to pay.
Generally, the recovery amount in a car accident lawsuit is governed by the at-fault driver's liability insurance coverage, meaning the insurance company – not the driver personally – pays to settle the case within the applicable insurance coverage limits available.
But if the recovery amount is more than what's covered by the at-fault driver's liability policy, then he or she may be held personally liable for that excess amount. When that happens, the at-fault driver may be required to pay what is owed to the person who was injured by the driver's negligence.
How long after an automobile crash can I sue?
In Michigan, you have three years after an automobile crash to sue for pain and suffering compensation, excess medical benefits and excess economic loss and one year to sue for incurred No-Fault insurance benefits. Any car accident lawsuit filed after these statutes of limitation will be dismissed.
What happens when someone dies in a crash?
When someone dies in a car accident in Michigan, the person's family can bring a wrongful death claim seeking compensation for pain and suffering, loss of affection of their loved one and loss of financial support. A wrongful death case may have a modified statute of limitations depending on the facts.
Michigan's wrongful death law allows the family of a person who was killed in a crash to bring a wrongful death claim. (MCL 600.2922(1) and (2)) Specifically, the law requires that this type of car accident lawsuit be brought in the deceased's name and by the personal representative of the deceased's estate.
If the crash victim passes away before the three-year statute of limitations has run – within 30 days of it having run – then the car accident lawsuit "may be commenced by the personal representative of the deceased person at any time within 2 years after letters of authority are issued although the period of limitations has run." (MCL 600.5852(1))
What happens if the driver who caused the crash doesn't have insurance or has minimal coverage?
If the driver who caused the crash doesn't have insurance or has minimal coverage, then your ability to recover the pain and suffering compensation, excess medical benefits and lost wages and other economic damages you're entitled to may be limited by the driver's personal assets and ability to pay.
A crash victim can still file a car accident lawsuit in Michigan against the at-fault driver. However, if the at-fault driver doesn't have insurance or has very minimal insurance coverage, then the ability to collect what is owed to you can prove difficult. Some at-fault drivers will not have the personal resources to pay the compensation and damages that you are owed. Your lawyer can still file a judgment and garnish wages and periodically check on the financial status of the defendant at-fault driver, but you may not be able to recover for all the harms and losses you have incurred, or it may take much longer to collect money damages to fulfill a judgment.
Under these circumstances – where the at-fault driver is either uninsured or underinsured – your best and maybe your only chance for recovery is if you have "uninsured motorist" or "underinsured motorist" coverage.
Mistakes That Can Ruin Your Car Accident Lawsuit
There are many ways that a victim can accidentally and unwittingly ruin a car accident lawsuit.
Here are the 18 biggest mistakes you are most likely to make.
Lying about injuries in an automobile crash – This is the number one mistake that injury victims can make. The consequences can be disastrous. It can quite literally kill your car accident lawsuit. For example, many insurance companies now have provisions in their policies that say providing false information on an insurance application can be used by your insurance company to VOID CONTRACTUAL CLAIMS FOR PERSONAL INJURY, such as for uninsured motorist coverage. That means you literally lose the right to file an uninsured motorist car accident lawsuit, even if you were completely innocent when the crash occurred and seriously hurt. And if your case goes to trial, the consequences can be equally severe. I always tell my clients that a jury has to like you and believe you to want to help you. My advice is to always tell the truth. Strive to be as accurate as you can be with the information you provide to the insurance company. Remember, with computers and social security numbers today, you have to assume that insurance companies will find every claim and every medical record, so it is much better to admit and explain than it is to deny and be accused of lying.
Mistakes on your No-Fault forms – Be very careful to ensure the accuracy of the information you include in the No-Fault paperwork you file with your insurance company. This includes your own No-Fault auto insurance company, but it can also include any forms and paperwork you submit to your health insurance company or to your insurance disability carrier. Mistakes – even innocent mistakes – can be labeled as "fraud" by the insurance company, who can then use this to attempt to terminate all of your No-Fault insurance benefits. Sadly, this is all quite legal under Michigan law. In Bahri vs. IDS Property Casualty Insurance Company, the Michigan Court of Appeals held that inaccurate submissions to the auto insurance company can result in a crash victim losing all No-Fault insurance benefits. Assume your insurance company will be going through all of your forms with a fine-tooth comb, looking for mistakes that they can then use to deny your claim. If you've been seriously injured and you've hired a lawyer to file a car accident lawsuit on your behalf against the at-fault negligent driver, assume that the insurance defense lawyer on the other side will be doing the same and carefully reviewing every insurance form and application that you have submitted.
Facebook, Twitter, Instagram & other social media sites – My advice to all of my clients is to stay off social media. You cannot delete what you have already put out there, but you can and you should stop posting anything new to social media immediately. Insurance adjusters and defense attorneys will go through your social media accounts even when they are set to "private." They are trying to find posts or pictures that you've posted so they can say that you are not as injured as you claim. Unwitting posts and pictures on Facebook and Instagram have ruined more car accident lawsuits than the most aggressive insurance defense attorneys ever could . Don't make the insurance company's attempt to deny you benefits and compensation that you are legally entitled to and that you deserve easier for them than it already is.
Do not talk about your case – And never tell other people what your lawyer has said to you. Insurance adjusters, private investigators, and sometimes even defense lawyers and jurors may try to contact you about your car accident lawsuit. Do NOT talk about your case with ANYONE hired by the at-fault driver or his or her insurance company. If a claims adjuster wants to ask you about your case, tell him or her to call your lawyer. Also be very careful never to tell anyone what your lawyer has advised and counseled you about your case or what it may be worth. Communications between you and your lawyer are privileged, but you lose that privilege if you share these communications with other people.
Surveillance – Expect that your No-Fault insurance company and the at-fault driver's insurance company will conduct surveillance. Expect that they will hire private investigators to take photos and videos of you. Expect that they will attempt to do this at several different times throughout your car accident lawsuit. This is just a very smart investment by the insurance company defending your case. Before they pay tens or hundreds of thousands of dollars, or more, it makes sense to spend a few thousand dollars on an investigator and hope they "catch" you doing things that you have said you cannot do. See Mistake #1 above. Everyone can have a good day. Everyone can have a day where they want to try something that they previously haven't been able to do because of pain and restrictions. If you have tried to do something, that's fine, as long as you can admit that you have tried it. People will understand if you admit and explain something, such as that you were having a good day or you were taking strong pain medication when you attempted to do something. On the other hand, no one understands when a crash victim denies something that is later caught on surveillance video. If you've tried to do something – even just once – and you are ever asked about it, you have to assume that you are already on film doing it. Always tell the truth, explain the circumstances, for example that you tried it once and you paid a price for trying it because your pain flared up and you never tried it again. But if you deny something and you're on surveillance video doing the thing you denied, you will ruin your car accident lawsuit.
Applying too late for No-Fault benefits – There's a reason you should talk to a lawyer right away after an automobile crash. Lawyers offer free initial consultations, and they will tell you about important dates you must know about. One of the most critical dates is when you must file your application for No-Fault benefits – which is also called your "written notice of injury" – with the responsible auto insurance company within one (1) year after your automobile crash. (MCL 500.3145(1) and (4)) Your No-Fault benefits will pay for your medical bills, lost wages, medical mileage and transportation costs, household replacement services and attendant care. If you fail to file your No-Fault application for benefits on time – within ONE YEAR from the date of your automobile crash – then you will forever lose any benefits to which you might be entitled. Once you've filed too late, these benefits are gone forever. Talk to an experienced lawyer. Get the information and the critical dates you need to know about. It is better to be safe than sorry.
Signing your legal rights away – Do NOT sign any checks, releases, waivers and/or settlements presented to you by insurance adjusters, defense lawyers or insurance companies unless and until you have first talked with your lawyer. We advise you to err on the side of caution because there are dirty insurance company settlement tactics that will result in you being deceived into forfeiting all of your legal rights to benefits and compensation.
Insurance medical examinations (IMEs) – Inevitably, one or more of the auto insurance companies involved in your car accident lawsuit will require you to undergo what is commonly referred to as an independent medical exam or an insurance medical examination (IME). Although they are frequently referred to as "independent" medical examinations, there is nothing "independent" about the doctors performing these IMEs. Most of these doctors performing IMEs are selected from pre-approved lists by the insurance company. Most make extraordinary amounts of money doing these one-time exams on the behalf of insurance companies, workers compensation carriers, and defense lawyers in car accident lawsuits. These doctors are not your friend, and they are not trying to help you, treat you, or heal you. These doctors are primarily used by insurance companies to find there is "nothing wrong" with you – and often to call you a faker or a malingerer, to boot. You must call your lawyer immediately when your insurance adjuster tells you they intend to send you to an insurance medical examination.
Doctor appointments – Listen to your doctors and follow their advice. Always make every effort to attend all of your doctor and therapy appointments. If you do not feel well enough to attend, then cancel and reschedule. Understand that not treating and following through will be argued one day by a claims adjuster or a defense lawyer that you are surely not as hurt as you claim to be. I also see many smart defense lawyers argue that failing to follow through on doctor recommended treatment and failing to go to your doctor appointments means that you did not "mitigate your damages," that you did not do all you can to recover from your injuries, and therefore they should not have to pay the full extent of what your case is worth because you failed to mitigate your harms and losses. Also always be mindful of what you say because at every medical appointment the doctor or therapist is writing down what you tell them as part of taking a history. Always tell the truth (see Mistake #1) and never, ever say "My attorney said…" See Mistake #4, above.
Disposing of important evidence – Save all pill bottles, casts, braces, prescriptions and any other items from your doctors. This is evidence of your personal injuries, and it must be preserved for your car accident lawsuit. Talk to your lawyer. If he is going to be asking for cell phone data or will be seeking to do a vehicle inspection or have the ECM/black box of the other vehicle downloaded, a defense lawyer may seek to do the same for your cell phone data or black box. These items may need to be preserved, or at least allow your attorney to notify the other side first so they cannot later claim spoliation or that they have somehow been prejudiced. I know this may sound absurd when you are the innocent one who was rear-ended at a red light, for example, but I've seen defense lawyers make these absurd arguments all the time. Draw the wrong judge who doesn't understand, and it can be a big mistake for your car accident lawsuit.
Pictures – Anytime you have a surgery or any type of visible injury, please make sure to take pictures or video. Your lawyer can always send a photographer to properly document your injuries. Videos can be great tools to show a jury or an insurance company adjuster just how incredibly difficult things were for you in the first weeks or months after your crash. If you've gone on to make a good recovery, having this evidence to show what you went through becomes even more important. Also, take pictures of vehicle damage. Crash repair estimates are often very misleading and they do not reflect the full amount of vehicle crush damage.
Being forced to apply for SSD – Many No-Fault auto insurance companies are forcing crash victims to apply for Social Security Disability (SSD) benefits prematurely to avoid having to pay No-Fault PIP Benefits to the crash victims they insure. When this happens, understand that your insurance policy will include a "duty to cooperate" clause that will require you to apply, even if you are still hoping to shortly return to work. The mistake here is not telling your lawyer when you are being asked/forced to apply for SSD by your insurance company. Applying for SSD, as well as how an SSD application is filled out, can and will directly impact your car accident lawsuit against the at-fault driver's insurance company for excess economic damages. Michigan Auto Law works with attorneys who specialize in SSD to help with your application and ensure that you maximize your full recovery and get what you are entitled to from both cases – your car accident lawsuit and from applying for SSD. If this isn't done correctly, the SSD amounts you are awarded can be used as an offset against what your recovery could and should have been from your car accident lawsuit – costing you tens or thousands of dollars that you should have received. Talk with your lawyer as soon as the auto insurance company tells you that you must apply for SSD benefits.
Voicemail – Insurance adjusters, whether your own No-Fault adjuster or an adjuster working for the insurance company of the person who injured you (see Mistake #4, never talk to an investigator or claims adjuster without your lawyer) may try to call you. Incidentally, in most states this is illegal and considered the unauthorized practice of law because there have been so many examples of adjusters taking advantage of victims – but they may still do it. Private investigators and others may call you as well, asking for information about your automobile crash. If you have a message or music on your voicemail or answering machine that could one day be played in a courtroom and that could potentially offend a jury one day, such as harsh rap lyrics or an inappropriate voicemail message, we suggest you change to a more basic greeting. Don't help the people whose job is to pay you as little as possible make their job any easier for them.
Renewing any type of license – Defense attorneys and their investigators can easily obtain access to commercial driver license (CDL) information from the Secretary of State as well as hunting and fishing license information from the Department of Natural Resources. If you have serious injuries that prevent you from driving a commercial vehicle or from hunting and fishing, please understand by renewing these licenses you are allowing a defense attorney to suggest one day that you are still doing all of these things. Just because it isn't true, just because you haven't done it, does not stop them from being able to suggest that you are still participating in these outdoor activities or still driving a truck. We suggest if you are hurting and unable to do these things that you do not renew any type of license until you speak with your lawyer first.
Any time you see a new doctor or get a new medical test – Any time your doctor refers you to a new doctor or sends you out for a new test, please advise your lawyer immediately.
Communication with your attorney, telling your attorney about job changes/changing your address/moving – It is very important that crash victims keep their lawyers informed about any job changes or changes in where they live. All of these changes, for example, changes to a victim's job status, job duties, job restrictions, salary changes, etc. can have a big impact on a car accident lawsuit. Just as important is letting your lawyer know if you are moving. Remember, the key is always good communication with your attorney. Having good communication prevents a lot of mistakes from ever happening. Communication means letting your attorney know about new doctors and new appointments, but it also means every time you talk it allows your attorney to think about potential red flags and problems and to brainstorm on how your case can be made stronger. Communication is always the key – and if your attorney isn't calling you back or isn't communicating with you, that is also a big mistake that can ruin your car accident lawsuit.
"But I heard . . ." – When we are working on a car accident lawsuit, clients often tell us they heard about a friend's car accident lawsuit or someone that they know and what his or her financial recovery was from another case. Please understand every car accident lawsuit is different, and there can be dozens of factors that go into a settlement and why one settlement was bigger or smaller than another. Sometimes depending on the circumstances and where the automobile crash took place, completely different laws can apply that can substantially increase or decrease the amount of a settlement. What may be a surprise to you is that who your lawyer is for your car accident lawsuit can be the biggest factor of all in determining the size of your injury settlement.
Poor communication – The best advice remains the simplest: always feel comfortable calling your lawyer if you have a question. If you have any questions about your case, or about your treatment or a doctor or your adjuster or about an IME that you are being sent to, or about how to file for your wage loss, replacement services, medical mileage or attendant care, call and talk with your lawyer as soon as possible. That's our job – to be here for you. It is so much better that you talk with your lawyer before you do something that can hurt your case. Our lawyers have been completely specializing in serious automobile crashes for more than 50 years. Trust us, we've heard your question before. Probably many people have the same questions you have. We also understand the pain and the physical, emotional and psychological hardship you may be experiencing from your injuries. The most important thing is to know that we care; and we are here for you. One of the biggest mistakes that can ruin your car accident lawsuit is the question that was never asked.
Injured and need a lawyer? Call Michigan Auto Law
If you have been injured in a crash and you want to know what your options are for filing a car accident lawsuit in Michigan, you can call toll free anytime 24/7 at (800) 777-0028 for a free consultation with one of our experienced attorneys. Contact us here to get help from an experienced attorney or you can use the chat feature on our website.