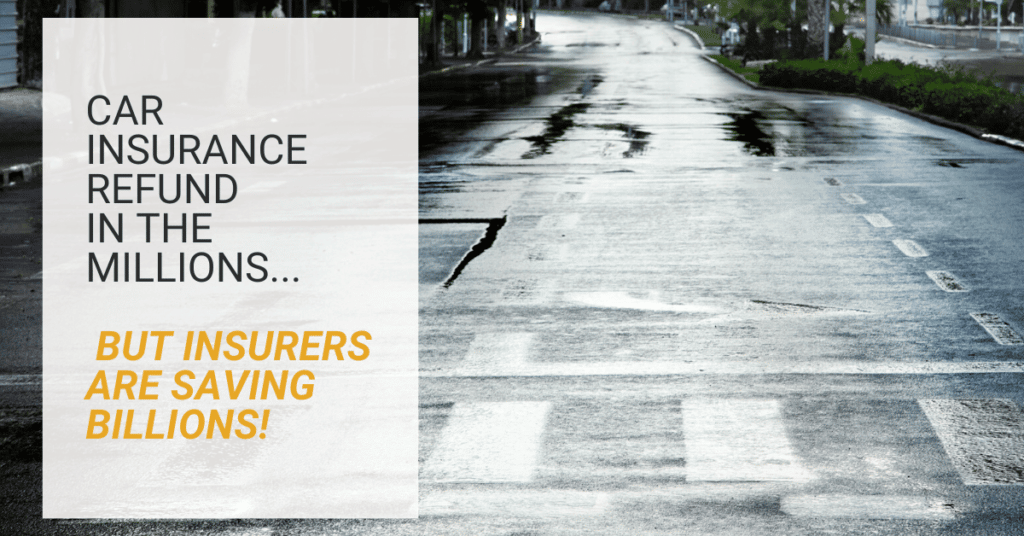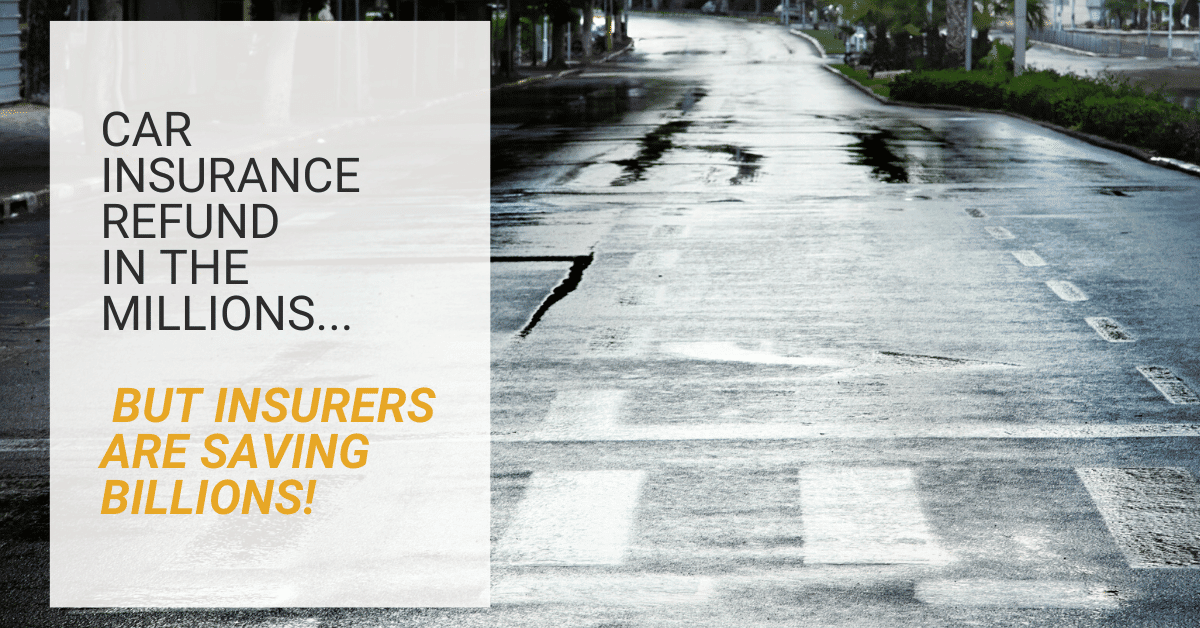 The car insurance refund being touted all over the news right now sounds great – at first. But there's more to this story. Most of these car insurance refunds are not refunds at all. Few people will get money back. Yet, insurers are seeing billions in savings now with claims plummeting and no one on the roads.
The car insurance refund is a great way for drumming up free publicity for the auto insurance companies. It's great for marketing to make it appear like they really care.
Sure, it's good to get your money back. And it's even okay to get a credit against the money you will have to pay in the future. But the truth – as is so often the case with auto insurance companies – is that what is being promised to customers as part of this car insurance refund is just a fraction of what the insurers will be saving.
That's because these personal auto line insurance companies will see billions of dollars in savings that they get to keep because travel, miles driven, auto claims and car accidents have all plummeted, while your premium payment was calculated based on what claims, insurance company payouts for things like car accidents and collision damage and miles being driven normally are.
When you look at it like this, these savings are pretty shallow and disappointing for drivers like you and me. It also makes you realize just how misleading these news headlines are.
To learn more, listen to my interview on the Daily Detroit podcast:
Car insurance refund still allows insurers to keep billions in premium dollars
Vehicle travel has dropped off drastically in recent weeks. In Michigan alone, by the end of March, statewide travel had dropped by 55% and travel in Detroit had dropped by 62%, according to data by Inrix. Notably, nationwide travel was found to have dropped by 41% at the end of March.
With far fewer drivers on the road, it is calculated that car accident claims will drop 85%.
For car insurance companies, that's great news. Fewer cars on the road and fewer car accidents mean fewer dollars paid out in car accident claims. Fewer dollars going out the door means these insurance companies get to keep more of the premium dollars they have collected.
Actually, billions more once you do the math.
Let's use Allstate as an example. They stand to keep $850 million a month (of the $1 billion) that they would normally pay out in car accident claims, according to figures reported by CNN and ValChoice. With the $300 million they boast about paying in car insurance refunds, that still leaves the company with a profit of $550 million per month.
The refund doesn't add up to much
State Farm's credit against upcoming or outstanding bills works out to about $20 per month for each vehicle insured. Progressive's credit will be approximately $46 per month per vehicle. And Auto-Owners' refund will be approximately $28 per month per vehicle.
Allstate is offering only a 15% premium refund to its auto insurance policyholders for April and May. Considering that Allstate's monthly premium in Michigan is approximately $499, the car insurance company refund will return only approximately $75 per month to drivers. Again, any money back to consumers these days is good news and we should be happy that people are getting some relief. But we paid a lot of money for our car insurance that was based on a set of actuarial assumptions. Now that those old actuarial assumptions are out the window, people should be getting a lot more money back compared to the money the insurance companies are keeping for themselves.
The refund may not put money back into your pocket
Not all of the companies jumping on this car insurance refund bandwagon are actually putting money back into their customers' pockets. State Farm, Progressive, and GEICO are only offering credits against future auto insurance bills.
When will I get my car insurance refund check?
Not right away. State Farm's customers will see their credits "as early as June." Progressive's credits will kick in in May. Auto-Owners' refunds will be processed as soon as they are approved by Michigan's Insurance Commissioner. Allstate's money-back offer will occur in April and May. And, GEICO's "generous" 15% credit applies against their "next full policy term."
The refund plan has to be approved by Insurance Commissioner
Michigan's Insurance Commissioner, also known as the Director of the Department of Insurance and Financial Service (DIFS), issued Bulletin 2020-18-INS today (April 13, 2020) announcing the filing requirements that Michigan auto insurance companies must comply with in order to offer "refunds or premium waivers" to their customers.
Although normally filings to the Insurance Commissioner must be submitted 30 days prior to the effective date of the changes proposed in the filing, insurers can ask to have the 30-day waiting period waived.
If I cancel my auto insurance, will I still get a refund?
Yes if you cancel your auto insurance you will still get a refund – but please don't cancel your insurance and then continue to drive. The consequences to you if you are involved in a car accident are devastating.
If you cancel your auto insurance, you will still get a car insurance refund. Under Michigan law, if a driver cancels his or her auto insurance policy, then the insurer must "refund the excess of paid premium or assessment above the pro-rata rates for the expired time." (MCL 500.3020(1)(a))
Although canceling one's auto insurance policy will provide relief from having to pay car insurance premiums, the downsides to not having auto insurance are extremely serious. These include:
You will have NO COVERAGE and you could be taking on SERIOUS FINANCIAL LIABILITY if you end up driving the car and getting in a car accident. Your medical bills will not be covered. You will receive no lost wages reimbursement. Your vehicle damage will not be covered. You will not be able to sue for pain and suffering compensation. And you could be held liable for others' medical bills and lost wages.
Other nondriving problems like fire, theft or vandalism will not be covered.
The lapse in coverage may increase your auto insurance rates in the future.
If you are leasing your vehicle and/or you have a loan on your vehicle, then you may be prohibited from canceling insurance coverage.