Michigan Auto Law attorney Brandon Hewitt talked to WZZM 13 in Grand Rapids about what motorists and motorcyclists can do to make the roads safer for motorcycles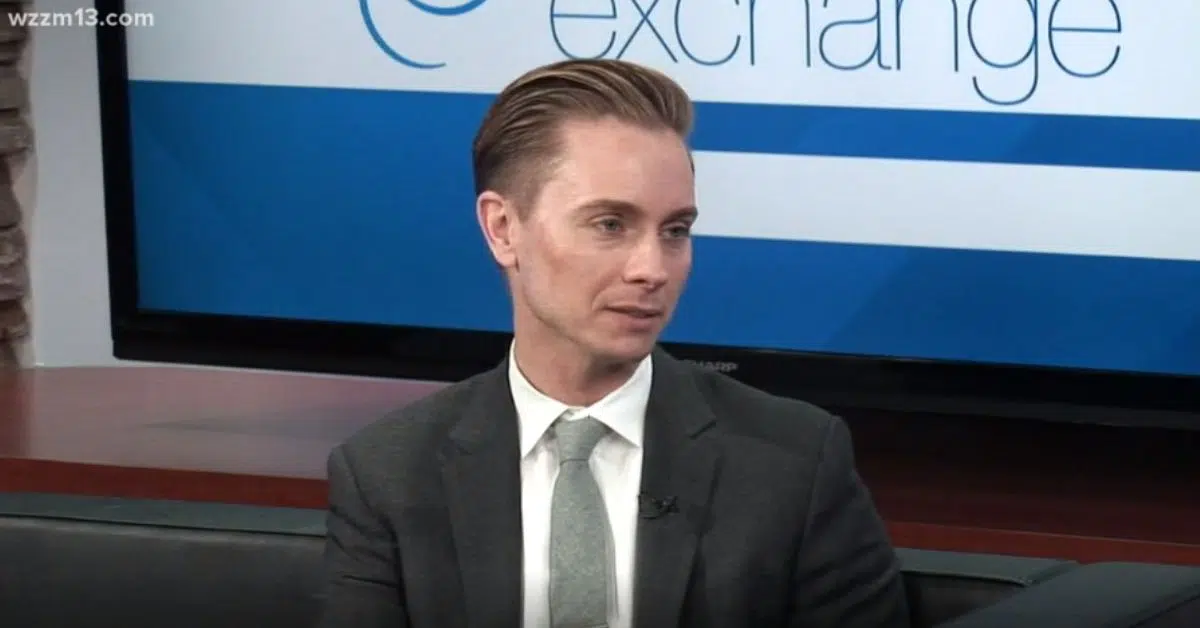 Motorcycle safety from the perspective of both motorists and motorcyclists was the topic of discussion during Michigan Auto Law attorney Brandon Hewitt's most recent appearance on WZZM 13 TV Grand Rapids' "Just Drive" program.
Addressing the sobering fact that more than 5,000 motorcyclists are killed annually, Brandon wasted no time debunking the myths and stating the reality of who is to blame:
"Everybody wants to blame the motorcyclists because it's easy. It's an easy target. But in reality 70% of motorcycle crashes and serious injuries are caused by the driver of the vehicle, not the motorcyclist."
This is a very important point and one that everyone should keep in mind when considering the following statistics about motorcycle fatalities and injuries:
There were 5,172 motorcyclists killed in 2017, which is down from 5,286 in 2016. Those deaths accounted for nearly 14% of the total number of people killed in motor vehicle traffic crashes in the U.S. in 2017. The number of motorcyclists killed in 2016 was a 5% percent increase from 2015.
"Research and state-level data consistently identifies motorists as being at-fault in more than half of all multi-vehicle motorcycle-involved collisions."
"Motorcyclist deaths occurred 28 times more frequently than fatalities in other vehicles, based on 2016 fatal crash data."
Motorcyclists are "5 times more likely to be injured" in a motor vehicle crash than passenger vehicle occupants are.
(Sources: NHTSA, "2017 Fatal Motor Vehicle Crashes: Overview," Traffic Safety Facts – Research Note, October 2018; NHTSA, "Motorcycle Safety" page; NHTSA, "2019 Share the Road Campaign – Talking Points/Fact Sheet," March 27, 2019)
With more motorcyclists taking to the road as the weather continues to getting warmer and with Motorcycle Safety Awareness Month kicking off in May, Brandon urged everyone to drive with caution:
"Motorcycles are small so they might look smaller and further away than they actually are and it's hard to tell just how fast they're moving . . . so just be extra, extra careful. If anything, guess on the high side. Guess that they're going faster than what you think they are and they're going to approach you faster than what you would expect."
To learn more, please check out the video of Brandon's most recent appearance on WZZM 13 Grand Rapids below.
Michigan Auto Law attorney Brandon Hewitt tells WZZM 13 how motorists and motorcyclists can share the road more safely
Brandon Hewitt told WZZM 13 Grand Rapids there are steps that everyone can take to make the roads safer – regardless whether a person is driving on two or four wheels.
These strategies are particularly important, he said, when people are driving on highways and expressways.
Highways mean "faster speeds," Brandon Hewitt explained. And "higher speeds" mean a "higher probability of injuries. Motorcycle injuries are often the worst injuries that we see."
Brandon didn't pull any punches when he told WZZM 13 about the life-saving importance of wearing motorcycle helmets, despite Michigan's reckless decision to repeal its nearly 40-year-old mandatory helmet law in 2012.
"They don't have to [wear a motorcycle helmet] anymore. It's going to be an unpopular opinion, but we think that's not the safest law for people out there," Brandon said. "Wear your motorcycle helmet, especially on the expressways, especially if you're going any type of distance that takes you more than a minute or two from your house. The traumatic brain injuries that result from it . . . it's just not worth it."
Data from NHTSA corroborates the soundness of Brandon's advice:
"In 2016, the use of motorcycle helmets saved an estimated 1,859 lives [across the U.S.]"
In Michigan in 2016, motorcycle helmets saved 30 lives and, if helmet use had been 100%, could have saved 31 more.
(Source: NHTSA, "Lives and Costs Saved by Motorcycle Helmets, 2016," Traffic Safety Facts, Crash/Stats, May 2018)
Turning his focus to drivers and motorists, Brandon Hewitt offered the following advice:
"Forty percent of your car's exterior is blocked by blind spots so your mirrors aren't going to catch everything, so we recommend either putting those convex mirrors on your side mirrors or just turning your head to each side to make sure that a motorcycle is not creeping up in one of your hard-to-see areas."
"Intersections are the most dangerous place for motorcycle accidents. Don't go out into the intersection, don't make your turn unless it's a completely obstruction-free view. Those motorcycles are going to be coming faster than you think because they look small and further away than they actually are. So, be patient at intersections. Don't make that left turn unless you know it's completely safe. Let the motorcycle pass you."