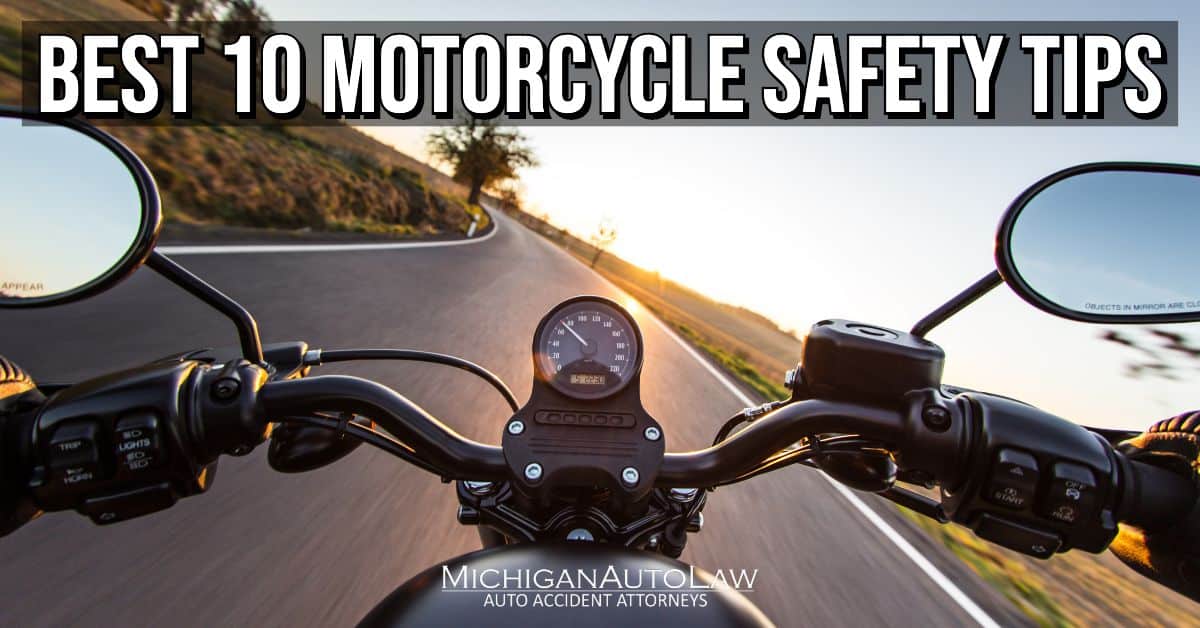 10 motorcycle safety tips so motorcyclists and drivers can share the roads safely — and prevent motorcycle accidents
Motorcycle safety is a responsibility that must be shared by motorcyclists and motorists alike.
But, even though there are strategies that motorcycle riders can pursue to increase their chances of arriving safely at their destination, the lionshare of the safety burden rests with drivers.
As Michigan Auto Law attorney Brandon Hewitt recently told WZZM 13 in Grand Rapids, drivers must watch out for motorcycles:
"Everybody wants to blame the motorcyclists because it's easy. It's an easy target. But in reality, 70% of motorcycle crashes and serious injuries are caused by the driver of the vehicle, not the motorcyclist."
To see Brandon's full interview with WZZM – and to learn more about what drivers can do to protect motorcyclists' safety – check out the video below.
Now, I want to discuss the 10 safety strategies that motorcycle riders and passengers can use.
10 Motorcycle Safety Tips
Always wear a DOT-compliant motorcycle helmet: Even though Michigan law (irresponsibly and recklessly) says you don't have to, you should wear a motorcycle helmet when you're riding. Why? Because helmets save lives and prevent injuries. "NHTSA estimates that helmets saved the lives of 1,872 motorcyclists in 2017. If all motorcyclists had worn helmets, an additional 749 lives could have been saved. Helmets are estimated to be 37-percent effective in preventing fatal head injuries to motorcycle riders and 41 percent for motorcycle passengers. In other words, for every 100 motorcycle riders killed in crashes while not wearing helmets, 37 of them could have been saved if all 100 had worn helmets." (NHTSA, "Motorcycle Safety 5-Year Plan," May 2019) Here's a helpful blog on choosing a safe motorcycle helmet.
Ride in states that have strict distracted driving laws: In a 2018 study, "Watch for motorcycles! The effects of texting and handheld bans on motorcyclist fatalities," researchers at the University of Miami found that states that ban both the use of handheld devices and texting while driving have an 11% "reduction in the multiple-vehicle motorcyclist fatality." Importantly, the researchers also found that states that prohibited drivers from either handheld use of devices or texting while driving saw a nearly 8% reduction in motorcyclist fatalities.
Don't drink and ride: In 2017, 28% of motorcycle riders in the U.S. who were killed were under the influence of alcohol, according to NHTSA. In Michigan in 2017, 30.7% of motorcyclist deaths were the result of "had-been-drinking" crashes, according to Michigan Traffic Crash Facts.
Make yourself visible: To increase motorcyclist safety through increased visibility, the Motorcycle Safety Foundation recommends light-colored helmets and eye protection as well brightly-colored clothing. Plus, motorcyclists should always use their headlights.
Wear safe gear: The Motorcycle Safety Foundation recommends the motorcycle riders can stay the safest if they wear leather or thick protective clothing, long sleeves, pants, over-the-ankle boots, and gloves.
Assume the driver of the other car or truck doesn't see you: Drive defensively and be prepared to take evasive action.
Ride near the center of the lane: This helps you stay out of other drivers' blind spots.
Do not ride two abreast in a single lane: When riding in groups, ride in a staggered formation, allowing a safe distance to maneuver in an emergency.
Do not speed: Slow down at night and during bad weather, when there is reduced visibility.
Keep your motorcycle in safe condition: Using the safety and maintenance checks listed in your owner's manual as a guide.
– Steven M. Gursten is a motorcycle accident attorney and head of Michigan Auto Law. Steve has received the highest motorcycle injury settlement in the state, according to Michigan Lawyers Weekly. He frequently appears in the media on providing motorcycle safety tips and the repeal of Michigan's motorcycle helmet law. Steve is available for comment.