Michigan State Police investigation reports 58 drivers will be ticketed after huge car chain-reaction car crash in Galesburg, MI that made national news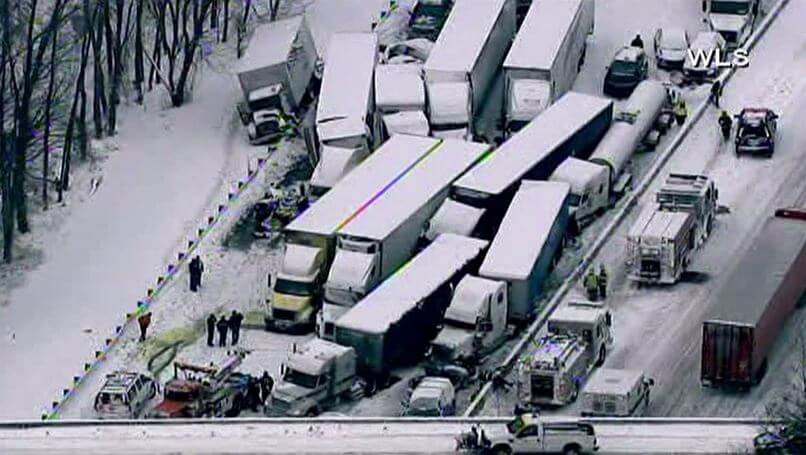 I previously wrote about legal issues that will arise in the 193-car winter pileup on I-94 in Galesberg, Michigan (near Kalamazoo) in January, which took the life of a Canadian truck driver. Now the Michigan State Police has concluded its own investigation into what happened.
As I suspected, excessive speed based upon the weather conditions was the culprit. In its March 19, 2015, press release, the MSP reported about the giant chain-reaction pile-up that involved 193 cars:
"[T]he primary cause was determined to be drivers traveling too fast for the roadway conditions. … 'This crash is a vivid illustration of the dangers of traveling too fast on icy and snowy roads,' stated F/Lt. Dale Hinz, MSP Paw Paw Post Commander. 'As drivers, we are responsible for controlling our vehicles at all times, no matter the weather or roadway conditions.'"
Consequently, the MSP stated, 58 drivers will be ticketed for being "at-fault for violation of [Michigan's] basic speed law," which provides:
"A person operating a vehicle on a highway shall operate that vehicle at a careful and prudent speed not greater than nor less than is reasonable and proper, having due regard to the traffic, surface, and width of the highway and of any other condition then existing. A person shall not operate a vehicle upon a highway at a speed greater than that which will permit a stop within the assured, clear distance ahead." (MCL 257.627(1))
The 58 "speeders" consist of 30 commercial vehicle drivers and 28 passenger vehicle drivers. Note that this immense wreck also involved many semi trucks: 59 semi-trucks slammed into the pile, adding to the destruction. I've spoken at many legal seminars involving truck accidents, and one thing I've repeatedly emphasized to lawyers in the audience is there are specific rules that drivers of commercial trucks must follow when weather conditions become dangerous. In particular, both the CDL manual and the Federal Motor Carrier Safety Regulations (FMCSRs) require truck drivers to significantly reduce speeds below the posted speed limits.
The number of commercial trucks involved in this crash is particularly troubling to me. Clearly, the rule is not being followed, or enforced, in wintery and dangerous weather conditions.
Significantly, the MSP noted that, between 2009-13:
"[T]here were 226 fatalities (which is nearly 5 percent of total traffic fatalities statewide) and 6,515 incapacitating and non-incapacitating injuries in crashes where the driver was coded by a law enforcement officer as traveling too fast for winter roadway conditions."
Distracted driving's role in the I-94 pileup: Stop gawking and Rubbernecking! 
Although "traveling too fast for the roadway conditions" was identified by the MSP and the primary cause of the I-94 crash, which encompassed both the eastbound and westbound lanes, it appears driver distraction did play a role as well.
I normally write about distracted driving involving drivers who are texting or talking on the cell phone instead of watching the road around them. But this giant car crash highlights another significant – but often overlooked – form of driver distraction: gawking at crashes. We all do it, sadly, but it is still dangerous to rubberneck when you are driving by a crash.
The MSP reports that the crash on eastbound I-94 started "when a semi-truck rear-ended a van."
Here's what the MSP says about the distracted driving origins of the westbound crash, which involved 133 vehicles:
"The westbound crash began approximately 3-5 minutes after the eastbound crash when motorists, distracted by the crash in the eastbound lanes, lost control of their vehicles starting a multi-vehicle crash on the westbound side."
Related information: