FMSCA releases new list of routes truckers transporting hazardous materials must avoid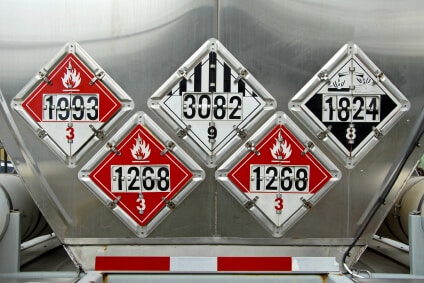 The Federal Motor Carrier Safety Administration (FMCSA) recently released an updated list of routes truckers carrying hazardous materials are not allowed to use in the state of Michigan.
What is a Hazmat route?
Hazmat routes keep us safe. Hazmat routes are designed as special routes for commercial vehicles that are carrying more hazardous loads. These trucks pose a greater danger for the driving public compared to trucks carrying, say, lamps or milk.
When a hazmat propane truck or chemical truck crashes, for example, explosions, fire and noxious fumes have the potential to injure far more people over a much greater area than a truck accident involving a motor carrier hauling Twinkies.
The Federal Motor Carrier Safety Regulations (FMCSRs) have a special subset of rules that apply only to hazardous materials. Regarding the rules on routes: Routes are strategically selected to ensure safe transport of the hazardous materials, and to avoid potential truck accidents in more vulnerable areas that can have a serious impact on the public safety.
You can find the updated hazmat routes for all U.S. states on the FMSCA National Hazardous Materials Route Registry.
Shippers and carriers should review the registry to determine what logistical impact the new routes will have, and of course, to ensure the safe and legal transportation of hazardous materials. It's also important for truckers to review the list, so avoid inadvertently driving through a restricted route.
The new restricted routes for Michigan hazmats
Here are the restricted routes for all Michigan hazmats:
Ambassador Bridge [Detroit] from Porter St. to Canada [Windsor], [Phone (313) 849-5244]; Detroit in Wayne County
State Route M-10/Lodge Freeway [Detroit] from Howard St. to Woodward Ave. [Under Cobo Hall (approximately one mile)], Detroit in Wayne County
For questions, here's the Michigan hazmat contact information:
State Agency: MI State Police
POC: Sgt. John Holder
Address: 333 South Grand Avenue, P.O. Box 30634, Lansing, MI 48909
Phone: (517) 241-0551
Fax: (517) 241-0501
www.michigan.gov/msp/
FMCSA: MI FMCSA Field Office
FMCSA POC: MI Motor Carrier, Division Administrator
Address: 315 West Allegan Street, Room 219, Lansing, MI 48933
Phone: (517) 853-5990
Fax: (517) 377-1868
The new registry is effective immediately, and replaces the 2000 guidelines.
Related information:
Why I'm in support of raising truck insurance limits