Dupré Logistics  has increased safety and retained its drivers by paying hourly wages instead of the industry standard based on mileage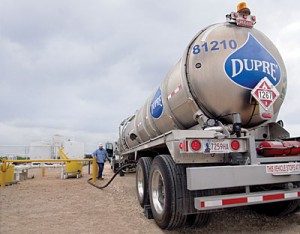 Incentives work. Paying truck drivers by the hour instead of on total miles takes away the perverse incentives for drivers to speed, drive fatigued, drive over hours, and take short cuts on safety inspections and maintenance.  In other words, paying by the hour lowers the likelihood that a driver will cause a preventable truck accident.
Consider also: In 2013, the turnover rate for commercial truck drivers increased, according to the American Trucking Associations.
High truck driver turnover matters, as high turnover goes hand in hand with increased  risks of safety violations and more accidents.
The ATA Trucking Activity Report states that quarterly turnover for large truckload fleets rose in the first quarter of the year to a rate of 97% from 90% in the fourth quarter of 2012. The rate was the highest it has been since the third quarter of 2012, when it was 104% and just below the average rate in 2012 of 98%.
The trucking industry attributes high truck driver turnover to the improving economy and the competitive market for  truck drivers. As  our attorneys have previous discussed, there is a  national shortage of well trained professional truck drivers today.
Driver turnover at the company is always one of the things I look for when I'm starting to investigate any serious truck accident case.  This is because fewer truck drivers – given high turnover or a shortage –  make it more difficult for trucking companies to meet their delivery deadlines, which means companies start taking shortcuts.  They also push their truck drivers to transport product faster. At some point, this push causes the companies and drivers to violate mandatory Federal Motor Carrier Safety Administration Regulations such as hours of service, speeding, maintenance and driver training.  And it means these drivers are driving fatigued, and again are far more likely to cause a serious truck accident.
Another danger with high truck driver turnover is that companies are more likely to retain inexperienced truck drivers – or drivers who already have caused too many preventable crashes and have too many motor carrier violations. These are the drivers who can't get a job anywhere else. And these drivers are far more likely to make choices  that cause crashes.
One company is trying a better way, and it's helping to retain its truck drivers — and improve safety on the roads.
Dupré Logistics has significantly reduced its truck driver turnover by changing their economic compensation model. The company has moved away from the mileage-based pay scale, which is the industry standard, to a program that compensates its truckers for all time worked.
I strongly agree with this better pay of paying drivers. As a truck accident lawyer, I've been outspoken on incredibly unsafe economic model that many motor carriers use that has the perverse incentive to violate safety rules.  Paying by the miles puts everyone on the road in more danger.
Companies that take shortcuts want to pay by the trip, and by total miles, instead of for all hours worked, even though it has been proven to cause more crashes.
Dupré was forward thinking enough to recognize the current backwards status quo and create a safer model that rewards truck drivers for their time invested instead of miles driven.
Dupré Logistics President Tom Voelkel stated in published reports that the company's new model has produced more efficient schedules and increased driver safety. He added that the new model attracts a higher caliber of trucker with more of a dedication to staying with the company. Voelkel also said the benefits far outweigh the bottom line.
This makes perfect sense. By paying drivers for all activities while on-duty, including driving, pre-trip inspections, and wait time and loading, the truck driver feels valued. Time spent doing a proper pre-trip inspection for example, would otherwise go uncompensated.
This also increases safety. It gives  truck drivers an  incentive to be safe, whether it is doing a pre-trip or driving the speed limit. Truckers who get paid by the hour  are not rushing through deliveries.
To date, the new pay program has helped cut the company's risk management costs by 34% and its turnover rate to 20%, said Voelkel.
So paying by the hour might not just be the safer choice, but one that increases profits as well.  Imagine that, making an investment in safety is good for business.