Court rules that chiropractor was properly licensed to perform treatments rendered to Michigan auto accident victims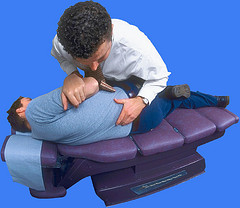 Update as of May 8, 2015: Dr. Boris Zigmond has been arrested after allegedly running a $5.7 million pain pill ring that illegally funneled prescription drugs to addicts and dealers. While I like chiropractors, our office did not know and had no relationship with Dr. Zigmond. What happened to Dr. Zigmond as referenced by the news article of his arrest aside, the blog post below has very helpful information on the chiropractic scope of treatment and reimbursement for services under No Fault:
I like chiropractors. They fix people. The large studies show they are effective at "mechanical" traumatic injuries that occur after car accidents.
Insurance companies do not like chiropractors. They come up with lots of ways to try to avoid paying chiropractors who treat Michigan auto accident victims. Our own insurance lawyers are all too familiar with how certain Michigan auto insurance companies will seemingly stop at nothing to avoid having to pay chiropractors. A recent important case shows the depths to which No-Fault insurers will stoop to save a buck.
In Zigmond Ch In Zigmond Chiropractic, P.C., v. Auto Club Insurance Association, et al., Auto Club iropractic, P.C., v. Auto Club Insurance Association, et al., Auto Club (the legal name for AAA) tried to skirt its duty to pay for medical care provided by a chiropractor to one of its insureds who was hurt in a car accident by accusing the chiropractor of practicing medicine he was not licensed to perform in the state.
After being injured in auto accidents, several crash victims who were insured by Auto Club Insurance Association sought chiropractic treatment from Dr. Boris Zigmond, D.C.
Dr. Zigmond's treatment of the victims consisted of spinal manipulation, hot pack therapy, mechanical traction therapy, therapeutic exercises, massage therapy, myofascial release, neuromuscular reeducation and kinetic activities.
Auto Club doesn't like chiropractors. AAA did not want to pay.
But because the treatment was apparently reasonably priced and was reasonably necessary to the victims' accident-related care, recovery and rehabilitation, Auto Club could not rely on its stock arguments for avoiding its contractual and legal obligations. As such, Auto Club concocted a strategy of challenging Dr. Zigmond's legal authority to perform each treatment.
Fortunately, the Michigan Court of Appeals saw through Auto Club's scheme and rejected the notion that Dr. Zigmond's treatments had been "unlawfully" rendered. Here's what the court had to say about Dr. Zigmond's treatments:
Hot packs: Even if treatment with hot packs did not come within the "practice of chiropractic," "it requires little analysis to conclude that the application of a hot pack to a patient's back was not unlawful."
Mechanical traction therapy: Assuming it is used "to correct a subluxation or misalignment," traction comes within the scope of chiropractic medicine which Dr. Zigmond, as a licensed chiropractor, was authorized to practice.

Therapeutic exercises, neuromuscular reeducation, kinetic activities: Dr. Zigmond was licensed to perform these treatments because they are "rehabilitative exercise" and "rehabilitative exercise" falls squarely within the definition of the "practice of chiropractic." The purpose of "rehabilitative exercise" is "correcting or preventing a subluxated or misaligned vertebrae of the vertebral column."
Massage therapy and myofascial release: At the time he treated his patients, which was between November 2007 and July 2008, it was not unlawful for Dr. Zigmond to provide massage therapy and/or myofascial release because the law did not then require a license to practice massage therapy.
Now, the law does.
New rule for chiropractors treating Michigan accident victims
Starting on January 9, 2009, a person cannot "engage in the practice of massage therapy" unless she or he has a massage therapy license authorizing them to do so.
Protect yourself and your chiropractor after an auto accident
If you have been seriously injured in a Michigan auto accident, and if a licensed chiropractor is caring for you and helping you in your recovery and rehabilitation, then here's how you can return the favor.
Tell your chiropractor about this blog post and give your chiropractor a copy of Zigmond Chiropractic v. Auto Club
Related information:
Chiropractors and car accidents: How to get chiropractic treatment covered