Car accident lawyer discusses the new change in the scope of chiropractic treatment in Michigan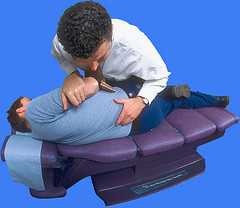 I've written before about chiropractors and car accidents – including how some lawyers and chiropractors can abuse the process. Nevertheless, I'm a big believer in chiropractors helping accident victims make faster and better recoveries.
As a lawyer who specializes in helping people injured in car accidents, I've seen first-hand how chiropractic care can help auto accident victims. Auto accidents are mechanical trauma-related injuries, and chiropractic care is very good at getting people back on their feet and back to work faster than traditional, pill-based medicine in many cases.
However, chiropractors have always been subject to attack by the insurance defense lawyers in auto accident cases. Often, these attacks are successful. Why? First, many car accident lawyers are unfamiliar with the large-scale studies showing that chiropractic works at getting people back to work faster. And unfortunately, I've found jurors come in two flavors in regards to chiropractic care: either they're believers, or they wouldn't let a chiropractor adjust their dog.
This makes the recent changes in the scope of chiropractic care noteworthy. The recent changes should be great news.
There are some typical auto accident-related injuries that chiropractic care is known by scientific studies to be effective at fixing, such as carpal tunnel injuries. These injuries have been beyond the traditional scope of medical care allowed in Michigan, even though other states have been using chiropractic care for such injuries for years. Chalk that one up to the power of the medical lobby and the Michigan State Medical Society (MSMS), because there doesn't seem to be any other reason for these restricted scope of practice rules other than politics.
Warning for car accident lawyers and chiropractors: Just because you can, doesn't mean No-Fault will pay
These rules changes are subject to attack in both the workers comp field and by many auto insurance companies in Michigan in No-fault (PIP) lawsuits. As to No-Fault, note the recent amendment to MCL 500.5107(b). This amendment by the Michigan Legislature was adopted and enacted after the expansion of chiropractic scope of care. It reads:
"Reimbursement or coverage for expenses within personal protection insurance coverage under section 3107 is not required for…..(b) a practice of chiropractic service, unless that service was included in the definition of practice of chiropractic under section 17401 of the public health code MCL 333.17401 as of May 20, 1992."
The takeaway on the new scope for chiropractic care
This means any of the new types of treatments adapted by the Michigan Association of Chiropractors and enacted by the legislature ARE NOT REQUIRED by law to be paid or reimbursed by a Michigan No- Fault insurance carrier, since these scope of practice changes were approved long after 1992 (obviously).
First, here's what not to do: DO NOT LET the No-Fault claims adjuster or insurance defense attorney say it is "unlawful" for a chiropractor to perform any expanded scope of service and then bill the auto insurance company for it. That is logically inconsistent, although my fear is that many car accident lawyers and chiropractors will fall for it.
The argument you should make: The argument that will now need to be made by car accident lawyers is that although payment may not be REQUIRED by law, it may still be found payable or compensable if it can be shown — just like any other medical treatment, medical product or type of treatment or medical service provided under Michigan No Fault — that the care was reasonable and necessary. Reasonable and necessary are the magic words that makes a service payable under the Michigan No Fault Act. Armed with the medical literature showing the effectiveness of chiropractic care, this should be sufficient in most cases to win these cases.
Important takeaways for car accident lawyers: Remember, auto insurance companies will fight these cases and avoid paying on them if they think they can win. Educating juries and insurance company claims adjusters on the benefits of chiropractic will be the key to getting expanded scope of chiropractic care services paid in Michigan auto accident cases.
– Photo courtesy of Creative Commons, by doctorwonder