Our accident lawyers share latest stats on drunk driving car accidents in Wayne County – to help residents of large cities like Detroit and Dearborn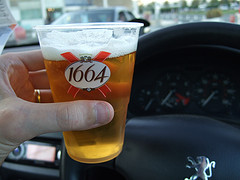 Happy July 4, all. I want everyone to have a safe and happy holiday this year, so I'm tackling another serous subject today. Did you know that most drunk driving accidents occur in the summer in Michigan, especially in July?
To continue with my blog posts on drunk driving statistics and the importance of staying sober behind the wheel, I'd like to discuss accidents in Wayne County.
Here's a list of drunken driving auto accidents and fatalities by Michigan county for 2009, by the Michigan Office of Highway Safety Planning. The list ranks Michigan counties by population and number of drunken driving car accidents and fatalities per capita.
Wayne County had the most auto accidents involving drunk driving as well as drunk driving fatalities. But keep in mind, the population is much higher there, with busy cities like Detroit and Dearborn. So the actual ranking according to number of fatal crashes per capita, was not as high in Wayne as it was in many other Michigan counties.
These statistics go by a population estimate of 1.925 million residents and 45,691 estimated car accidents, truck accidents and motorcycle accidents.
Drinking and driving accidents in Wayne County – Wayne County had the most drinking and driving accidents, with 1,648 crashes involving drivers who had been drinking.
Drinking and driving fatalities in Wayne County – Wayne also had the most drinking and driving fatalities in all of Michigan – 52.
Wayne County's fatal crash rate – The Wayne County rating for fatal car accidents involving drunk drivers was .0270, and Wayne County ranked 42 out of 64 Michigan counties.
These drunk driving deaths and injuries are absolutely horrible and tragic. Nobody wants to be the one to hurt or kill someone by drunken driving.
Please, follow the example of our car accident lawyers and make a pledge to avoid drunk driving. You can always call a friend or a cab when you're out in Detroit.
– Source – Michigan State Police Michigan Traffic Facts
– Steven M. Gursten, partner of Michigan Auto Law, is recognized as one of the nation's top accident lawyers handling serious automobile negligence and trucking cases. He frequently blogs about safe driving and is available for comment.
– Photo courtesy of Creative Commons, by James Cridland
More resources to protect yourself:
10 driving tips for July 4 weekend
New Michigan drunk driving laws target "drunker drivers"
Checklist: Steps to take following a car accident in Michigan
Michigan Auto Law is the largest law firm exclusively handling car accident, truck accident and motorcycle accident cases throughout the entire state. We have offices in Farmington Hills, Detroit, Ann Arbor, Grand Rapids and Sterling Heights to better serve you. Call (248) 353-7575 for a free consultation with an auto accident lawyers.