Auto accident attorneys says those with a higher blood alcohol content will be punished more severely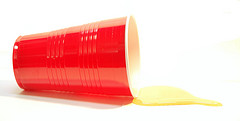 "Obliterated driving" has become its own crime in Michigan, as new laws are targeting extremely intoxicated motorists in efforts to prevent car accidents and save lives. Michigan's Driving with a High Bodily Alcohol Content law includes stronger penalties for drivers with a blood-alcohol content of .17 or higher – the equivalent of 10 beers in two hours.
Lawmakers are saying this new law targets problem drinkers and repeat offenders. As an auto accident attorney who has handled far too many preventable car accident lawsuits caused by drunk driving, I think such a law is imperative.
Punishment for driving with high bodily alcohol content
Under the new law, first offenses for Driving with High Bodily Alcohol Content are punishable by up to:
o 180 days in jail;
o fines of $200-$700;
o license suspensions for one year;
o 360 hours of community service;
o six points on driving records;
o mandatory alcohol treatment;
o and prosecution costs.
Penalties for first-time offenses for Operating While Intoxicated (BAC of .08 percent or higher) are punishable by up to:
o 93 days in jail;
o $500 fine;
o 360 hours of community service;
o six points on driving records;
o and 180 days with a suspended license, with a restricted license possible after 30 days.
Nobody wants to face any of these expensive, inconvenient and life-altering punishments. And surely nobody wants to be the one to hurt or kill someone by being drunk behind the wheel. Please, follow the example of our auto attorneys, and never drink and drive. Keep our Michigan roads safe and preserve the well-being of our families by making a pledge to avoid drunk driving. You can always call a friend or a cab.
– Steven M. Gursten is recognized as one of the nation's top auto attorneys handling serious car and truck accident personal injury cases. He frequently blogs about safe driving. Michigan Auto Law has received the largest reported jury verdict for an automobile accident case in Michigan in six of the past nine years, including 2009, according to published reports.
– Photo courtesy of Creative Commons, by Sarah_Jones
Related information:
A safety ap to reduce drunk driving and car crashes in Michigan?
Drunk drivers causing car accidents, of crime and punishment
Michigan Auto Law is the largest law firm exclusively handling car accident, truck accident and motorcycle accident cases throughout the entire state. We have offices in Farmington Hills, Detroit, Ann Arbor, Grand Rapids and Sterling Heights to better serve you. Call (248) 353-7575 for a free consultation with an auto accident attorney – anytime.