Reader comments & questions about repealing MI auto No Fault & switching to pure tort liability system; answers to questions from 25 year car accident lawyer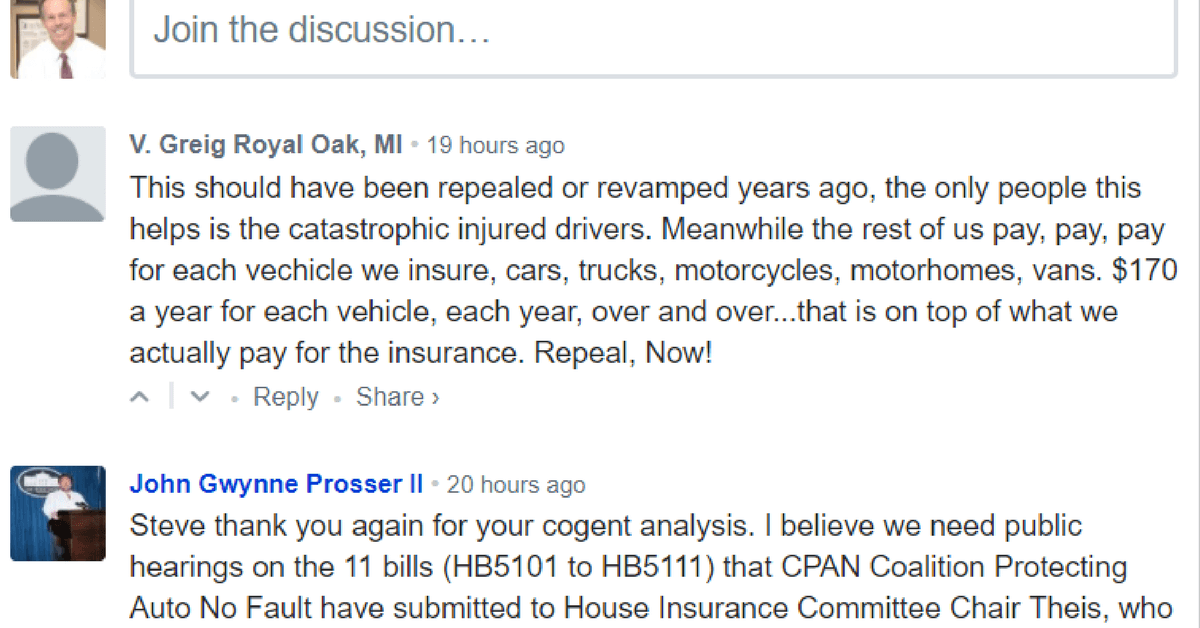 This week we saw Republican legislation aimed at repealing Michigan's 45-year-old No Fault auto insurance law and replacing it with a pure tort liability insurance system that currently exists in 38 other states.
Readers of this Auto Law blog and people on social media have been very interested in this. Many have had a lot to say about this important issue.
And rightly so, as this hits home for a lot of people – car accident victims, their families who provide attendant care, medical providers, and people who render care for people with serious brain injuries, and for drivers throughout the state.
Through comments and posts on Facebook and Twitter and on this blog, readers have asked questions about my own views on the prospect of what a No Fault repeal will look like in Michigan, as well as questions about what the real-world effects would be from a No Fault repeal and returning Michigan to a pure tort liability system.
Before I get to those questions, however, I need to reiterate one extremely crucial fact.
I am, have been and continue to be a supporter of Michigan's auto No Fault auto insurance system. I made the decision years ago that this is what's best for my clients and the catastrophically injured. As a car accident lawyer, I practice in Michigan but I also handle catastrophic injury truck accident cases in other states. I'm the president of the Motor Vehicle Trial Lawyers Association, I speak at auto accident legal seminars throughout the nation, and I am a past chair of the American Association for Justice (AAJ) Truck Accident Litigation Group and I'm the chair-elect this year of the AAJ Traumatic Brain Injury Litigation Group.
In other words, I think I have a very unique perspective to see both sides of the issue.
So, let's start with some of the questions I've received since my post Monday on what repealing Michigan No Fault would look like in Michigan.
Why have I not more strongly condemned the idea of repealing No Fault?
To varying degrees, this has been the hot-button question all week. This was to be expected, to some degree, because I have always been so outspoken and because I've been such a staunch defender of Michigan's auto No Fault law for years on the pages of this Auto Law Blog and in the countless media interviews I've given defending No Fault. While I have always strongly supported Michigan No Fault, this support is not blind.
It very easy to feel like we're all a bunch of frogs sitting in water that is slowly being brought to boil.
Michigan No Fault has been under continuous attack for years. It continues each year to be gutted and abused by clearly partisan judges and courts. It is under relentless attack by insurance-industry-backed politicians and judges.
Ask anyone familiar with our auto No Fault law to compare our law today to just 5 years ago. The change is shocking. We've seen a relentless series of court rulings that keep hacking away at No Fault's core protections and benefits. Our No Fault system is under relentless attack and is being gutted case by case to the point where it will shortly become meaningless. Consider the effect of devastating No Fault cases like Bahri, Douglas, Covenant, Admire, Frazier, Joseph, Krohn, Moore, Burris, and so many others that are destroying No Fault in this state. These are all examples of partisan, judge-made legislating from the bench. Compare No Fault today to ten years ago or five years ago: No Fault protections keep getting scaled back, gutted and abused by our courts. This is going to keep getting worse for the people I represent.
Politically, if possible, it's been even worse. We've watched a relentless series of legislative bills introduced that would strip No Fault of its most vital protection – unlimited necessary medical-care. Detroit Mayor Duggan, along with Representative Lana Theis and Speaker Tom Leonard wanted to replace unlimited necessary medical care for a $25,000 PIP cap just 3 months ago.
We can't stick our heads in the sand and be blind to what is coming. Consider what would have happened if the Duggan-Leonard-Theis $25,000 PIP cap had become law in November. Yes, I do believe everyone would be better off with Michigan being a pure tort liability state than we would with a ridiculous and absurd $25,000 total PIP cap that covers all medical care, wage loss, attendant care, replacement services, medical mileage, housing modifications and medical transportation.
I am and continue to be a defender of Michigan's No Fault auto insurance system. If it were up to me, we'd never get rid of our No Fault laws.
But that's because I've made the personal choice based upon what I see with my own clients who've been seriously injured that it is the right thing to do. I am willing to pay significantly more money for car insurance than people do in pure tort liability states because I see the crucial life-preserving protections that people receive under No Fault.
But the nation's best auto insurance system comes at a cost. There are an estimated 1.5 million people who are driving uninsured in Michigan. Over half of the drivers in Detroit are driving without any auto insurance, and when an uninsured driver gets into a car accident, the results are beyond devastating. We can't be blind to how this is costing our state and cities like Detroit.
So, to all the people who are writing to me, commenting, leaving blog comments, and emailing me, I still support auto No Fault in Michigan, but it is not blind support.  It is not unconditional support.  We cannot put our heads in the sand and refuse to see what is coming politically and with our courts and where we will likely be ending up.  The people who support No Fault today will most certainly not like it.
Many may feel that a full repeal and replacing of our auto No Fault laws with a pure tort liability insurance system would have been preferable when they look back in a few short years.
Steve, even with all the cases you cite curtailing No Fault in Michigan, isn't it still better than the alternative?
For now, yes, at least in a hypothetical sense if the insurance companies do what they are supposed to do under the law. In real life, not so much. How many completely innocent and seriously injured people do you have in treatment right now where the insurance companies just aren't paying anything – often for no given reason at all. Insurance companies like State Farm and Allstate say cases are "under investigation" but won't give any specific reason and just refuse to pay anything. All the insurance companies now aggressively use notorious cut-off IME doctors who find even the most disabled person to have reached "maximum medical improvement" or to blame everything on something that happened years or even decades ago. Many of these insurance companies try to get these IME appointments set up as soon as possible, leaving "cut-off" victims essentially treating on liens with medical providers just as they do in pure tort states. The most egregious new tactic in my opinion is that insurance company adjusters and defense lawyer are now claiming the most innocent and innocuous mistakes as "fraud" under the Bahri case and are refusing to pay anything claiming the entire auto insurance policy is now void. Then you have insurance companies like Everest Insurance that from what I have seen and the other lawyers in my office have seen seem to have a company business policy of denying all claims. Michigan also has no bad faith laws, punitive damages or – which is absolutely crazy if you stop to think about it – a Michigan Consumer Protection Act that actually protects consumers from insurance company abuse and fraud (thank you, Republican Supreme Court for that one). So, the end result is far too often the exact same in both Michigan and in pure tort liability states – the injured car accident victim or medical provider has to hire a lawyer and go through the costs, delays and expenses of litigation.
How would repealing No Fault and going to a pure tort system affect medical insurance?
This is a very interesting question.
Most states, like Michigan, coordinate so any health insurance plan is going to be primary to auto insurance. But here's the rub: Increases in health insurance costs are inevitable because the auto insurance industry is going to keep pushing all car accident victims off of No Fault and onto personal health insurance, ACA, Medicaid or Medicare. That was the entire premise behind the (ridiculous, immoral and absurd) $25,000 PIP cap on all non-emergency room No Fault benefits in the Theis-Duggan-Leonard plan from last November.  This is also the stated goal of a recently introduced bill (SB 787) that aims to push car accident victims over 65 onto Medicare. Significantly, a 2008 study about Colorado's 2003 switch from No Fault to a pure tort system reported the following about how medical insurance costs were affected: Health insurers didn't expect to increase their premiums in Colorado by more than an average of 1.6%.
What would repealing No Fault do to car accident victims who are currently receiving benefits?
As I read the proposed legislation, House Bill 5517, doesn't specifically address the concept of car accident victims being "grandfathered in" in terms of continuing to receive the auto No Fault insurance benefits that they're currently receiving.
However, other provisions in the bill suggest that those No Fault benefits would continue to be available.
Significantly, that seems consistent with statements I've now read from the lawmakers supporting repealing No Fault repeal and the enactment of a pure tort liability system.
Specifically, Rep. Beau LaFave (R-Iron Mountain) stated in a February 1, 2018, statement on the House Republicans website that a "legacy fee" would be used to continue to fund the Michigan Catastrophic Claims Association (MCCA) to "make sure" that "anyone already catastrophically injured" who is "now receiving treatment can continue to do so …"
Similarly, in his February 1, 2018, statement, Rep. Joseph Bellino (R-Monroe) noted that the proposed No Fault repeal legislation "continues benefits for everyone already receiving lifetime health care after a catastrophic traffic accident."