How to drive safely through a Michigan winter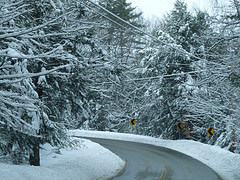 Winter driving – and in particular when weather conditions might excuse a car accident – comes up in just about every single auto accident case I see that occurs during the winter months.  It was the main issue in my trial in Clinton County, Michigan (just North of Lansing), where the defendant lost control on ice and the lawyer hired to defend her was blaming the crash on a "sudden emergency" and an act of God.
It's also a defense that I've probably seen at least a few hundred times as a lawyer who litigates motor vehicle accident cases, and I've also probably deposed at least a dozen accident reconstructionists hired by insurance companies who try to argue that the driver who lost control and injured my client wasn't really negligent.  It's an issue that I am very familiar with, to say the least.
And, as expected, Michigan's winter this past week got off to an icy, frigid start.  Over the weekend and throughout the week there were a flurry (sorry, no pun intended) of car accidents due to the inclement weather conditions. So, I thought today I would write a blog post to remind people about  some important safety tips for driving in weather – from an accident lawyer's perspective.
Q. What are the basic to-dos when driving in winter weather?
A. There are easy tips that can get you home safe and sound after an unexpected snowfall or a dramatic drop in temperature. Take a look at our previous blog: 14 tips on how to avoid car accidents in snow and ice.
And remember, the regular rules of safe driving still apply in the winter: Buckle up, don't drive distracted and don't drink and drive.
Q. What do I do if I get stuck in a winter whiteout?
A. A winter white out can be very scary, as the weather condition causes severely reduced visibility by the onslaught of snow and wind, often leaving drivers disoriented and with no reference points. Follow these dos and don'ts to protect yourself:
Do:
When visibility is near zero, try to get off the road and into a safe parking area if possible.
Gradually slow down.
Make sure all of your lights are turned on and remember regular headlights work best in snow squalls.
Try your best to keep calm, patient and alert.
Increase your following distance for safe braking.
Keep your windows and mirrors clean with your defroster and wipers.
Look as far ahead as possible.
Don't:
Don't stop. Especially not suddenly. You could become the first chain-reaction motor vehicle accident.
Avoid passing and changing lanes.
Q. What if I get stranded in severe winter weather?
A. A few tips:
Be prepared with an emergency kit: Your kit can include jumper cables, blankets, warm clothes, flares, a first-aid kit, a flashlight, bottled water, snacks, a shovel, matches and candles.
Call for help.
Use your emergency flashers.
Stay inside your vehicle until help arrives. Do not get out, as you risk getting hit by other cars if there are subsequent car accidents.
Slightly open a window for ventilation.
Run your motor very sparingly.
Q. Are weather conditions ever an excuse for a truck driver's negligence if he loses control of a big rig  in a bad winter snowstorm and causes a wreck?
A.  Almost never does winter weather, or any other type of weather, excuse a truck driver's negligence if he or she causes a serious truck accident.  Here is a blog I wrote on the subject that lays out what the CDL manual and the federal rules require.