Hands free driving can be just as dangerous as using your hand-held cell phone, new AAA study finds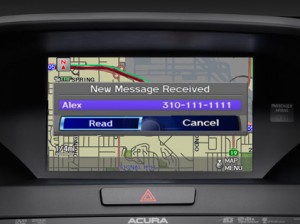 Results from the new "cognitive distraction" study conducted by the AAA Foundation for Traffic Safety provide important messages and cautionary tales for both drivers and auto makers.
According to the study, "Measuring Cognitive Distraction in the Automobile," when compared to other distractions such as talking on a cell-phone (hand-held or hands-free), listening to the radio, or talking with a passenger, a driver's use of "a speech-to-text system to send and receive text or e-mail messages" was the "most cognitively distracting."
For the study authors, that meant:
"[H]ands-free does not mean risk-free" and,
"The lessons learned from the current research suggest that … the impairments to driving [resulting from "voice-based interaction"] … may rise to the level associated with drunk driving …"
Accordingly, the researchers warned car makers and cell phone companies that "a rush" to include "voice-based systems in the vehicle may have unintended consequences that adversely affect traffic safety."
3 types of driver distraction
The AAA-FTS study explained that there are 3 types of distracted driving scenarios:
Visual
Manual
Cognitive
For example, "[i]mpairments to driving can arise from a competition for visual processing, an example being when a driver takes his or her eyes off the road to interact with a device. Impairments can also arise from manual interference, as in cases where drivers take their hands off the steering wheel to manipulate a device. Finally, cognitive sources of distraction occur when attention is withdrawn from the processing of information necessary for the safe operation of a motor vehicle."
Cognitive distraction testing
To identify the "most cognitively distracting" distraction for drivers, the AAA-FTS researchers analyzed and calculated the "cognitive workload" required of a driver to perform the following distracting activities which are "commonly engaged in while operating a motor vehicle …":
Listening to a radio;
Listening to a book on tape;
Talking with a passenger;
Talking on a hand-held cell phone;
Talking on a hands-free cell phone and
Interacting "with a speech-to-text interfaced e-mail system.
How distracting are the distractions?
The study showed that listening to the radio and books on tape were "not very distracting."
And, talking with a passenger or talking on the cell phone were "associated with moderate/significant increases in cognitive distraction."
But, the study found, "in-vehicle activities, such as using a speech-to-text system to send and receive text or e-mail messages … produced a relatively high level of cognitive distraction."
Car makers and cell phone companies beware!
Aside from the study results regarding the distracting nature of "speech-to-text" systems, the most surprising aspect of the AAA-FTS study is its implications for car makers and cell phone companies:
"Given the current trends toward more voice commands in the vehicle, [the] … level of cognitive distraction [associated with speech-to-text systems] is troubling. The assumption that if the eyes were on the road and the hands were on the steering wheel then voice-based interactions would be safe appears to be unwarranted. Simply put, hands-free does not mean risk-free."

*    *    *

"Increasingly, car manufacturers and third-party providers are presenting consumers with options to make movie or dinner reservations, send and receive text or e-mail messages, make postings on Facebook, interact with global position systems, and utilize voice commands for controlling functions of the vehicle. The lessons learned from the current research suggest that such voice-based interaction is not risk-free, and in some instances the impairments to driving may rise to the level associated with drunk driving … Just because a new technology does not take the eyes off the road does not make it safe to be used while the vehicle is in motion."

*    *    *
Related information: