National Seat Belt Enforcement Mobilization is May 21 – June 03, 2012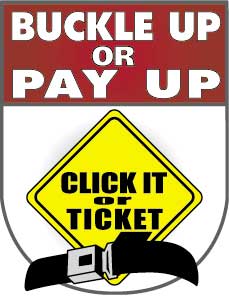 Click It or Ticket is a seat belt enforcement campaign by the National Highway Traffic Safety Administration (NHTSA), and it's happening right now. This means that during the Memorial Day holiday period (May 21 to June 3), law enforcement throughout Michigan will be cracking down on drivers who aren't wearing their seat belts.
Here are the 26 counties that will set up safety belt enforcement zones, according to Michigan.gov.
Wearing a seat belt is one of the most important things you can do to ensure your own long life. Just buckle up.
But sadly, many people still choose to drive without a seat belt. I've seen the horrific personal injuries and deaths when there is no seat belt use. People's heads are swollen to the size of pumpkins, their eyes shrunk to the size of buttons because of the massive edema. They look like life-size Cabbage Patch dolls, but of course they are dead. These are hard pictures to forget. The cases I've handled are sad, and the results simply catastrophic.
Following the state's record-high rate of 97.9 percent in 2009, seat belt use has declined to 94.5 percent in 2011, according to a press release by the Michigan State Police. Also in 2011, nearly 200 people who died in car accidents were not wearing their belts.
Research shows when seat belts are used properly, the risk of being killed in a crash is reduced by nearly 45 percent. And every 1 percent increase in belt use means 10 fewer traffic deaths and 130 fewer injuries.
The primary group that continues to drive without seat belts are men between the ages 18 to 34.
The Michigan seat belt law
According to the Michigan State Police, Michigan law requires:
All front seat passengers to be buckled up.
All passengers under age 16 to be buckled up, in all seating positions.
All children under age 8 to be in an approved child safety seat or booster seat, in all seating positions, unless 4′ 9″ tall.
Top four things you should know about buckling up
Here's a list from the National Highway Traffic Safety Administration, about the important factors in wearing your seat belt.
1. Buckling up is the single most effective thing you can do to protect yourself in a crash. Seat belts saved more than 13,000 lives nationwide in 2008. And from 2004 to 2008, seat belts saved over 75,000 lives. Wearing your seat belt during a car accident helps keep you safe and secure inside your vehicle, whereas being completely thrown out it is almost always deadly.
2. How to buckle up safely: Follow the guidelines shown in this seat belt diagram here. The lap belt and shoulder belt should be secured across the pelvis and rib cage. These areas are more able to withstand crash forces than other parts of your body.
3. Air bags are designed to work with seat belts, not replace them. If you are not wearing your safety belt and your air bag deploys, you could be thrown into a rapidly opening frontal air bag. A movement of such force could injure or even kill you.
4. Seat belt fit matters: Seat belt adjusters can help you get the best fit. If you need a roomier safety belt, contact your vehicle manufacturer to obtain extenders. If you drive an older car with lap belts only, check with the manufacturer about how to fit your car with current, approved seat belts.
For more information on seat belt safety, take a look at this NHTSA page on occupant protection. They provide insight on state laws, pregnant women and seat belts, airbags, and older drivers.
I wish everyone a safe Memorial Day weekend.

– Steven Gursten is a car accident attorney and head of Michigan Auto Law. He president of the Motor Vehicle Trial Lawyers Association. Steve frequently writes and speaks on child safety and teen driving, and is available for comment.
Related Information:
Preventing seat belt entanglement
"Embrace life" seat belt YouTube video saves lives
Michigan Auto Law exclusively handles car accident, truck accident and motorcycle accident cases throughout the entire state of Michigan. We have offices in Farmington Hills, Sterling Heights, Ann Arbor, Grand Rapids and Detroit. Call (248) 353-7575 or to speak with one of our car accident attorneys.