Auto Accident Attorney Says No, But Crashes Can be Prevented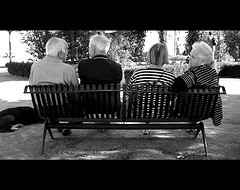 As the U.S. population ages, the number of licensed drivers over 54 is projected to double to nearly 57 million by 2030, according to a recent article by the Wall Street Journal. Also as the population ages, we as car accident lawyers in Michigan are certainly seeing older drivers causing more serious car crashes and truck accidents.
In fact, the National Highway Traffic Safety Administration reports that 196,000 older drivers were injured in auto accidents across the country in 2007, accounting for 8 percent of all the people injured in traffic crashes during the year. These senior citizens ages 65 and older made up 14 percent of all traffic fatalities and 14 percent of all vehicle occupant fatalities. These unfortunate facts raise two obvious questions:
1. As the population grows older, are older drivers truly safe?
2. Are these traffic crashes and subsequent personal injuries preventable?
The answer to the first question is no, older drivers are not safe. The Wall Street Journal story, Crashes Fuel Debate on Rules for Older Drivers, quotes a 2007 report from the U.S. Government Accountability Office, which says measured by miles traveled, older drivers "are more likely to be involved in a fatal crash than all but the youngest drivers."
However, our auto accident attorneys have found that accidents caused by older drivers can be preventable. Safe Roads Now, a coalition of advocates for elderly rights, told the Wall Street Journal that common sense measures must be taken, such as all drivers being more carefully tested. Read here for driver safety tips and ways to avoid truck accidents.
An interesting byproduct of such precautionary measures is accident prevention. A 2004 study in the Journal of the American Medical Association found that requiring people to appear for license renewals helps reduce crash rates. Researchers say that those who are unfit to drive will decide not to pursue a new license for fear they will not pass the driver's test.
We believe it's time states like Michigan visit similar common sense reforms that will protect the rights of the elderly — and the public.
Michigan Auto Law is the largest law firm exclusively handling car accident, truck accident and motorcycle accident cases throughout the entire state. If you have been in an accident, we can help. Call (800) 777-0028 for a free consultation with an auto accident lawyer.
– Steven M. Gursten is recognized as one of the nation's top experts in serious car and truck accident injury cases and automobile insurance no-fault litigation. Steve has received the largest jury verdict for an automobile accident case in Michigan in four of the past seven years, including 2008, according to Michigan Lawyers Weekly.
– Photo courtesy of Creative Commons, by Neovain
Related information:
Video: Do I Have a Car Accident Case?
Protecting Yourself Before a Car Accident
Ruth: Wrongful Death Michigan Car Accident Case
Michigan Auto Law has offices in Farmington Hill, Detroit, Ann Arbor, Grand Rapids and Sterling Heights. For more information, please read out law firm quick facts.