DOT Reflective Tape Requirements For Trucks Explained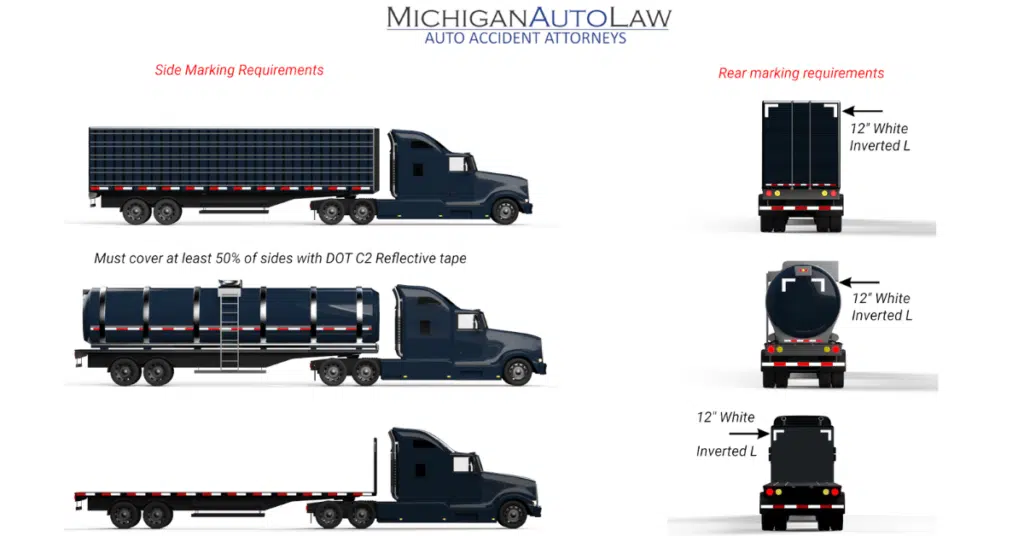 What Are The DOT Reflective Tape Requirements For Trucks?
Must use DOT C2 reflective tape
Red and white striped for back and bottom sides of trailers
Silver or white for upper rear of trailers
Must cover at least 50% of total side length
Must be along entire bottom of the back
Must be on the entire lower rear bar
Must have inverted L 12 inches long on upper rear of trailers
Why the DOT reflective tape requirements for trucks exist and how it saves lives by preventing accidents
All commercial trucks are legally required to be equipped with highly reflective tape or its equivalent in the form of reflectors, so they are more visible. But drive down any Michigan highway and it's shocking to see just how many trucks still do not have reflective tape.
A National Highway Traffic Safety Administration study found that the DOT reflective tape requirements for trucks are highly effective in preventing crashes. The study estimated that once all heavy trucks in the U.S. have been equipped with highly reflective tape, 7,800 crashes each year will be prevented. The study also estimated that 191 to 350 fatalities per year — meaning people killed driving into trucks without reflective tape in poor visibility conditions — will be prevented, as well as 3,100 to 5,000 people who suffer personal injury from these types of truck accidents. According to the study, this tape greatly reduces side and rear crashes into heavy tractor-trailers.
Regardless, many truck drivers and trucking companies throughout the country and in Michigan neglect to adhere to the requirements for their trucks. Since the absence of this tape on trucks has been proven to cause catastrophic truck accidents, there is very little excuse for why truck fleets haven't adhered to the DOT reflective tape requirements for older trucks that are still in service as this tape is inexpensive.
Also, if a truck driver is caught driving a newer model truck without reflective tape, he or she can be cited with a safety violation and the truck can be taken out of service (shut down).
Get your truck accident questions answered today
To speak with one of our experienced lawyers, call Michigan Auto Law at (248) 353-7575, or fill out our contact form for an auto accident lawyer free consultation. The call and the advice are free.
For more information on how Michigan Auto Law can help you, take a look at the testimonials from other truck accident victims. You can also read about our 100 percent client satisfaction guarantee and view our settlement amounts from truck accident cases we have settled.