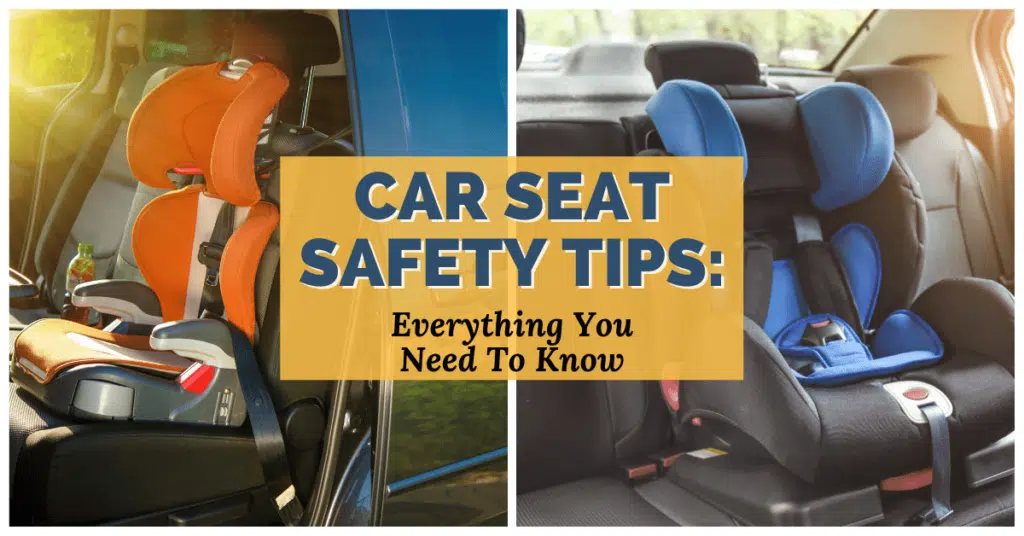 The child car seat safety tips that you need to know include: (1) the legal requirements for car seats; (2) what type of seat is appropriate for your kid's age; (3) where your kid should be seated in the car; (4) no winter coats; (5) the danger of "used" car seats; and (6) stay vigilant about monitoring recalls.
Child car seat safety can be a matter of life and death. Motor vehicle crashes are a leading cause of death for young children. Young children who are properly positioned and secured in a seat suitable for their height and weight have a considerably greater chance of surviving a car crash.
The CDC reports that the use of child car seats in passenger vehicles reduces the risk of death or injury to children 3 years of age and younger by 71-82% and booster seats reduce the risk of serious injury to children between the ages of 4 and 8 by 45%.
Child car seat safety information for parents
The most important child car seat safety information for parents includes: (1) follow the Michigan car seat laws; (2) make sure your child is using the proper seat for his or her height and weight; (3) position kids under 13 in the rear seat; (4) no winter coats; (5) no used car seats; and (6) watch for recall notices.
Car seat safety tips for infants
The best child car seat safety tips for infants is to keep kids 3 years of age and younger in rear-facing seats for as long as possible. Only once they have outgrown the seat manufacturer's maximum weight and height limits should a child be moved to a forward-facing seat.
Forward-facing child car seat safety tips
To maximize safety, kids should use a forward-facing seat that is equipped with a harness and tether until they reach the height and weight maximum limits set by the manufacturer, which may occur around 7 years of age.
Boosters seats
Once a kid has outgrown his or her forward-facing seat, child car seat safety best practices require that the kid to use a belt-positioning booster seat until he or she is tall enough to safely use a vehicle's manufacturer-installed lap/shoulder seat belts.
Child car seat safety tips for seat belts
Child car seat safety best practices permit children to graduate to wearing seat belts once they have outgrown a booster, which typically occurs when the child reaches 4'9" and/or is 8 years of age or older. Like adults, children should use both lap and shoulder belts to ensure the most reliable protection.
It is important to remember that in order for a seat belt to fit properly – and provide the protection it is designed to provide – the lap belt must fit snugly on a child's upper thighs (not the stomach) and the shoulder belt should fit across the shoulder (not across the neck or face).
Having kids ride in the rear seat
Child car seat safety experts agree that young kids should ride in the rear seats of vehicles until they reach the age of 13 because the force of front-seat air bags is particularly dangerous for kids under the age of 13.
Remove children's winter coats
Experts recommend that kids should not wear their winter coats while secured in their car seats because it can leave the harness too loose to protect children in the event of a car crash. The seat's harness should fit tightly to the child's body, approximately at the armpit level.
To keep children both safe and warm, you can drape a blanket and/or a child's winter coat over the top of the child once he or she has been safely secured in his or her seat and the harness has been securely fastened.
Do not use or buy a used toddler car seat
Our attorneys strongly advise that you do not purchase a used toddler car seat because its protective capabilities may no longer be effective if it is more than 6 years old or past its expiration. The car seat may also have already been recalled, or its structure may have been damaged or compromised from having previously been in a car crash.
Child car seat safety tips for car seat recalls
Follow these tips to make sure you know about recalls that could affect your kids: (1) fill out and return the registration card to the manufacturer of your kid's seat; (2) check NHTSA's page for car seat recalls; and (3) sign up for NTHSA email notifications of recalls.
Filling out the registration card for the manufacturer of your child's car seat is very important because it enables the manufacturer to contact you directly via mail, email or text with recall information and instructions on what to do to keep your child safe – whether it involves fixing, repairing or modifying the seat or trading it in for a new one.
When checking for recall information with NHTSA, make sure you know the following information about your car seat: (1) brand or manufacturer name; (2) model name; (3) model number; and (4) date of manufacture.
Clek child seat recall
On December 1, 2021, NHTSA issued a Clek child seat recall for more than 150,000 of its child car seats for choking hazards related to "[l]oose pieces of foam," plastic portions of the support canopy and seat cover labels. The affected models are the "Foonf," "Fllo" and the "Liing."
For more details, check out the information for the following NHTSA ID recall numbers: (1) 21C005; (2) 21C006; and (3) 21C007.
Have you or your child been injured in an auto accident? Call Michigan Auto Law for a free consultation with an experienced attorney
If you or your child have been injured in a car crash and you have questions about your legal rights to pain and suffering compensation, economic damages and auto No-Fault insurance benefits, you can call toll free anytime 24/7 at (248) 353-7575 for a free consultation with one of our experienced motor vehicle accident attorneys. You can also get help by visiting our contact page or you can use the chat feature on our website.
(Sources: CDC, Child Passenger Safety, "Keep Child Passengers Safe"; Michigan Office of Highway Safety Planning, "Car Seat Basics"; NHTSA, "Car Seat Recommendations for Children")