Our attorneys' advice on when it's safe to place your kids in the front, even with a booster seat, under Michigan law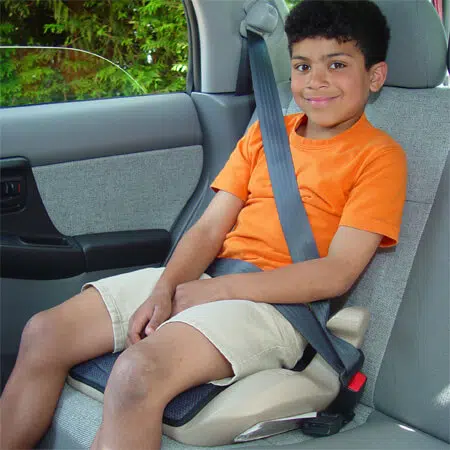 Here's a question I recently received from a concerned mother on when she can put her child in the front seat.
Q. My son is 7 years old and almost 4′ 9″. Is it permissible (and safe) for him to sit in the front seat with a booster seat?
A. This is a great question. It's also one our attorneys quite a bit from parents with children clamoring to sit in the front seat.
Children age 4 and up can legally sit in the front seat of a car in Michigan, but children between the ages of 4 and 8, and under 4′ 9″ in height, must sit in a car seat.
The full text of the law dictates that a child who is "less than 8 years of age and who is less than 4 feet 9 inches in height shall be properly secured in a child restraint system in accordance with the child restraint manufacturer's and vehicle manufacturer's instructions and [federal safety] standards …" (MCL  257.710e(3)(b))
The same law states that the only children who must be positioned in a car's rear seat are those who are "less than 4 years of age", and they must also be "properly secure[d]" in "a child restraint system." (MCL 257.710d(1) and (2))
Arguably, that means that if a child is 8 years of age or older or is 4′ 9″ or taller, then he or she need not be secured in a "child restraint system," but, instead, may use a "safety belt" as provided for in Michigan's Seat Belt Law. (MCL 257.710e(3) and (5))
Our lawyers get lots of questions from parents on the timing, placing and securement of child car seats, according to Michigan's child car seat law. I hope this helps.
Related info: