Parents and adult drivers would know exactly when to use rear and forward facing child seats, booster seats and seat belts
The Michigan Senate has voted to clarify Michigan's car seat law so parents and adult drivers know when to use rear- and forward-facing child seats, booster seats and seat belts for their child passengers under the age of 16.
Yesterday, in a nearly unanimous vote, the Senate passed Senate Bill 1135, which provides specific guidance for the types of child restraint systems that need to be used with child passengers based on their ages, weights and heights.
Under the existing child car seat law, parents and adult drivers are told to use is a "child restraint system" for their child passengers, but no details are given as to what type should be used.
SB 1135 changes that. Below is an outline of what the new child car seat law would look like if passed by the House of Representatives and signed by the Governor:
All children under 16 years of age must be in the "rear seat."
Rear-facing child seats for kids under 2 or kids weighing less than 30 pounds.
Forward-facing child seats for kids 2 or older but less than 5 or kids weighing 30-50 pounds.
Booster seats for kids 5-10 years of age or less than 4'9" and weighing 50 pounds or more.
Safety belts for kids 10 years of age but less than 16.
After passage in the Senate on December 4, 2014, the bill was sent to the House and assigned to the Regulatory Reform Committee.
[UPDATE (1/6/2015): No action was taken by the Michigan House of Representatives on Senate Bill 1135. The bill effectively "died" at the end of 2014, which was the end of the 2013-2014 legislative session. Because Senate Bill 1135 was not passed by the House and because it was not signed by the Governor, the changes proposed in Senate Bill 1135 did not become law. Thus, Michigan's Child Car Seat Law remains the same as it was before SB 1135 was introduced in early November 2014.]
Michigan's existing car seat law
Here are the rules for child car seats under Michigan's existing law:

(Sources: MCL 257.710d(1) and (2) and 257.710e(3)(a) and (b), (5))
Proposed child car seat law
Here are the rules for child car seats under the Senate's "Substitute for Senate Bill No. 1135," which was passed by the Senate on December 4, 2014: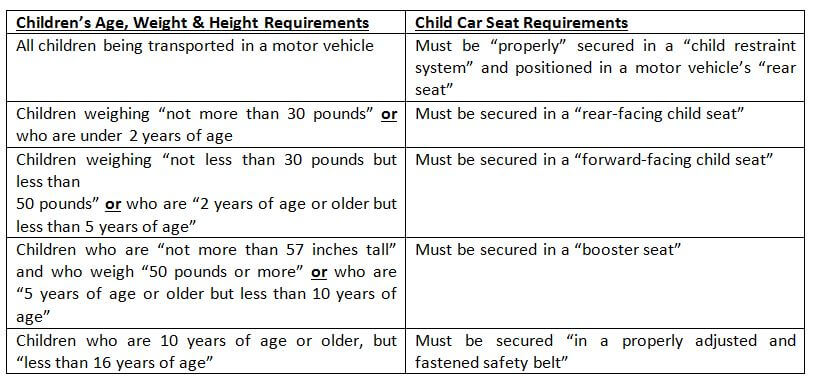 (Sources: Substitute for Senate Bill No. 1135 (Pages 1-3))