State Farm denies No Fault benefits and surgery to George Veness because he didn't have auto insurance for wheelchair, even though such insurance doesn't even exist!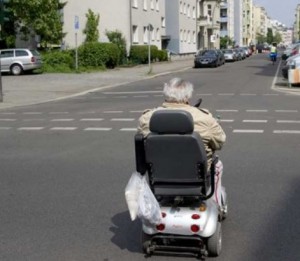 Truth is sometimes stranger than fiction. This case is so ridiculous and outrageous that some readers have questioned that State Farm (and Farm Bureau) would deny No Fault benefits to a paralyzed man who was hit by a car.
The car accident victim, George Veness, is being denied No Fault benefits by State Farm because he didn't have No Fault auto insurance on the motorized wheelchair he was using to cross Bernice Street in Centerline, Michigan, when he was struck by a car being driven by another Macomb County man.
Well, I don't want to disappoint those folks who said on our Facebook page that this sounds  so outrageous and "unbelievable" that it might be made up. I was interviewed as an attorney expert today in Bloomberg Business News on this case, "Insurers Claim Granny Scooters Must Be Covered – Just Like Cars."
And here comes further proof.
In a Macomb County No Fault lawsuit for PIP benefits, which I've been closely covering in recent blog posts, State Farm is denying coverage to Mr. Veness because he is, State Farm argues,  an "uninsured" driver.  Being found to be an "uninsured driver" under Michigan's No Fault automobile law, would allow State Farm to deny his claim.
Where does Farm Bureau come in?
Also under Michigan's auto law, treating Mr. Veness  as an "uninsured" motorist would also bar Mr. Veness from suing the at-fault driver (i.e., the driver of the car that hit him) for his pain and suffering compensation.  And  it would allow Mr. Veness to be sued by Farm Bureau, the insurance company for the at–fault driver, to sue Mr. Veness  for his accident-related medical costs, lost wages and vehicle damage.  Farm Bureau has also filed a motion seeking to have the Court treat Mr. Veness as an "uninsured driver" of his wheelchair.
The key to State Farm's outrageous legal argument is that Mr. Veness's motorized wheelchair is under Michigan's laws considered a motor vehicle, thus, Mr. Veness should've had No Fault auto insurance for it.
Here is  State Farm's argument (from its actual Motion for Summary Disposition):
Mr. Veness "is not entitled to PIP benefits"  because "he was the owner of the scooter involved in the accident and that scooter failed to have in effect [a valid No Fault auto insurance policy]."
No Fault auto insurance required by Michigan's No Fault law "must be in effect for all 'motor vehicles' …"
"Plaintiff's scooter falls within [the No Fault law's] definition of a motor vehicle because it is a vehicle, it was operated or designed for operation on a public highway, has power other than muscular power, and has more than two wheels."
"Plaintiff's failure to obtain PIP insurance on his scooter means that MCL 500.3113(b) bars him from recovering PIP benefits from Defendant State Farm."
If that's not outlandish enough for you, then consider State Farm's explanation for how Mr. Veness's use of his motorized wheelchair to cross the street amounted to his having "operated" it "on a public highway":
Mr. Veness "was in the middle of Bernice Street when" the at-fault driver, i.e., the off-duty police officer, struck Mr. Veness and his motorized wheelchair.
Bernice Street was a "public highway" because "Bernice Street was a publically maintained street open to vehicular travel."
"Thus," because Mr. Veness's crossing of Bernice Street resulted in his having been physically "on" Bernice Street, "Plaintiff operated his scooter upon a public highway."
The sheer lunacy of State Farm's legal argument  is driven home by State Farm's guilt-inspired acknowledgement of the real and significant context in which Mr. Veness's wheelchair-car crash occurred.
Following its syllogistic illogic above, State Farm quipped:
"The fact that Plaintiff's crossing the street may have been merely incidental and for the purpose of connecting with another sidewalk is immaterial …"
Never mind the fact there was no evidence that Mr. Veness was driving in a traffic lane or was otherwise part of the normal flow of traffic.
And, later, when it was toying with and, thus, building up the false significance of how the Motor Vehicle Code defines "highway," State Farm advocates that:
"It cannot be disputed that … [Mr. Veness' motorized wheelchair was] on a street or highway, which is defined in the Michigan Motor Vehicle Code as 'the entire width between boundary lines of every way publicly maintained when any part thereof is open to the use of the public for purposes of vehicular travel.' Even if Plaintiff was operating his scooter in the crosswalk, that area of the street was within the 'entire width' of the publically maintained area for vehicular travel."
Additionally, State Farm argued that Mr. Veness couldn't get No Fault benefits by arguing that his motorized wheelchair met one of the statutory definitions of a "motorcycle, moped, farm tractor, implement of husbandry, or ORV."
It's sad that, with all the time the auto insurer spent with its nose in the Motor Vehicle Code and the No Fault law, State Farm failed to find one insurance policy that the giant insurer actually offers to insure motorized wheelchairs and scooters (it doesn't).  As far as I can tell, no insurance company in Michigan actually offers the insurance that State Farm is saying Mr. Veness should have had to cover his wheelchair.
And, equally sad, State Farm also ignores the one statute that most accurately and appropriately applies to Mr. Veness's case:
"A vehicle operator who approaches a person using a wheelchair … at a crosswalk or any other pedestrian crossing shall take necessary precautions to avoid accident or injury to the person using the wheelchair … A person who violates this subsection is guilty of a misdemeanor." (MCL 257.612(4))