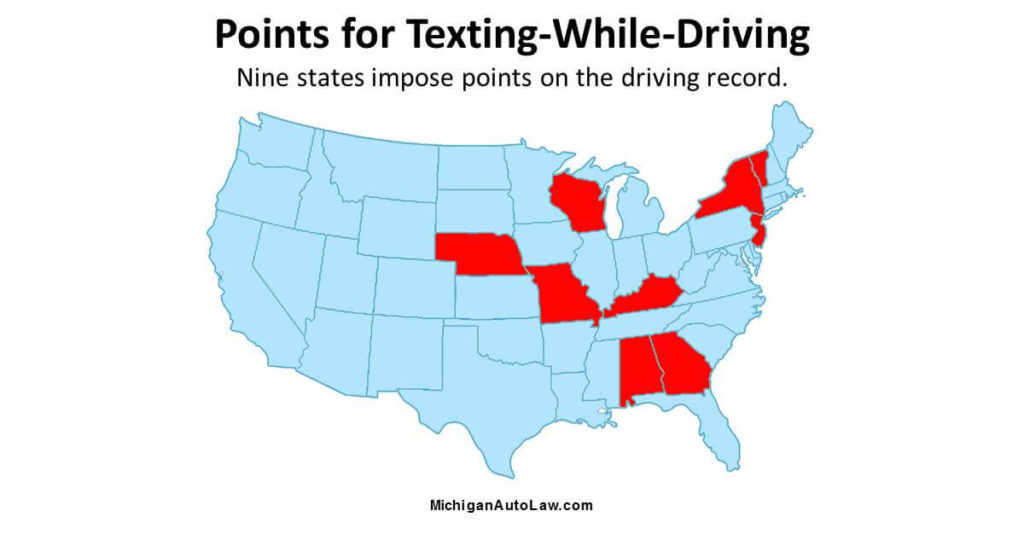 I've been writing throughout the week on Michigan's very weak punishment for texting while driving.
To summarize, the research to date has found that texting while driving is incredibly dangerous. It is as dangerous, if not more dangerous, than drinking and driving. But whereas Michigan has very significant penalties, including big fines, points and jail times to stop and deter people from drinking and driving, there is nothing to deter drivers from texting other than a $100 fine.
As an accident attorney, I've seen far too many preventable automobile accidents caused by distracted drivers who are texting. And while increased fines, criminal penalties and other punishments will not stop people from texting altogether, it certainly would do more to deter people from choosing to text and endanger others.
Today, let's talk points. We're comparing Michigan with other states that impose points for texting while driving. Points on a driver's license cannot currently be placed on texting drivers' driving records under our state texting laws.
But they can in nine other states. These states have turned the heat up on texting drivers by imposing driving record points, which can increase insurance rates dramatically and ultimately affect their right to drive. Insurance rates are often based on a person's driving history and the points on his or her record.
Here are what nine other states have done, and what Michigan lawmakers might want to take a close look at:
New York, 5 points (effective 6/1/2013)
Wisconsin, 4 points
New Jersey, 3 points (effective Summer 2014)
Nebraska, 3 points
Kentucky, 3 points (effective December 2013)
Alabama, 2 points
Missouri, 2 points
Vermont, 2 points
Georgia, 1 point
I've compared how our lawmakers are currently treating the punishment for people who text and drive to the way lawmakers not too long ago treated the punishment for drinking and driving – until enough people in our society said enough. Groups like MADD came into existence and only then did lawmakers significantly stiffen the penalties for drinking and driving. For more information, take a look at my recent blog post, "Why doesn't Michigan treat texting while driving like drunk driving?"
The question needs to be asked, and asked again and again until the penalties are increased in Michigan (at least to match the penalties and punishments in many other states): If the science shows that texting while driving is just as dangerous as drinking and driving, then shouldn't texting be subject to the same penalty that lawmakers now impose on drinking and driving?
Tomorrow I will discuss license suspensions and revocation penalties for texting while driving throughout the country.
Related information: