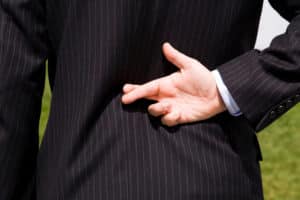 People often think that auto insurance companies have their best interests in mind. But that's not always the case. Many salespeople and adjusters are pushed to put more money in the auto insurance industry's pocket, and that often comes at the expense of consumers or crash victims.
But Michigan law makes it illegal for an insurance company or an insurance agent to do certain things.
The list below can help you protect yourself when shopping for insurance. Beware if an insurance agent says the following, because these statements could actually be illegal, according to the Michigan Department of Insurance and Financial Services, Information on Purchasing Auto Insurance:
"We don't write in that area."
"We aren't taking any new customers."
"We don't have an agent in your area."
"We can't write your auto insurance unless you insure your home with us."
"You aren't eligible for a policy with our company (no explanation of ineligibility is provided) but we can place you with the Michigan Automobile Insurance Placement Facility (MAIPF).
The State of Michigan wants to know if you are told any of the above statements as you talk with an agent or a representative of an insurance company. You can report such statements to the state by calling toll-free: (877) 999-6442.
If you have a concern about what you have been told, the Michigan Department of Insurance and Financial Services  can check and verify it for you.
Related information:
8 things to know about how Michigan auto insurance companies can use your credit score