Learn the legal speed limit on highways, residential streets and when weather changes — to avoid that dreaded speeding ticket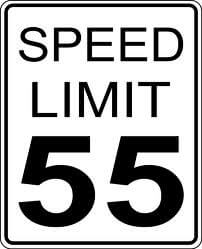 Have you ever been driving and thought, "I hope I don't get a speeding ticket.  I have no idea what the speed limit is here, and I haven't seen any signs with posted speed limits for miles."
There are some Michigan roads that do not have any speed limit signs, and there are stretches of highways that are unmarked. But knowing the speed limit laws can help you avoid that dreaded speeding ticket or the flashing lights you see in your rear-view mirror.
The speed limit on highways
Here's the Michigan speed limit law for highways, according to MCL 257.628 of the Michigan Vehicle Code:
The statewide maximum speed limit on all unposted highways at 55 mph.
Gravel roads are included.
When weather conditions change: The Basic Speed Law
When weather conditions change, the Michigan Basic Speed Law (MCL 257.627) requires drivers to "drive at a careful and prudent speed not greater than nor less than is reasonable and proper, having due regard to the traffic, surface, and width of the highway and of any other condition then existing."
For example, if the road goes from dry to snowy and icy, you are expected to drive according to that inclement weather. In this case, you would drive with more caution, and slower than the posted speed limit.
Even if you're driving the speed limit in inclement weather, it is possible to get a ticket for going too fast or too slow in such weather.
Gravel roads are currently excluded from the process of lowering posted speeds through a Traffic Control Order due to the changing conditions of the roads.
The speed limit on Michigan residential and business streets
Where no speed limit is posted, the speed limit on paved or gravel residential streets and streets in business districts is 25 mph in Michigan.
While the law is clear, drivers should consider the following, per the Michigan Vehicle Code:
The basis for all speed controls is predicated upon the nationally accepted principle that the majority of drivers are cautious, prudent and drive at speeds that are reasonable and proper regardless of the posted speed limit.
Basically, this law states that motorists must always drive at a speed which allows them to stop safely. This Basic Speed Law governs the speed of all drivers regardless of any speed controls.
For additional information on Michigan laws, visit the Traffic Control Orders webpage of the Michigan State Police.
 – Photo courtesy of Creative Commons
Related information:
The speed limit in Michigan construction zones
What's the law for making Michigan lefts?